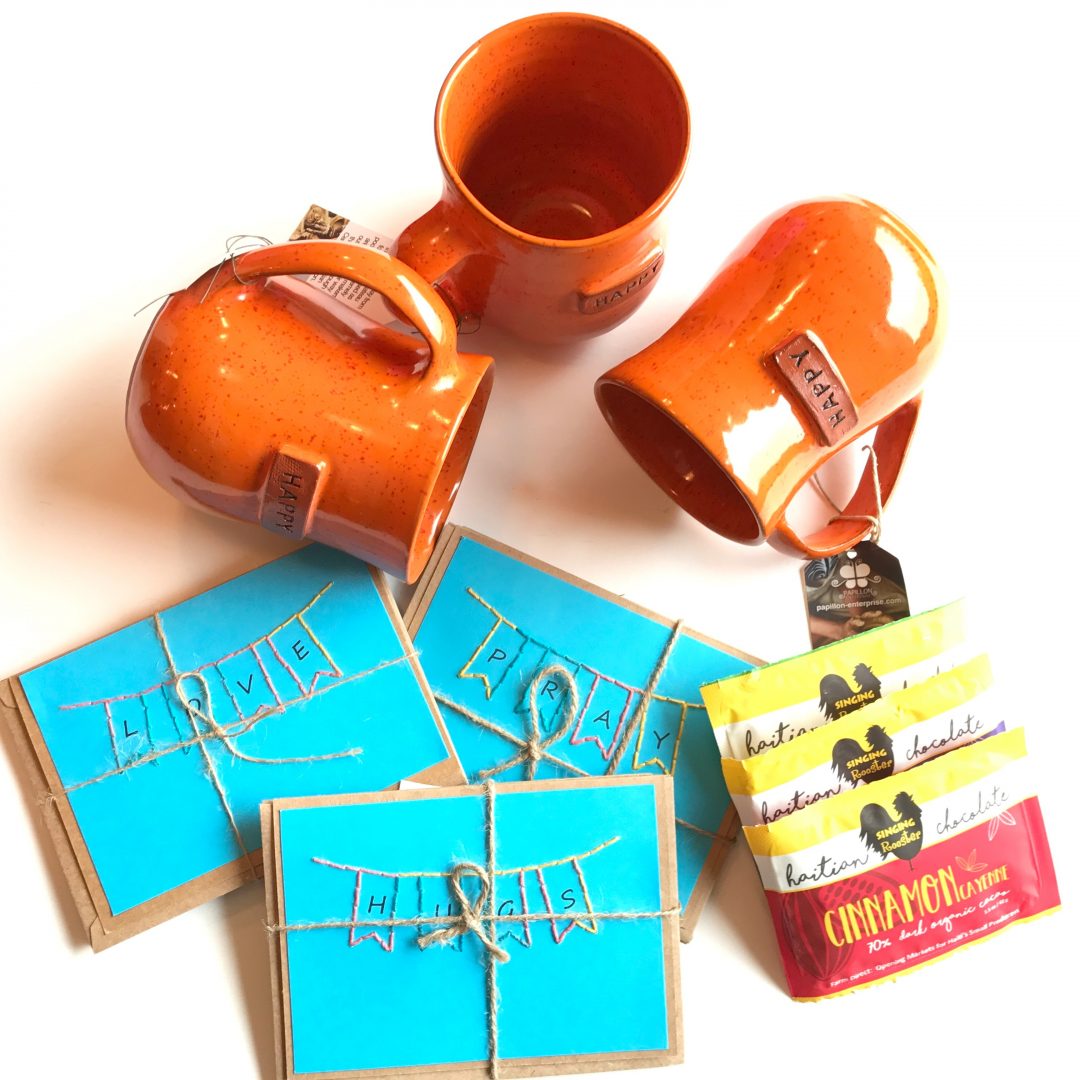 We can't do EVERY-thing. We can do SOME-thing.
This is one of the most heartbreaking photos I have ever taken. Take a look:
When I snapped the photo, I thought I was seeing miniature pottery bowls drying on mats in a Haitian village.
I asked our translator if I was correct.
"No, those aren't bowls," he said. "They're mud pies."
He told me that a woman mixed dirt with oil, and then lined them up on mats, to dry in the sun. Later, she would take them to market to sell. As food. Did you hear that? These mud pies would be eaten. By people. This is not some bizarre Haitian delicacy. Some desperate people in Haiti have eaten dirt because it gives their starving bodies a false sense of feeling "fed." Moms who love their children — as much as I love my girls — feed dirt to their kids to ease the pain of an empty stomach.
One of the really depressing things about this image is this: right now, there's enough food to feed the world. In fact, statistics show, we grow enough food for 10 billion people. And yet we still haven't ended hunger.
I remember coming home from Haiti that year, feeling so powerless to do anything. What difference could I make?
God kept impressing these words upon my spirit:
"Jennifer — Just because you can't do EVERY-thing, doesn't mean you can't do SOME-thing."
That was the year our family began to partner with two organizations that are doing a lot of "somethings" in Haiti. One of those organizations, Touch of Hope, has done such incredible work in one particular village, that I am moved to tears every time I return. You can literally see the transformation. 
An Invitation to Do SOME-thing
I'll bet you know how I feel. You've witnessed the pain in our world — in another country, and right down the block. It all feels so overwhelming, and you might wonder, "what can I really do that will make any difference at all?"
Today, I am inviting you into a project that will bring tremendous hope and healing to real women, real mamas, so they never have to consider feeding mud pies to their babies.
I'm crazy-excited about this project. Here's the fun part: This project is all about salsa, greeting cards, soul-sisters, jobs, ice cream, a gift shop called Rosie's, laughter, … and Jesus! 
This, my friends, is going to be FUN.
It's called The Rosie's Expansion project, spearheaded by my dear friend, Kayla Raymond, and her family, who operate Touch of Hope in Haiti.
Meet Kayla and her family:
ROSIE'S EXPANSION
Kayla has dedicated her life to being Jesus' hands and feet. Even if she can't do EVERY-thing, she knows she can do SOME-thing.
And get this: she's inviting us into her latest amazing project: The Rosie's Expansion Project.
Let me tell you more: 
Among other things, Kayla runs a gift shop and ice-cream shop in Haiti. It's called Rosie's. Many visiting missionaries purchase Haitian-made goods at the store. Because of these efforts, jobs are being created. Most recently, Kayla created even more jobs for a group of women who make hand-stitched greeting cards, and another group of women — called the Salsa Sisters — who make amazing salsa. (The salsa is sold at restaurants in Haiti that serve locally-sourced products.)
Business is booming.
We get to be a part of this! Kayla is working to:
1 – expand the business,
2 – create more jobs,
3 – highlight Haitian-made goods in the Rosie's gift shop,
4 – make room for new employees who continue to be added to the payroll.
The project: construction of a $100,000 building for a bigger Rosie's gift shop, a workshop for the card-makers, a kitchen for the Salsa Sisters, and more!
This will create jobs for gift-store employees, card makers, and the Salsa Sisters. This project will encourage the purchase of Haitian-made goods by the constant flow of missionaries in and out of Haiti.
The facility will be located near a well-traveled road used by thousands of short-term missionaries every year, who can stop for an ice-cream treat, a sampling of salsa, and a whole room full of Haitian products to purchase!
Our family is totally in! Would you consider joining us, by making a donation — big or small? Let's help Kayla trade those mud pies for job creation, for salsa, … for the hope of Jesus. 
WHAT YOU'VE ALREADY DONE
Every year, I pray about a project that we can do together to make a difference in Haiti. You've trusted me, and you've walked alongside the projects that I've shared with you. As a result: you've been a part of some pretty amazing things.
Look what you've helped accomplish in the past:
In 2016: you raised thousands of dollars for hurricane relief in Haiti, in just a matter of days.
In 2015: you helped raise $15,000 to build homes for Haitian families living in tents.
In 2014: you contributed to a project (spearheaded by a group of Iowa kids) to purchase bikes for Haitian kids.
In 2013: you built a home for our Haitian sister Adeline because her mud house was "melting."
In 2012: you helped build a playground at a school in Haiti.
Thank you, thank you, for being His hands and feet.
MORE ABOUT THE ROSIE'S PROJECT EXPANSION
I'll let Kayla describe the project that we are supporting as a blog community in 2017:
"I know God wants Haitians to have jobs. He wants there to be dignity in the way we walk and in the way we work. There shouldn't have to be brothels where women sell their bodies so their babies can eat. There shouldn't be institutions where babies are left and abandoned – separated from their mamas – just so they can eat.
And, so while I cannot fathom it or comprehend it, I know God does. He is just, and He is making a way for mamas. He's setting our hearts on fire and giving us such ridiculous ideas to pave a way for more jobs and less babies in orphanages. He's doing this through Rosie's and through so many other beautiful companies that I get to partner with here in Haiti. He allows me to keep looking these women in the eyes. It's the hardest thing I do, but it keeps this fire inside me so very alive. Their desperation moves me to action and I just plead that you would join me and move with me. That we would work towards a day where less mamas come knocking on the gate, desperate for help, but instead get to rise each morning, knowing they have a job to go to and get to walk there with dignity. Proud to support their babies and send them to school.
There's got to be a way to break this cycle of poverty and I believe it begins here: job creation.
Our goal is to raise $100,000 for Rosie's expansion. We have the first $30,000 raised + we have finished purchasing the land in Haiti where we will build the expansion."
WAYS TO HELP:
Pray. Give. Share.
We don't have a specific goal for our blog community, but I am hoping that we can contribute hundreds, or perhaps even thousands, to this effort in the coming week. Every dollar counts! But if you can't give financially, please pray for this project, and share it on social media today.
HOW TO DONATE 
If you would like to DONATE to Rosie's expansion today, click HERE to donate through PayPal *** please add Rosie's expansion in the "add special instructions" box ***
or send donation to:
Touch of Hope
205 Old Mill Lane
Rock Rapids, Iowa 51246
*memo: Rosie's expansion*
HOW TO ENTER THE GIVEAWAY!
Please consider sharing this post with your friends on social media. Not everyone chooses to share financially, but we can all share on social media! 
We want to spread the word and make a BIG difference with this fundraiser.
As an incentive to share and give, I am giving away three Haiti-Happy Gift Packages. Each gift package will include:
1 – One "Happy Caribbean mug." This ceramic mug is handmade using authentic Haitian clay.
2 – A four-pack of greeting cards (like these) hand-stitched by Haitian women.
3 – Haitian chocolate from Singing Rooster — locally sourced in Haiti and delicious!
Each giveaway pack has a retail value of $34. 
Two ways to enter the giveaway:
1 – THE DONOR PACKS: I would love for you to pray about giving to this project — even just a few dollars. Every dollar truly counts! As an incentive to give, I am giving away TWO of the gift packages to people who donate to this important project. *** Simply email me at [email protected] to let me know if you gave, and I will enter your name in the drawing for one of the TWO Donor Packs.***
2 – THE SOCIAL-MEDIA SHARER PACK: Some of you don't feel led to give at this time. But you can help us out by SHARING this post on your social-media accounts. Simply let me know via email or in the comments below, that you shared. Every social-media share earns you an entry in the drawing. One winner will get a gift pack! 
I will draw winners and announce those ONE WEEK FROM TODAY on next Tuesday's blog post.
Let's do this! I can't wait to see what happens!
"Just because we can't do EVERY-thing, doesn't mean we can't do SOME-thing."
Love,
Jennifer
#TellHisStory
Hey Tell His Story crew! It is a joy to gather here every week with you. The linkup goes live each Tuesday at 4 p.m. (CT). If you would use the badge on your blog, found here, that would be great! And if you would visit at least one other blogger in the link-up and encourage them with a comment, that would be beautiful! Be sure to check the sidebar later. I'll be featuring one of you over there!
Our featured writer this week is Tiffany Parry. It's hard to be the new girl, isn't it? I love Tiffany's practical encouragement on this… as she says, "If you find yourself embarking on the new and unfamiliar, maybe this encouragement will make your journey just a little less sweaty." Find Tiffany here.
To be considered as our featured writer, be sure to use our badge or a link to my blog from your post. xo Jennifer