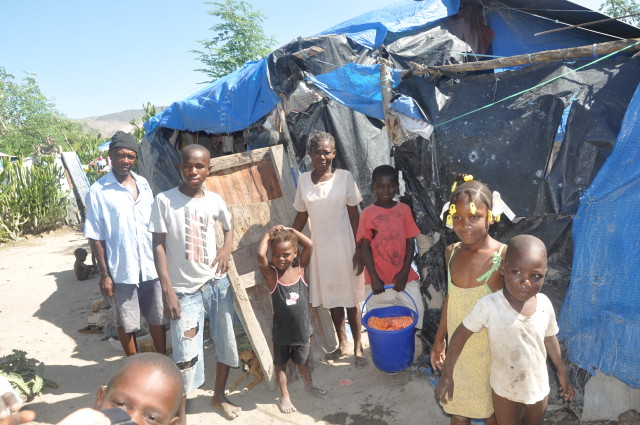 BREAKING NEWS: God Made Another Miracle … Through You!
Two days before Christmas, we showed you the blue tent city of Minoterie. We told you about boys and girls who sleep on dirt floors, under tattered tarps, and how they've spent most of their lives in tiny tent "homes."
The tents were supposed to be temporary, only temporary. The tent cities were established by humanitarian groups after an earthquake shook Haiti on Jan. 12, 2010, turning the country inside out, and killing more than 230,000 people.
The tent cities have broken our hearts. And they broke yours too.
We asked you to help us build five homes for five families, so that Christmas 2014 would be the last Christmas they'd spend crammed into raggedy blue tents, on rock-hard dirt floors. We called it the "Last Blue Christmas."
And today — on the fifth anniversary of the earthquake that rocked the island of Haiti — we've reached our goal!
Friends, you did it! God — working through you— did it! We've raised the $15,000 needed to build five new homes.
But God did more than that. God surpassed our $15,000 goal, so now we'll be able to build six houses for six families. (You can read more about the sixth house by clicking here, to read beautiful words from Kayla, the missionary in Haiti who is spearheading this effort.)
Sometimes, our work in this world can feel so small. We know that for every family who will get a new house within the next month, there are thousands more who won't. Countless Haitians will go to sleep tonight under withering blue tents.
It feels heartbreaking and overwhelming. And there's still so much more to be done. But when we get discouraged by all the hurt in the world — and our seeming inability to make a difference — I remember a story, by Loren Eiseley. It's about an old man walking along the shore. The old man saw a young man reaching down, picking up starfish and throwing them into the ocean.
The old man asked the young man what he was doing, and the young man said, "The sun is up and the tide is going out. If I don't throw them in, they'll die."
The wise man replied, "But don't you realize there are miles of beach and thousands of starfish all along the way? You can't possibly make a difference!"
At that, the young man bent down, picked up one more starfish, and threw it in the ocean. Then he said —
"It made a difference for that one."
To read more about this fundraising effort, visit missionary Kayla by clicking here.