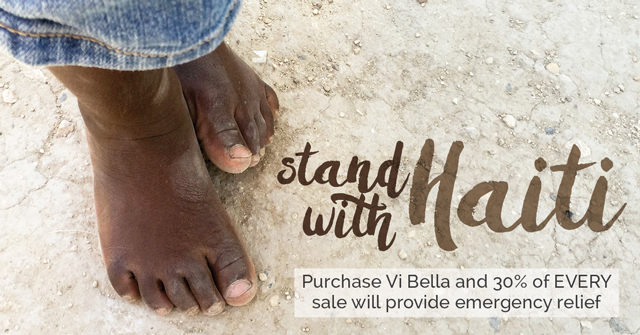 Stand With Haiti – One Way to Make a BIG Difference TODAY
A few months ago,  I stood at the front of a Haitian church. My assignment: to bring the hope of the gospel to our sisters and brothers gathered in the pews.
The story I shared was this: When I was a girl, fishing with my dad, a storm came out of nowhere, leaving us vulnerable in the middle of a huge lake. Dad rushed us to the shore of an uninhabited island. But even on land, there was nowhere to hide from the storm. So we crouched down beside one another, while rain pelted our backs.
Throughout the entire storm, I kept my head down, and all I could see were the feet of my father. 
"Some of you are in the middle of a storm," I said, speaking through an interpreter. "And maybe you can't see the face of your Heavenly Father in the midst of your storm. Maybe you can't see the hands of your Heavenly Father. But look to the feet of your Father, and know that He is right beside you. When you can't see His face, you can still trust His heart."
What I didn't know then, is that a very literal storm was coming — a storm so powerful that it would flatten homes, pound villages, wash out bridges, and take lives.
Hurricane Matthew struck Haiti with a great fury. The death toll has topped 1,000 and is expected to climb as relief groups reach remote areas. Cholera epidemics are feared. Right this moment, people need life-saving food, water and shelter.
Like you, I have prayed earnestly for the people of Haiti.
Like you, I have observed how the urgent needs of Haitians are quickly disappearing from the headlines, as attention is focused on this country's upcoming election.
And like you, I want to be a part of making this world a better place. I want to live what I believe.
In my prayers for Haiti, I keep thinking about what it means for our Haitian friends to know that God is with them, even when they can't see His face. How do they know they're not alone?
In this storm, how can they see the feet of their Heavenly Father?
We could be the feet. Christ has a body, and it is us.
"Now you are the body of Christ, and each one of you is a part of it."
(1 Corinthians 12:27).
We could do something together, to make a tangible difference. We can be a part of the answer. In the midst of this storm, we can sit with our sisters and brothers. And when they see our feet in action, they will see the feet of their Father.
Stand with Haiti
Today, I am so excited to tell you about something we can do together, to make a difference. I am partnering with Vi Bella Jewelry to host a fundraiser that begins right now, and ends Saturday at noon. Every penny will support Haitian people in need of jobs, in need of food, in need of water — in need of the steady assurance that God is near.

Here's how you can Stand with Haiti.
1 – Click here to SHOP the beautiful Vi Bella Jewelry created by Haitian artisans. (BE SURE TO USE THIS LINK, so that your purchases will apply toward our Stand With Haiti fundraiser.)
2 – 30 percent of EVERY sale will provide emergency relief — food, water, AND shelter in the areas most severely hit by the hurricane. Those proceeds will be turned over to Mission of Hope, which will use all of it for relief. They are a respected organization and are already bringing help to the hardest-hit areas.
3 – The other 70 percent of your sale will support the jobs of Vi Bella artisans. Vi Bella is committed to long-term transformation that comes through well-paying, steady employment, which empowers individuals to care for their own families.
This fundraiser is a 100 percent investment in Haiti.
Plus, you'll have the opportunity to wear or share gorgeous pieces of jewelry. I'm all in. This is where I'll be doing all of my Christmas shopping — and it will be done this week! — knowing that every dollar I spend will make a difference.
Check out a few of the pieces. Wouldn't these make darling Christmas gifts?
There are dozens of pieces to choose from! Browse, pick a few for yourself, your sisters, your teachers, your best friend, your mother-in-law. I have seen firsthand how Vi Bella Jewelry is transforming lives. I have sat side by side with the artisans. They have become dear friends, the kind of friends who — if they lived here — I'd want to go to Target with, joke with, cry with, shop with, laugh with, call at midnight because I need the prayers of a sister.
These sisters are us. May they see that we care, by the way we put our feet beside theirs. This is the way we Stand with Haiti. 
I know how tempting it can be to jump into action — to collect donations of clothing, for instance, to send to Haiti.
But like Vi Bella Jewelry founder Julie Hulstein says: "Bear in mind that there are people in Haiti who want to sell clothing or sew it for their communities. There are also many people in the country who want jobs and can do construction work and painting. Please use caution when donating your items or time. When possible, partner with trusted Haitian missions and groups and ask for their wise counsel. ASK, don't assume what the needs are."
That's why I love Vi Bella Jewelry. This job-creation ministry is part of the long-term solution. But they are also making a way for us to be a part of emergency relief efforts, by donating 30 percent of every purchase to immediate needs!
"How beautiful on the mountains are the feet of those who bring good news." (Isaiah 52:7)
Giveaway!
Please consider sharing this post with your friends on social media.
We want to spread the word and make a BIG difference with this fundraiser.
As an incentive to share, we are giving away a pair of earrings and a necklace (pictured below).
To enter:
Simply tell us what piece of jewelry you love from the Vi Bella collection.
For more entries, share this post on your social media channels. Every "share" puts your name into the giveaway drawing.
Simply let me know in the comments where you shared!
I will draw the two winners when the fundraiser closes on Saturday at noon.
UPDATE: Winners are Anita and Sue Donaldson! 
Special Project to Build a House
If you would prefer to give to a
specific cause
, we are partnering to help Vi Bella artisan Robenson rebuild his home. His house was destroyed in the hurricane, along with his resources for his jewelry-making business.
Vi Bella Serves
is collecting donations to build a new house for him, and to help him get his business going again. You can donate directly to this effort by
clicking here
. Robenson makes Vi Bella's coconut jewelry, such as the Rhea earrings. His business helps employ 15 people, in an area hard hit by the hurricane.
To donate to this cause, make your donation by clicking here.
The goal is to raise $7,000 for Robenson.
#TellHisStory
Hey Tell His Story crew! It is a joy to gather here every week with you. The linkup goes live each Tuesday at 4 p.m. (CT). If you would use the badge on your blog, found here, that would be great! And if you would visit at least one other blogger in the link-up and encourage them with a comment, that would be beautiful! Be sure to check the sidebar later. I'll be featuring one of you over there!
Our featured writer this week is Amber Taube. Have you read her beautiful words about giving the Creator room to make a masterpiece in our lives? "The stain of goodness left by His fingerprints hints at the masterpiece that is to come. It's made up of brokenness and jumbled up plans, but it is good because the Artist that made it makes no mistakes." Find Amber here.
To be considered as our featured writer, be sure to use our badge or a link to my blog from your post. xo Jennifer