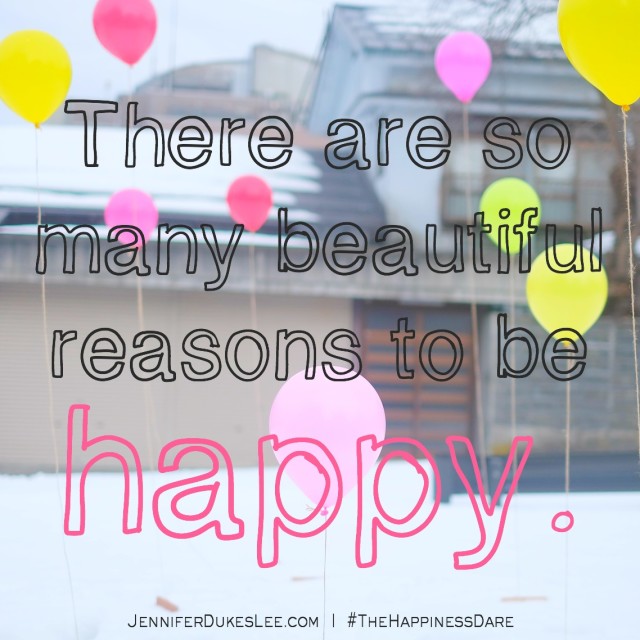 so many beautiful reasons to be happy — a challenge for International Day of Happiness!
As you know, we've spent a lot of time at Mayo Clinic in Rochester, Minnesota, over the last few months. Dad had an infection in his leg, and later had his leg partially amputated. It has been a hard start to 2016.
You, dear friends, have been so generous in prayer and kindness toward us. I could hardly keep up with the emails. What a blessing! You sent Dad cards by the dozens; one of you even mailed handmade prayer shawls. I've broken down in tears over all the kindness!
In the midst of our valley, you gave us so many beautiful reasons to be happy.
We've felt the same way about the people in Rochester. Have you ever been there? I have never before encountered a culture of helping and generosity quite like that one. Bringing joy to people is built into the community's collective mindset. It's not just the medical staff. It's the waitresses, valet drivers, hotel receptionists, and convenience store clerks. I can't say if all of those folks know about Jesus — but they sure remind me of Him.
Case in point: One night in Rochester, a thick snow fell. Next morning, I went to the hotel parking lot to get my car, knowing it would be covered in snow. But it wasn't. Someone had already scraped my windshield and broomed the snow off my car. I looked around and saw that every other car in the lot had also been cleaned off. I found the guy with his broom across the lot, clearing even more cars. I drove over, and thanked him — grateful again for the culture of servanthood.
Again, in the midst of our valley, we were given so many beautiful reasons to be happy.
It's shocking, really, how a person can find so much happiness in that town. Think about it: Everywhere you look, someone is fighting an unseen battle. Everyone is looking for answers. So many are holding on to their last shred of hope.
But there's a culture of joy running as a strong undercurrent everywhere you turn.
We have much to learn about happiness and joy from the people of Rochester, Minnesota.
A Challenge for Us All
What if we applied what I'll call the "Mayo Culture of Kindness and Happiness?" What if went out of our way to make others happy by being kind? What if we decided to make 2016 the happiest year yet?
Sunday is the 4th International Day of Happiness, founded by the United Nations General Assembly. This is the perfect time to spread the contagious virtue of happiness. It's the perfect time to join #TheHappinessDare. Some of you have already joined me in #TheHappinessDare. You've been hunting for happiness in your everyday lives. You've been sending me emails about where you've found happiness in unexpected places. You've catalogued so much goodness as a part of #TheHappinessDare on Instagram and Facebook. Your happiness has increased MY happiness!
But we don't need a perfect day to get happier. All we need is a heart that is committed to finding the good, even on the hard days. During my own Happiness Dare, I have read a lot about the durability of happiness, and how we can find it — and keep it — even when life is hard.
Some of the greatest determinants of happiness are:
• Showing gratitude
• Engaging in the activities that you most enjoy
• Banishing comparison
• Committing acts of kindness
• Offering forgiveness
• Nurturing friendships
• Savoring "the little things"
• Practicing self-care
• Intentionally scanning for the good, even when life is hard
• Going out of your way to bring happiness to someone else
• Taking the time to nurture your faith
Let's try something. For the next seven days, let's intentionally choose to do something from that list. Choose to let the dishes sit in the sink, while you watch that show you've been dying to see. Find a way to forgive someone who has hurt you. Let someone pray for you. Carve out time to see an old friend. Leave an anonymous gift on the doorstep of someone who could use a boost. Go caroling in March! Schedule the massage. Look for the helpers, and if you can, be a helper, too. Apply the Mayo Culture of Kindness and Happiness wherever you live.
Look, I totally get how "choosing joy" and happiness can seem like really hard work. But what I learned at Mayo was this: when we weren't able to find happiness on our own, it seemed like someone was gently bringing it to us.
One of my favorite moments of the year happened in a Mayo lobby. I came out of the elevator, and heard two guys singing at the piano. When I got closer, I could hear the song, "This Little Light of Mine." Their song literally stopped people in their tracks. We made a giant ring around the piano, and we all stood still, on account of a song. There were people in wheelchairs, doctors wearing white coats. There were patients with bandanas on their heads, and women wearing burqas. They all were fighting an unseen battle. But they were all singing. (Find the video here.)
 That day, most of us couldn't sing on our own own. But someone else brought us a song.
On my worst days, I will look for the singers. And on my best days, I will help bring the song.
There really are so many beautiful reasons to be happy. I am committed to looking for them.
Are you in? For the next seven days, commit to at least one of the above Happiness Boosters. Let us join you in your song by using the tag #TheHappinessDare. Or simply email me and let me know how your own Happiness Dare is going. You can reach me at [email protected]. I will do my best to answer all of your emails!
Love, Jennifer
Here's some of the latest goodness from #TheHappinessDare stream.
Let's keeping add more, while celebrating the International Day of Happiness. Let's make our happiness contagious!