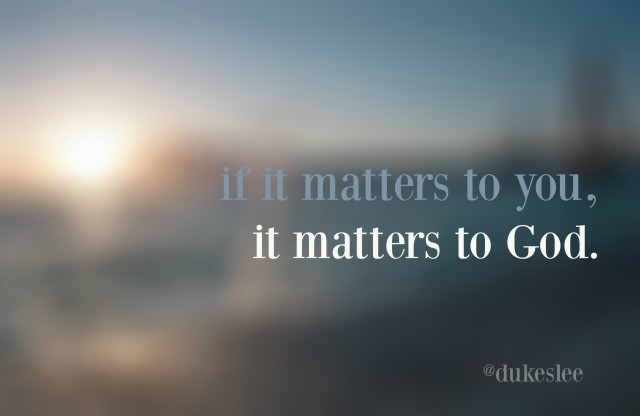 why we don't ask for prayer, even when we should – #TellHisStory
I was sitting at the back of our country church, near the computer where you'll find me many Sunday mornings. I had been assigned the duty of worship leader, aka Deejay J.D. Lee, so I was picking songs from our iTunes library.
That morning, I needed more than a few good songs to play. I needed prayer. I needed my church family to pray for me because I was scheduled for an MRI the following Wednesday. I had been to the doctor a few days earlier. He said my symptoms were a bit suspicious — not terribly alarming but worth checking out. So the doctor ordered an MRI.
Sunday came. When the pastor asked for prayer requests, I fidgeted at the back of the church, but stayed quiet as a church mouse. I fiddled with a Power Point. Out of the corner of my eye, I could see my husband looking over his shoulder at me, as if to say, "If you don't ask for prayer, I'm going to."
I shook my head, "no." And I gave him THAT look, the look that says "I mean it," without saying a single word.
A few other folks had already asked for prayer: for an upcoming surgery, for a family who had lost a loved one, for an unwanted diagnosis.
I sat wordless, letting my unspoken prayer request hang in the air.
I left church that morning without the prayers of my church family. I went into the MRI tube the next Wednesday. Without the prayers of my church family.
Not cool.
Here's why I didn't ask for prayer that day:
Compared to the problems of everyone else in the room, my problem felt like a hang-nail.
Inside, I told myself, "It's nothing. Don't bother these people!"
That was two years ago. The MRI turned out normal. I'm still healthy and alive and still spinning tunes at our little country church in rural Iowa. But I hope I'm also a little bit wiser. I hope that I will never again consider my problems too small for my friends, or too small for my God.
That truth burrowed deeper into my heart the other night when we sat in the living room with friends, studying John 2. That's where we read about Jesus' first miracle. Jesus and his disciples had been invited to a wedding in Cana, when the wine ran out — a major faux pas for a wedding in first-century Galilee. Jesus then performed a miracle. He changed the molecular structure of water and transformed it into wine.*
Jesus' first miracle wasn't a healing. He didn't start his miracle work by giving someone their sight that night, by lifting a paralyzed man to his feet, or by raising a dead person from the grave.
He made wine.
He solved a problem that — by comparison — might seem rather small in the scheme of things. He fixed a problem that, compared to a dying child, might seem like a bit of a hang-nail.
A lot of times, I remind myself that there's nothing too big for God. But there's also nothing too small for God. The fact that He cares about the small stuff makes Him even bigger.
It it matters to you, it matters to God.
Maybe you needed to know that today, too.
Maybe everyone else's prayer requests seem like Stage 4 cancer, and yours looks like a hang-nail.
You need prayer. But you don't say a word. It's not because you don't believe in God, or the power of prayer. It's because compared to all the other problems in the room, your thing seems smallish. So you keep quiet. And you miss out on the power unleashed through the prayers of people. You miss out on the gift of allowing someone else to help you carry your burden to Jesus.
Friend, if it matters to you, it matters to God.
Your unclear mammogram matters to God. Your lost keys matter to God. Your scuffle at work matters to God. The spat you had last night with your husband matters to God. Your hang-nail matters to God.
Because you matter to God.
Don't keep it to yourself. It matters to us, too. 
Your Turn:
Do you need Jesus to turn wine into water? Share in the comments. Don't feel like you have to share specifics. God knows the details! Let's pray for one another.
* Our Bible study the other night, about miracles, comes from Mark Batterson's book called The Grave Robber. 
#TellHisStory
Hey Tell His Story crew! It is a joy to gather here every week with you. The linkup goes live each Tuesday at 4 p.m. (CT). If you would use the badge on your blog, found here, that would be great! And if you would visit at least one other blogger in the link-up and encourage them with a comment, that would be beautiful! Be sure to check the sidebar later. I'll be featuring one of you over there! Our featured writer this week is Elizabeth Giertz. She weaves together a story about doubting Thomas, Santa, and using our gifts to glorify God! Find Elizabeth here. To be considered as our featured writer, be sure to use our badge or a link to my blog from your post. 🙂 xo Jennifer