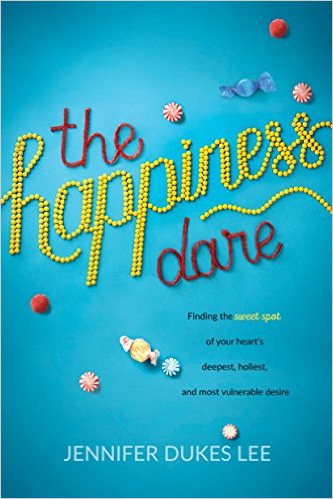 An Exciting Announcement: I Have a New Book Coming Out! — #TellHisStory
Ok. The cat is officially out of the bag.
I have a book coming out. In August. About happiness.
Yep. That dare we've been taking? It's a book. It's already written, and it has an adorable cover that makes me happy!
Meet The Happiness Dare.
I am so excited about this book. About a year ago, I took a fantastic dare toward happiness. I became intentional about finding happiness, cultivating happiness, and sharing my happiness with others. When I took that dare, I had no idea how important it would be in sustaining me during some really rough patches and dark valleys that were ahead of me.
This dare toward happiness made me feel new and warm and bright on the inside, like I swallowed a star.
Yet I have been awfully shy about telling you about this book. About a month ago, I invited you into #TheHappinessDare, and encouraged you to find and record your happy moments every day. But I didn't tell you about the book.
I encouraged you to cultivate happiness even on the hard days, but I didn't tell you about the book.
I began to share my happiest moments on Instagram and Facebook, with the hashtag #TheHappinessDare, but still … I didn't tell you about the book!
But then other people started talking about the book. You thought to yourself, "I wonder if she wrote a book about happiness!" You were right. For the last few weeks, some of you have posted about my book on Facebook, after you found my book hiding over on Amazon. 🙂
But I still kept quiet.
Then yesterday, on the International Day of Happiness, Crystal Paine of MoneySavingMom.com shared the book with her gazillion Instagram followers. I was giddy.
This was the first time I'd seen a printed version of the book. I don't even have one! (Crystal has what's called an "endorser copy," which means she'll read it, and if she likes it, she'll officially endorse it. More on that later.)
But I still didn't tell you about the book! 
Then, last night, I told Scott: "I think maybe I need to tell people about the book."
To which he replied: "Well, duh."
So this morning, I sat down to tell you about the book. And I was still shy about it, fingers shaking. And that's when a notification popped up on my iPhone screen:
"Crystal Paine is Periscoping about The Happiness Dare." To her gazillion Periscope followers! (Periscope is a live video-streaming service. You can watch her broadcast by clicking here.) It felt like fireworks going off inside of my chest. She had so many kind things to say about the book, and then she encouraged her followers to pre-order The Happiness Dare. "I would highly recommend preordering a copy because I can already tell that this is going to impact my life at a deep, deep level," Crystal said.  "I am talking this dare, and I want to put it out there publicly."
So. It's time to tell you about the book.
Would you consider pre-ordering? It's available for preorder at most online retailers, including Amazon, Barnes & Noble, ChristianBook.com and Walmart.
It will be in stores August 2.
Turns out that pre-orders are really important to making sure that online retailers have the book in stock. Pre-orders really set the pace for how well a book launch will go.
So, if you think you might want to buy The Happiness Dare, would you pretty-please consider pre-ordering? And if it wouldn't be too much to ask, would you consider sharing this post on Facebook or other social-media channels?
Bookplates
To celebrate, if you order
five or more copies
, I'll mail you signed bookplates, personalized to whomever you wish, and signed by me. 🙂 You can put the bookplates (which are actually big stickers) on an inside page, after you get the books.
1 – Email me at [email protected] to tell me how many books you preordered, and thus, how many bookplates you need. (You can send the receipt if you like, but if it's too much hassle, just tell me the number you preordered. I trust you. 🙂 )
2 – Give me the names of the people who will be getting the books that you preordered.
3 – Include your mailing address, so I can send the bookplates to you. Postage is on me. 🙂
4 – Offer expires March 31.
Regarding My Shyness About This Book
Some of you are wondering, "Why were you so shy about telling us, Jennifer? We are your friends!" To which I say, while blushing, "I know, I know. You're right." But it felt so early, like announcing that I'm pregnant at, like, four weeks! And then, when the book actually comes out, we'd all be like, "Man. She's been pregnant for approximately forever!"
So there's that.
And also? It feels so vulnerable to share. In the book, we talk a lot about how happiness can be such a vulnerable desire, and I share some stories that make me feel overexposed. In fact, this is the opening sentence of my book: "This book scares me."
Yep. We explore the scary side of happiness! Who knew?
Anyway. I took a dare. I wrote a book. Both the dare and the book changed me.
It's been a wild ride. And today — at last — I'm inviting you to ride along.
About The Happiness Dare
"Would you like to be happier?"
No matter who you are, or how you feel, chances are you would answer "yes" to that question. And Jennifer Dukes Lee was no different. For years, she wrestled with a constant, nagging sense that she just wasn't as happy as she should be. At the same time, she felt guilty for wanting something as "shallow" as happiness. After all, doesn't God only care that we find "joy" in our circumstances? Or is it possible that God really does want us to be happy?
Determined to get answers, Jennifer embarked on a quest to find out if our happiness matters to God and, if so, how to pursue it in a way that pleases him.
In The Happiness Dare, you'll learn what she discovered, including how to:
Overcome the four biggest obstacles that stand in the way of your happiness
Understand the five happiness styles and how to maximize yours to not only be happier yourself, but to better love and serve those around you
Find your happiness "sweet spot"—so you can enjoy your own life and stop wishing for someone else's
Discover what you can do in just five minutes a day to be happier
Will you dare to pursue happiness—and discover the secret to your truest, most satisfied, and most faith-filled self?
I love you guys!
Happily,
Jennifer
Post includes affiliate link.
#TellHisStory
Hey Tell His Story crew! It is a joy to gather here every week with you. The linkup goes live each Tuesday at 4 p.m. (CT). If you would use the badge on your blog, found here, that would be great! And if you would visit at least one other blogger in the link-up and encourage them with a comment, that would be beautiful! Be sure to check the sidebar later. I'll be featuring one of you over there! Our featured writer this week is Joy Lenton. She writes about the spiritual discipline of listening well. In all of the busyness of life, this post was just what I needed! Find Joy here. To be considered as our featured writer, be sure to use our badge or a link to my blog from your post. 🙂 xo Jennifer