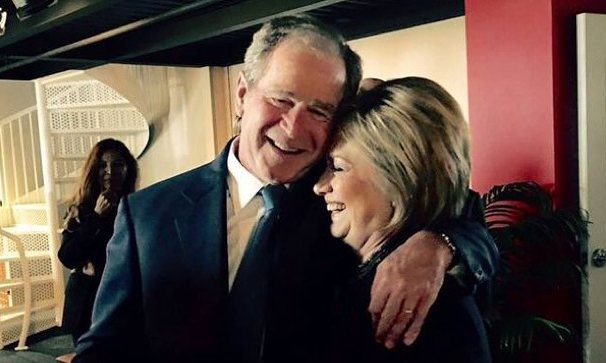 words of hope for this volatile time we're in
It's messy out there, isn't it? People are arguing. Politicians are lobbing insults. Fights are breaking out.
It's not pretty, friends.
In times like these, I am reminded of what Fred Rogers' mama used to tell him when the news made him scared or sad.
"Look for the helpers," she told her boy. "You will always find people who are helping."
That is great advice today, isn't it? Let's look for the helpers. Let's scan for anything that gives us hope at a time when we are desperately in need of it.
One of the things I found was this moment, captured and Tweeted out by David Chalian, the political director of CNN.
The photo, unposed, shows George W. Bush hugging Hillary Clinton. The photo was taken at Nancy Reagan's funeral. To me, it represents kindness, civility, and gentleness rising above the rhetoric and nastiness. Some of you may look at that picture and bristle because you strongly dislike one of the people in it. As for me? The photo gives me hope, if even for a moment.
There was something else I saw, just this morning. It was a video, completely unrelated to the election. The video is about three months old, and it first appeared on ABC's Good Morning America. In the video, one man literally gave the shirt off his back to a homeless man who was shivering from the cold.
"He looked cold, hungry…like he had just gotten beat up," Joey Resto told ABC News.
 Not only did Joey give the man his shirt,  he helped him put it on. Watch the video here. (Email subscribers may need to head over to my blog to see it.)
The video reminds me of the goodness dwelling inside of people, at a time when it's easy to believe the worst about humankind. It reminds me about the core of what I believe: That every person matters to God, which means that every person should matter to me — even the people with whom I disagree.
Some of you woke up this morning, elated at the results of last night's primaries. Some of you woke up very sad and disappointed.
I have friends in both camps — the happy camp and the sad camp. People I know have voted for Donald Trump, for Hillary Clinton, for Ted Cruz, for Bernie Sanders, for John Kasich, and for Marco Rubio. I don't know which camp you're in. But I do know this:
We all have an opportunity here, no matter whom we support. Yes, we can look for the helpers. But we can also be the helpers. This election season is going to bring out the worst in some people. But let it bring out the best in us. We can be the ones who step across the aisle, reach across the table, walk across the subway car. This is our opportunity to live what we believe.
This is a chance to live as one nation, under God, indivisible, with liberty and justice for all.
Most important of all, this is our opportunity to show people who we really are, and what we really believe. We have a chance to show that our beliefs are not in word alone, but in deed. How we believe ought to change the way that we live and interact with others, in a world desperately in need of the helpers and healing.
Let's be the helpers.
Love,
Jennifer
Your turn:
How can we practically "be the helpers?" Let's offer our helpful suggestions in the comments!