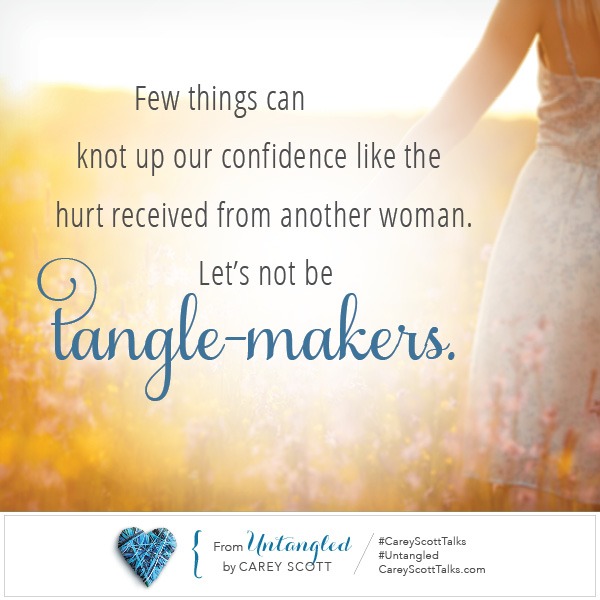 When Friendship Tangles our Heart
Carey Scott and I connected online because we both have a heart for women who are burdened by the "not enoughs." And we've both been there — trying to calculate our worth by the measuring sticks of the world. Like me, Carey has had enough of the not enoughs. And that's why I'm so delighted to have her join us on the blog today as we celebrate the release of her new book, Untangled: Let God Loosen the Knots of Insecurity in Your Life.
Be sure to enter for a chance to win her book. (Details below.)
Welcome, Carey.
When Friendship Tangles our Heart
By Carey Scott
Weeks had gone by and she still hadn't called.
An argument years earlier changed our friendship, moving it from familiar to strained with one unforeseen moment. We rarely disagreed, but this one shook the foundation.
Our relationship hasn't been the same ever since.
Instead of the easiness that described "us" … I struggled to trust her heart. Rather than run to her with great news or big challenges … I called others. We didn't make the time to connect like we had for so many years before.
And while I didn't understand it then, I realize now how very much the slow break-up of this friendship has been hurting my heart for years.
This friend had a special way of making me feel valuable – something I've rarely felt in my 48 years on planet earth. This woman loved me deeply, and we walked many dusty paths of life together. She was my person.
But things had changed.
Truth is, many of our friendships are seasonal by design, but I never thought this one would be. And because I had tied so much of my worth and security to this friend—even much more than I tied it to God at times—my heart became all tangled up in insecurity as our friendship faded away.
I could have called her. I could have reached out. But fear of an ugly confrontation kept me from picking up the phone. Even more I thought, "What if our conversation confirms I'm not a good enough friend?"
Chances are, this is your story too. Experiences like this are as common to women as the promise of clothing styles changing every season. Can you remember a time when your relationship with a trusted friend ended? Or when you thought the friendship was something more valuable than she did?
As women, our heart longs to be seen. We want to be known. We want others to see the depths of who we are and love us anyway. And community does that. Friends play a wonderful role in validating who we are… is good enough. With these women, we feel the freedom to let our guard down and share from those deep places.
But here's where we get into trouble.
Too often, we replace God with our girlfriends. They become our confidants… our problem-solvers… our validators… and the ones we reach out to when life gets big. They're the first call we make and the final vote on which direction we take.
And while friends are divine gifts that God uses to bless us, they're not meant to take His place. Allowing anyone or anything in this world to validate our worth sets us up for huge tangles.
Girlfriends may make us feel loved, but they aren't capable of truly gauging our importance. They may remind us we're special, but they can't fully measure our significance. Friends may be able to encourage and affirm us, but they can't completely quiet those I'm-not-good-enough messages knotted up in our hearts.
Only God can do that.
Truth is, girlfriends will come and go. We'll have seasons of rich friendships, but they may not be life-long sojourners. And while it may hurt to watch a beloved friendship fade (it really does, I know), it's a part of our human experience.
But freedom comes when we accept the reality of community—the good, the bad, and the tangling—and allow Jesus to be the determiner of our value and worth rather than place that expectation on our friends.
What tangles you up with insecurities the most in your friendships?
Carey Scott is an author, speaker, and certified Bible life coach who challenges women to be real—not perfect—even when real is messy. She speaks to women's groups and writes an online devotional designed to help women be who God created them to be. She lives in Colorado with her husband and their two children. Learn more at CareyScottTalks.com or UntangledWomen.com.
Giveaway of Untangled
Carey is giving away a copy of Untangled: Let God Loosen the Knots of Insecurity in Your Life
 to one lucky winner. In this book, Carey Scott shows women how to untangle their self-esteem from the world and anchor it in Jesus. She lovingly shows readers that God was intentional in how he made them and that he is well pleased with his work. Women will learn practical strategies to escape unattainable standards and the performance-based measuring stick of the world, and find comfort in the fact that they are not alone on the journey.
HOW TO ENTER: For a chance to win, simply leave us a comment letting us know you'd like to win a copy. I'll draw a winner on Saturday, June 6, at noon. For extra chances to win, Facebook or Tweet about this post, but be sure to let me know in the comments that you've done so, so I can tally up all of your entries!
contains affiliate links