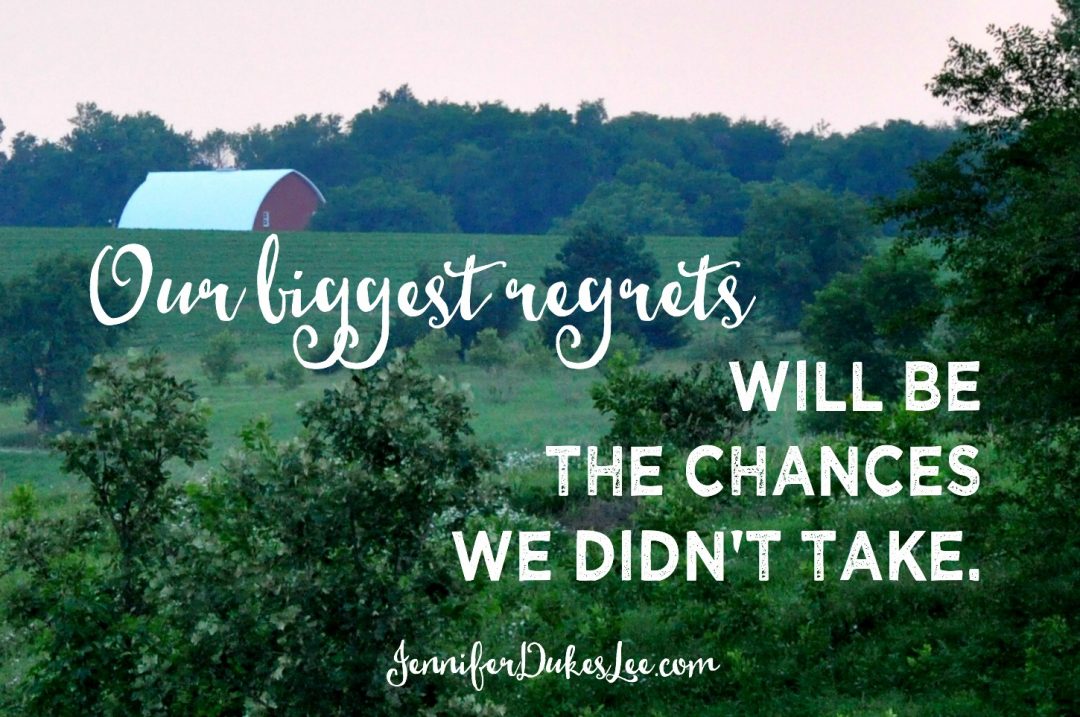 #TellHisStory: When Love is a Risk
There's no such thing as risk-free love.
The risk of love is loss. The risk of love is having your heart broken. The more your heart enlarges for the ones you love, the harder the break when you lose it.
But there is an even greater risk than love. It's deciding not to love at all.
I knew it for sure when I watched my daughter one summer day, with her chin resting on the farm gate. Inside the pen, a veterinarian held a stethoscope to the heart of her sick calf.
The vet was listening for heartbeats per second. But me? I was trying to hear my girl's heart. The risk of love had found its way to her heart's doorstep.
When the veterinarian gave the calf a shot with a long needle, Lydia's hands gripped the gate. She winced, the same way I winced when she had her first immunizations as a baby. My grown-up girl looked down the gate at me, eyes wide and pooling as her baby calf fought and groaned.
Love stings. 
"Is she going to be ok, Mom?" she whispered. "She isn't going to die, is she?"
Lydia was the one who knew first that her calf was sick. She had told me earlier that day, as we bottle-fed, that something wasn't right. Sherbet the Calf had backed away from a bottle of milk.
"Come on, Sherbs," she cajoled, waving that gigantic bottle in front of a young calf's face. "Come on. Drink!"
"See?" she turned to me, with wild, searching eyes. "It's just not right!"
Moms know these things about their babies — even adoptive moms of calves.
Hours later, the vet pulled onto the yard in a pickup. Lydia shot out the back door with determination in every step. The vet carried a stethoscope, a thermometer and a portable pharmacy. And Lydia — carrying her worry — ran down the hill alongside him. She ran hard after love.
I watched her from a distance. I tried not to stand between her and this calamitous love that needed to have its way with her heart.
I held back advice. Lydia answered the vet's questions, not me. I watched her stand tall, looking that vet straight in the eye when he confirmed her fears: Sherbet was sick. Probably pneumonia. She would need to do the hard work of nursing her calf to health, but there were no guarantees. Lydia nodded her head, straightened her shoulders, determined.
With love there are never any guarantees. Love can be erratic, like it might drop straight out of the bottom of your heart. You're effervescent with joy one day, and worried sick the next. In one skinny minute, everything can fall apart.
Yeah, love is risky.
But in the end, our biggest regrets will be the chances we didn't take. When we are on our death beds, we won't wish that we'd made more money, or spent more time at the office.
We will have wished that we loved when we had the chance.
They'll know us by our love. They'll remember us for the risks we took.
As mothers and daughters and uncles and cousins and wives, we have to love when it's ugly.
We love … even when we know love might fade or might break out heart. Or might get a fever — or cancer. We love, even if our love stays out past curfew. We know that love might run out the door, but we love anyway. We know that love might break the rules, or break the glass, or spill the milk (or spill the beans). But we love anyway. Because that's what we were made for: love.
Love is a risk, but in the end, love prevails.
When all is said and done, how we loved is how we'll be remembered.
It all boils down to this. God is Love. And we know that Love died for messy, erratic us. In this unfathomable mystery called Gospel, we must have been worth every calamitous risk. Or it simply wouldn't have happened.  
That's what the cross is — an act of courageous, risky, incomparable love. Jesus took the risk. He loved us with His whole life, even though there was a 100 percent guarantee that we would break His heart, again and again. Even though there was a certainty that we would walk out on him, run away from him, live like we don't know him.
Jesus loved us when we were hard to love.
And that's what we're called to do, too. We're called to love when it's hard.
I watched my daughter on that summer day, from my side of the gate, knowing that love will get riskier as the years stretch on. She could turn away. She could choose to let someone else do the hard work of loving unto heartbreak, unto broken promises, unto the diagnosis, unto death. But she'll have to decide whether love is worth the risk.
On that day, she chose love. I knew it for sure, because instead of turning her back on a very sick calf, she reached a hand through the gate to run her fingers along its back.
This is someone she loved. This is someone who was worth the risk.
#TellHisStory
Hey Tell His Story crew! It's always a joy to gather here every week. The linkup goes lives each Tuesday at 4 p.m. (CT). If you would use the badge on your blog, found here, that would be great. And if you would visit at least one other blogger in the link-up and encourage them with a comment, that would be beautiful! Be sure to check the sidebar later. I'll be featuring one of you over there! Author and accomplished speaker Kim Hyland is our latest featured writer. Her words are so soothing. Find Kim here. To be considered as our featured writer, be sure to use our badge or a link to my blog from your post. 🙂 )
xo Jennifer