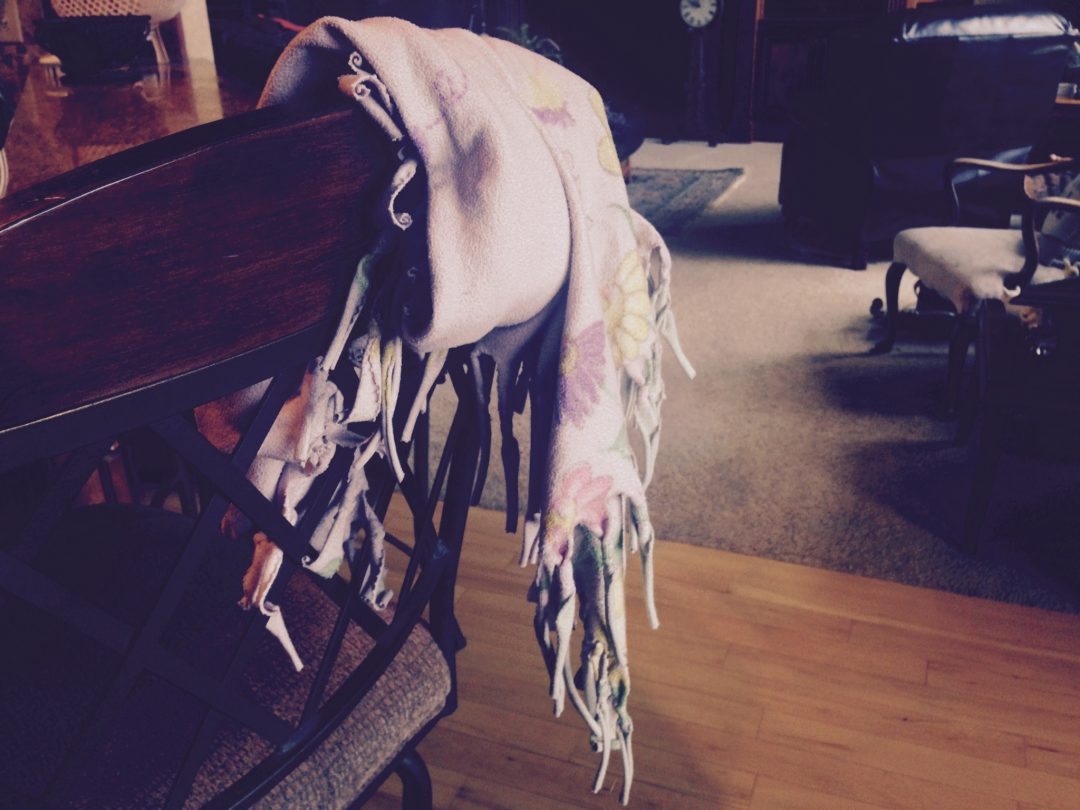 #TellHisStory: The First Step To Authentic Friendship
She had a choice to make.
The girl had brought her "lovie" to our house for a sleepover we hosted in honor of our youngest daughter's birthday. But that girl's lovie was still hiding in her duffel bag.
Her choice: Would she unpack her lovie when she needed it, or would she keep it hidden?
The lovie was a ragged blanket that she'd slept with for ten years straight. It had moved with her from her crib, to her toddler bed, to her "big-girl" bed. The blanket had taken long car rides with her, and it had soothed her when she felt lonely or hurt or afraid of the dark.
When she was around the people who knew her and loved her best, she was never afraid to bring the lovie into the light. But as she grew older, she kept it hidden from everyone else. She couldn't quite put a finger on the reason why. Why did something she loved so much feel like it had to be hidden? Somehow, the blanket had become a bit of a secret. Admitting that she slept with a lovie made her feel vulnerable, and maybe a bit ashamed.
As night came, I dimmed the lights in the family room, where the girls would sleep. All the girls snuggled under blankets for a late-night movie. I pushed play on the remote. But that girl? She  wanted her blanket. I could see on her outsides how she was fighting a quiet battle on her insides. This battle was about the risk of vulnerability.
If she's like most of us, the girl was asking herself the most paralyzing question in the universe: What will people think?
She made her choice. I watched as she walked to the bedroom, unzipped her bag, and quietly pawed through her belongings to find the love-worn blanket. From my seat in the family room, I saw what happened next.
The girl walked back into the room, with her blanket tucked under her arm. But just then, one of the girls saw what she retrieved from the bag.
She had been "found out."
"What's that?" asked the friend, pointing a finger at the lovie.
I was so proud of that little girl. Because here's what she did next:
She lifted her chin, lifted her voice, and took the first step toward authentic friendship. She sat cross-legged on the couch and told her room of friends the truth. She told them how her mom's friend made that blanket for her when she was a newborn, and how it had traveled with her on a hundred car rides, and how she once lost it at the park, and how it fell apart a few years ago, so Grandma had to sew it. She showed everyone the long stitch mark, and it looked like a scar.
Everyone listened. No one laughed at her. No one judged. And then, the most beautiful thing happened. One by one, each of the girls pushed back the covers, walked into the bedroom, and unzipped their duffel bags. Out came the ragged tie-blankets, a bear with a missing eye, a Taggie blankie, a plush doll. EVERY GIRL IN THE ROOM WAS HIDING A SECRET IN HER BAG.
That was the Night of the Great Unzipping.
Each girl dragged her own lovie into the living room, and then they took turns telling their stories — about lovies loved, and lovies lost, and lovies found again.
And everyone slept better that night. Because someone had the guts to "go first."
There's a C.S. Lewis quote that goes like this: "Friendship begins in that moment when one person says to another: What! You too? I thought I was the only one."
The first step toward friendship — deep friendship — is vulnerability. True friendship requires a terrific amount of emotional exposure. With it, comes risk and possible rejection. But it also comes with the likelihood that someone else knows exactly what you're feeling.
Deep friendship grows only when we are deeply known.
But the only way to be deeply known, is to allow yourself to be deeply seen.
The best friendships begin by letting ourselves be seen. The best friendships begin when we un-hide everything that we've zipped up. They begin when we stop asking ourselves, "What will people think?" Friendships deepen when we tell our stories about the sleepless nights, the darkiest-darks, and the sewn-up places that look like scars.
And when we do all of that? We find out that being "found out" is the best place to start.
And all around us, we shall hear a Great Unzipping.
#TellHisStory
Hey Tell His Story crew! It's always a joy to gather here every week. The linkup goes lives each Tuesday at 4 p.m. (CT). If you would use the badge on your blog, found here, that would be great. And if you would visit at least one other blogger in the link-up and encourage them with a comment, that would be beautiful! Be sure to check the sidebar later. I'll be featuring one of you over there! A former journalist from the Kansas City area, Lois Flowers is our latest featured writer. Find Lois here. To be considered as our featured writer, be sure to use our badge or a link to my blog from your post. 🙂 )
xo Jennifer