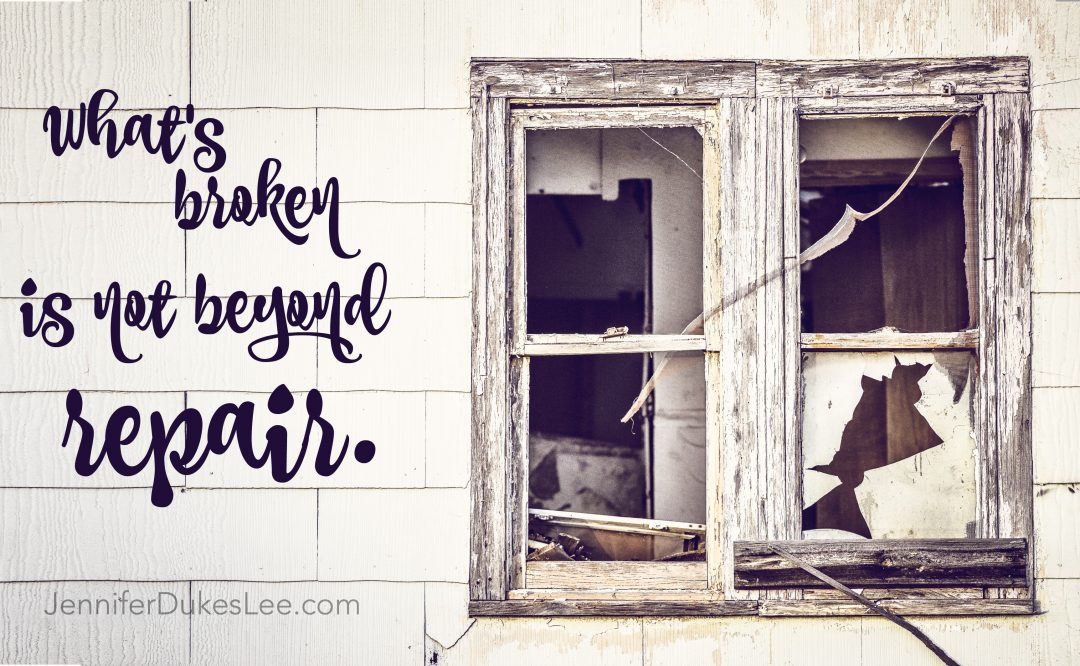 What's Broken is Not Beyond Repair
One of the things that irritates me most is my tendency to suffer from spiritual regression. If you see me talking about "re-remembering what I re-forgot," you know that I'm recovering, once again, from spiritual regression.
It happened again the other day when, in a group of friends, I felt on the outside. It happens from time to time, and the usual trigger for me is the nagging sense that I'm not competent enough. Then, I overcompensate, trying to appear smarter than I am, and I end up making a fool of myself.
What's really happening here is a loss of identity. It is blatant insecurity. At its core, insecurity is rooted in a case of mistaken identity. My most important identity of all is this: child of God. But I forget. You, too?
I am not proud to tell you these things, because they dismantle the version of "me" that I want you to see. But yet, I want to tell you, for three reasons:
1 – I feel lighter in the confessing.
2 – If you're struggling with your own case of mistaken identity, now you know you're not alone. I'm right there with you.
3 – If I don't share from the deepest parts of me, you'll never find me credible.
When I realized that I was up to my old tricks of believing wrong things, I remembered the Broken Windows Theory. Have you heard of it?
I first heard about the Broken Windows Theory many years ago when I worked the cops beat for a newspaper in Omaha. The mayor and police chief were initiating a new community policing strategy, and it will built on the Broken Windows Theory. The theory goes like this: If a window is broken and left that way, people will assume that no one cares and that no one is in charge. The theory says one broken window leads to two. One littered sidewalk will lead to two. One graffiti-sprayed wall will lead to more.
Under the Broken Windows Theory, the littlest things matter a lot.
I had some broken windows inside of me. The windows hadn't been repaired in a while. I could tell you all the excuses: all the hustle, all the busy, the emergencies, the sicknesses. I was too busy or too distracted to fix the broken windows — or to call in the Repairman. When I wasn't paying attention, more windows started breaking, and they started to affect how I feel about who I am. I started to read the bad graffiti spray-painted on my insides.
Then, I re-remembered what I re-forget. I reoriented myself toward my truest identity when I wrote these words inside of my daughter's new ESV Bible: "You'll read a lot of books in your life ahead. May you hold the Bible closest of all. God is the author of your story, Lydia. Believe what He says about you."
I wrote the words to Lydia, but the Holy Spirit repeated them back to me:
"Believe what I say about you."
The breaker of windows is crafty, you know?
Clear back in Genesis 3, the breaker of windows is a snake who speaks these words, "Did God actually say…"
Those four words have broken a lot of windows. So often, those are the words that the enemy uses so that we will distrust God's truth. God is repairing windows in me this week. He is reminding me to stay grounded in the truth of His Word, so that when the enemy says to me, "Did God actually say …" I can respond with authority:
"Yes, he did actually say."
I don't know what your broken windows look like today. But they are not beyond repair. Call on the One who can fix them.
Your Turn: Tell me about a broken window in your life. How can I pray for you?
#TellHisStory
Hey Tell His Story crew! It is a joy to gather here every week with you. The linkup goes live each Tuesday at 4 p.m. (CT). If you would use the badge on your blog, found here, that would be great! And if you would visit at least one other blogger in the link-up and encourage them with a comment, that would be beautiful! Be sure to check the sidebar later. I'll be featuring one of you over there! Our featured writer this week is Katharine Barrett. The story about her little one calling for help – simply because He wanted to chat and be near her – is so sweet! Find Katharine here. To be considered as our featured writer, be sure to use our badge or a link to my blog from your post. 🙂 xo Jennifer
If you liked the post, you'll love the message of Love Idol: Letting Go of Your Need for Approval–and Seeing Yourself Through God's Eyes.