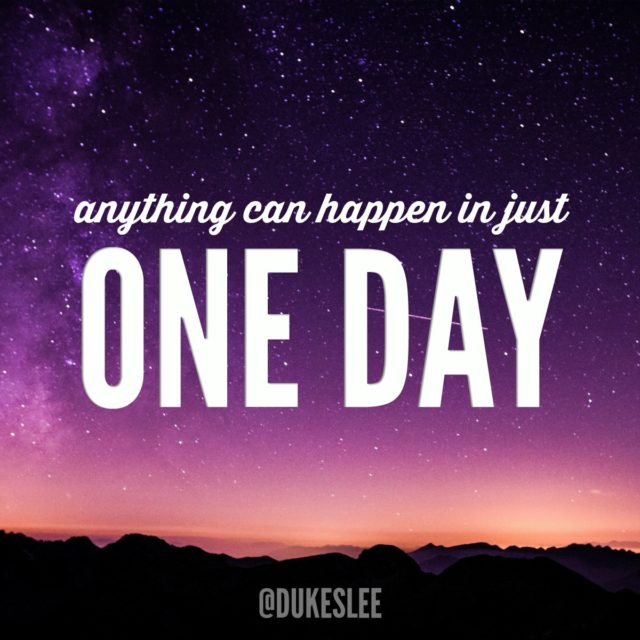 Whatever You're Facing Now, Give it 24 Hours First
What we all need is this: to take a little time. But what we do instead is this: spend that time fearing what's next.
"What a difference a day makes." That's what I've learned in the last two and a half weeks since we first took Mom to the emergency room.
Let me confess something to you: During these hard and painful weeks, we've invested countless, unnecessary hours on worrying, on what-ifs and on worst-case scenarios.
What if this raging infection spreads farther?
What if Mom's kidneys fail?
What if the surgeon missed something?
What if I'm not being a good enough Mom and wife, while I'm at the hospital being a daughter?
What if I'm not being a good enough daughter, while I'm at home being a Mom and wife?
What if Mom won't walk again? 
But what I am learning is this: one day can make all the difference.
For Mom, the breakthroughs almost always happen quietly, overnight, slowly — one IV bag at a time, one blood test at a time, one literal step at a time. They happen like this: Last week, Mom took twelve steps. Yesterday, at the rehab hospital, she took 120.
Maybe that's why I keep clinging to these verses from Psalm 30:5. "Weeping may last through the night, but joy comes with the morning."
In the last few days, I have felt God rummaging around in my heart, revealing something about myself: I've been a woman who has always been in a hurry. I want what I want, when I want it. And if results don't come, I fear the worst.
"Give it just a little more time," God seems to be saying to me as I pace hospital corridors. "Give it a day, before you decide. Give it a few hours, before you assume the worst."
Where do these words find you today? What worries you? Perhaps my words feel hollow because of the enormity of whatever you're facing. Believe me, I know. Sometimes, after a 24-hour wait, the news we received was even worse than we imagined.
But may I gently invite you to learn from my mistakes. Before you assume the worst, wait. Give it at least 24 hours before you decide.
I don't want to suggest that everything will always turn out the way we want it to. But I do want to suggest that we humans tend to invest hours worrying, hours we can't get back, hours that bring us nowhere but to a place of unnecessary anguish.
What a difference a day makes.
What relationship looks broken for you today? Give it a day.
What person do you want to give a piece of your mind? Pray first, and then give it 24 hours before you speak.
What opportunity now seems all but lost? Check back tomorrow.
What hurdle stands before you? In time, friend. You can do this.
What door was slammed shut on you as you stood in the hallway? Return to the same spot tomorrow, and find that another door has opened.
Anything can happen in just one day. If you don't believe me, spend a few moments in Mark 16:1-8. Here's a snippet: "You are looking for Jesus the Nazarene, who was crucified. He has risen! He is not here."
Keep your eyes open. For when you think you're headed to the site of a grave, you might be one day away from a miracle.
May joy rise up, dear heart, and may it greet you in the morning.
Love, Jennifer
A FREE FIVE-DAY CHALLENGE FOR YOU
Do you need a little encouragement as you wait for "joy in the morning?" I've got something special for you. If you haven't signed up yet for my FREE five-day challenge to start 2018 off right, there's still time. (I thought I was writing this challenge for you, but it turns out, I was also writing it for me! It's just what I needed.)
More than 1,500 people are already taking the challenge, and I've heard great things about how it's helping people find happiness as the new year begins.
You'll get: five free devotionals, Bible study worksheets, beautiful printables for your home + more. All for free. Find it all by signing up right here.
If you're already in the challenge and are enjoying it, share it with a friend or two by sharing this blog post. The challenge closes January 21.
#TellHisStory
Hey Tell His Story crew! It is a joy to gather here every week with you. The linkup goes live each Tuesday at 4 p.m. (CT). If you would use the badge on your blog, found here, that would be great! And if you would visit at least one other blogger in the link-up and encourage them with a comment, that would be beautiful! Be sure to check the sidebar later. I'll be featuring one of you over there!
Our featured writer this week is Rachel Lee. As we begin a new year, I was encouraged by the truth she shared about how God makes all things new. (And her story makes me think of old furniture in a new way!) Find Rachel here.
To be considered as our featured writer, be sure to use our badge or a link to my blog from your post. xo Jennifer
SaveSave