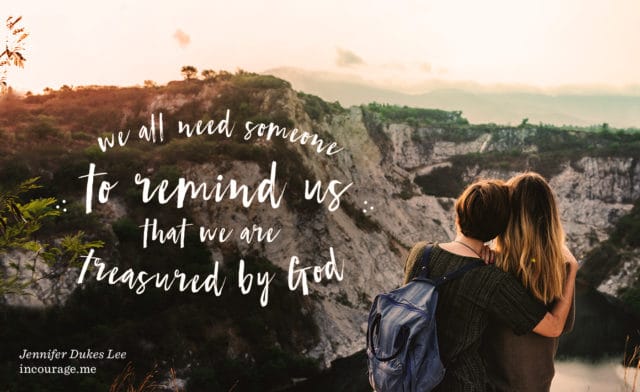 Doris was our pastor's wife in the early 1980s.
When I called her house — often looking for my mom — it was from our old rotary phone in the kitchen. It was the kind of phone with a twirly cord that could stretch the length of a room.
Doris didn't know who was calling, of course, because in the 1980s, no one had mobile phones or caller ID. There was no such thing as "screening calls." The pastor's wife always answered the phone the same way, every time:
"God loves you! This is Doris."
It didn't matter who was on the other end, dialing into her house. That's how she answered the phone.
The caller could have been her accountant, her hairdresser, an escaped convict, the next-door neighbor, an insurance salesman, or a politician running for office. She'd answer her phone with the same greeting because she wanted you to know that you're loved.
I hadn't thought about Doris's greeting for years, but the memory returned last week. I suppose it's because we got word that Doris passed away, after more than 90 years on this earth.
Here's what I'm sure of: The world still needs people like Doris. The world needs people who tell the rest of us that we're loved, no matter who we are. I've seen the people who need to hear it. I'll bet you've seen them, too. You've seen them in Target, and in your Instagram feed, and across the aisle at church. Some of you have seen that love-hungry someone looking back at you in the mirror.
We all need someone to remind us that we are treasured by God.
Read the rest of the post over at (in)courage. It might be just what we need in times like these. Click here. 
Last week to sign up! 
Did you know that the third Monday of January is considered to be the most depressing day of the year? Are you feeling it too?
Well, I've got something special for you. If you haven't signed up yet for my FREE five-day challenge to boost your happiness, there's still time.
About 1,800 people are already taking the challenge, and I've heard great things about how it's helping people find happiness as the new year begins.
You'll get: five free devotionals, Bible study worksheets, beautiful printables for your home + more. All for free. Find it all by signing up right here.
If you're already in the challenge and are enjoying it, share it with a friend or two by sharing this blog post. The challenge closes January 21.
Also, check out two of the adorable printables, which you will get for free for signing up.
#TellHisStory
Hey Tell His Story crew! It is a joy to gather here every week with you. The linkup goes live each Tuesday at 4 p.m. (CT). If you would use the badge on your blog, found here, that would be great! And if you would visit at least one other blogger in the link-up and encourage them with a comment, that would be beautiful! Be sure to check the sidebar later. I'll be featuring one of you over there!
Our featured writer this week is Kaitlyn Bouchillon. She's compiled a list of 14 can't-miss books releasing over the next few months… I don't know about you, but I'm always looking for a new read and these look great. Preordering now! Find Kaitlyn here.
To be considered as our featured writer, be sure to use our badge or a link to my blog from your post. xo Jennifer
SaveSave