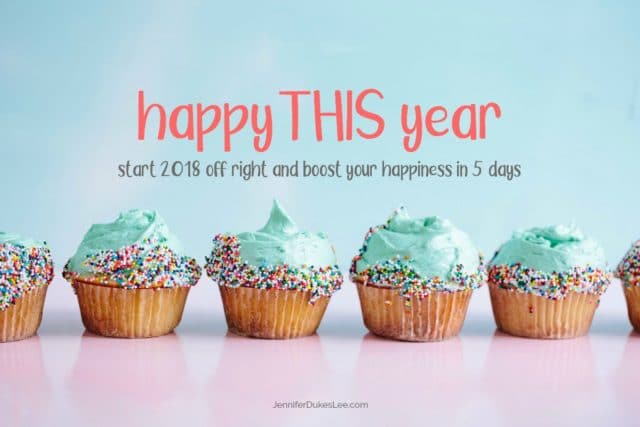 A FREE Challenge To Start 2018 Off Right (includes printables, worksheets, and more)
This wasn't the way I thought the new year would start – here in a hospital.
My mom has been here for over a week, battling an infection like a warrior.
Today, like every other day since Christmas Eve, you'll find me taking a short break in the corner of this waiting room.
Sometimes, while I'm sitting here, I read the psalms. Sometimes, I pray. Sometimes, I just … breathe. And, always, I collect my thoughts, and remind myself that no matter what, this remains true: God is still God, and God is still good.
Over the last couple years, I've been a self-appointed Happiness Ambassador, hoping to spread happiness, joy and peace to you through the words I write. But I never once said happiness was easy.
I've always believed that happiness doesn't come from our circumstances; it erupts from something much deeper.
Happiness truly is an inside job.
Today, I'm back in the corner of the waiting room again, this time with my laptop. I came here to invite you into something that has become so real to me in the last week. It's a challenge called Happy This Year. I created Happy This Year to help you start 2018 off right and boost your happiness in just five days.
I didn't know that when I was working on it for you, that this would also be for me.
Can I tell you more?
Happy This Year: A Five-Day Challenge
Happy This Year is for you, and it's for me. It's for anyone who wants to know that happiness is possible in 2018. It's for anyone who wants to believe that if you've lost your happiness along the way, it's recoverable. And it's for anyone who wants to wring the delight out of every single day – even if, like me, you find yourself in a place you really didn't want to be.
Where are you today? No matter where you are, I hope you'll join me.
I'm going to guide you through a five-day challenge. Think of it as Happiness Boot Camp. I'll be your guide, but it doesn't mean I've got it all together. Quite frankly, I've been a bit of a wreck these last days. But I'm still choosing happiness!
I hope you'll find the courage to do the same. That's where Happy This Year comes in. It's FREE, and it's guaranteed to start your year off right.
Here's the best part. It's only five days. I'm kind of a Resolution Drop-Off, and maybe you are too. But we can handle five days, right?
Here's what you'll get in these five days:
– free printables for your home or office
– simple happiness hacks for you to try every day
– easy-to-follow tips to carry with you throughout the year
– printable Bible study worksheets that will take you 10 minutes or less to complete
– a fun gift at the end!
Here's a sneak peek, at a few of the dozen+ free resources. And it's all free, my New Year's gift to you.
Get these five challenges, Bible study worksheets, and five adorable free printables + plus so much more, by signing up right here. The goodies will arrive in your inbox every day, over the next five days.
Be sure to follow along on my Instagram story, and Facebook, where I'll be sharing how this challenge is real in my life this month.
Your first email will arrive within a few minutes. If you don't see it soon, check your junk mail and spam folders.
I can't wait to chat with you then!
Sending love to you from the waiting room,
Jennifer
#TellHisStory
Hey Tell His Story crew! It is a joy to gather here every week with you. The linkup goes live each Tuesday at 4 p.m. (CT). If you would use the badge on your blog, found here, that would be great! And if you would visit at least one other blogger in the link-up and encourage them with a comment, that would be beautiful! Be sure to check the sidebar later. I'll be featuring one of you over there!
Our featured writer this week is Stacey Pardoe. As we begin a new year, I really appreciate this take on hospitality: "Hospitality is reaching into someone else's world and inviting them into yours." Find Stacey here.
To be considered as our featured writer, be sure to use our badge or a link to my blog from your post. xo Jennifer
SaveSave