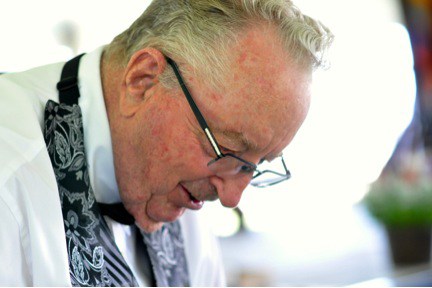 What an Old Farmer Teaches us About True Hospitality
This is my friend Helmer.

He's an old farmer who lives up the road from us. If you drove from our farm to his, you'd pass by the country church where we worship together on Sunday mornings.
There are a lot of things I love about Helmer.
The way he sings hymns by heart – all four verses.
The way he carries a comb in his front pocket.
The way he and his sister, Hazel, take care of each other. (Both in their 90s, they now live together in Helmer's house.)
The way that Helmer likes to keep things simple.
When I need a shift in perspective about life, well, I pay Helmer and Hazel a visit. They keep the main thing, the main thing – devoid of the nonessentials.
A while back, I drove the familiar road between our two houses, past the church and the greening fields. Like I often do, I brought my notebook and a pen. We talked about the church, and how to keep the faith in hard times. They are always so wise, so I scribbled notes while sitting on a sofa, between those two sages.
Then, it was time to go.
Before I left, Helmer rose from the couch, in a bit of a rush. Soon, plates and cups clinked. I knew he was setting a table, but I felt short on time.
I peeked around the corner, to protest. Sure enough, Helmer had set out "lunch," which in our part of the world is shorthand for a "small mid-afternoon snack."
But lunch would require us to sit. Lunch is not a grab-and-go activity. It's a linger-at-the-table event.
Mind you, Helmer didn't complicate matters. That's not his style. This was it:
Three cups of hot coffee. A small plate of Oreos. And an extra place at the table, for me.
I tried to wave him off, told him I needed to get back home. But … oh then, … well. Sure.
Helmer insisted; I acquiesced.
The old farmer with a comb in his front pocket led us in prayer: "Come Lord Jesus, Be our guest. Let these gifts to us be blessed. Amen."
We nibbled on Oreos. We blew our breath over the tops of our cups to cool our coffee. We talked about the weather, and the news. About God and the church. And crops.
I left an hour later than I'd planned, but felt surprisingly unrushed. I felt a warmness, a lightheartedness, an awareness of my breathing—the way one feels after a particularly satisfying, winsome day.
Later, I thought about what those hours with Helmer and Hazel taught me about the nuances of hospitality.
1 – Hospitality is insistent, a pursuit.
In some translations, Romans 12:13 has a palpable zeal: "Pursue hospitality." This hospitality is actually quite aggressive. The Greek is saying to chase hospitality. To run hard after it. To actually trouble people about it! (I can almost imagine Helmer's photo on the pages of the Greek dictionary, plate of Oreos in hand.)
2 – Hospitality requires a guest.
Sometimes the most hospitable thing we can do is to stay. We say yes to the table set before us. Hospitality is a relationship between a host and a guest. Surely, every good thing in life can be improved by sharing it with another soul. And if we don't acquiesce from time to time, we disallow the gift being offered by another soul.
3 – Hospitality is about human dignity.
At the heart of hospitality, is the simple act of opening a space, of making room. It is a quiet acknowledgement of the automatic sacredness of another human being's life. It's the easy dignity of sharing a table.
It doesn't need matching napkins or three courses. It doesn't require Pinterest's help.
Sometimes, it's only this –
One old farmer,
who sets out a cup,
and lets you know you matter because you exist.
And you can't help but stay awhile.