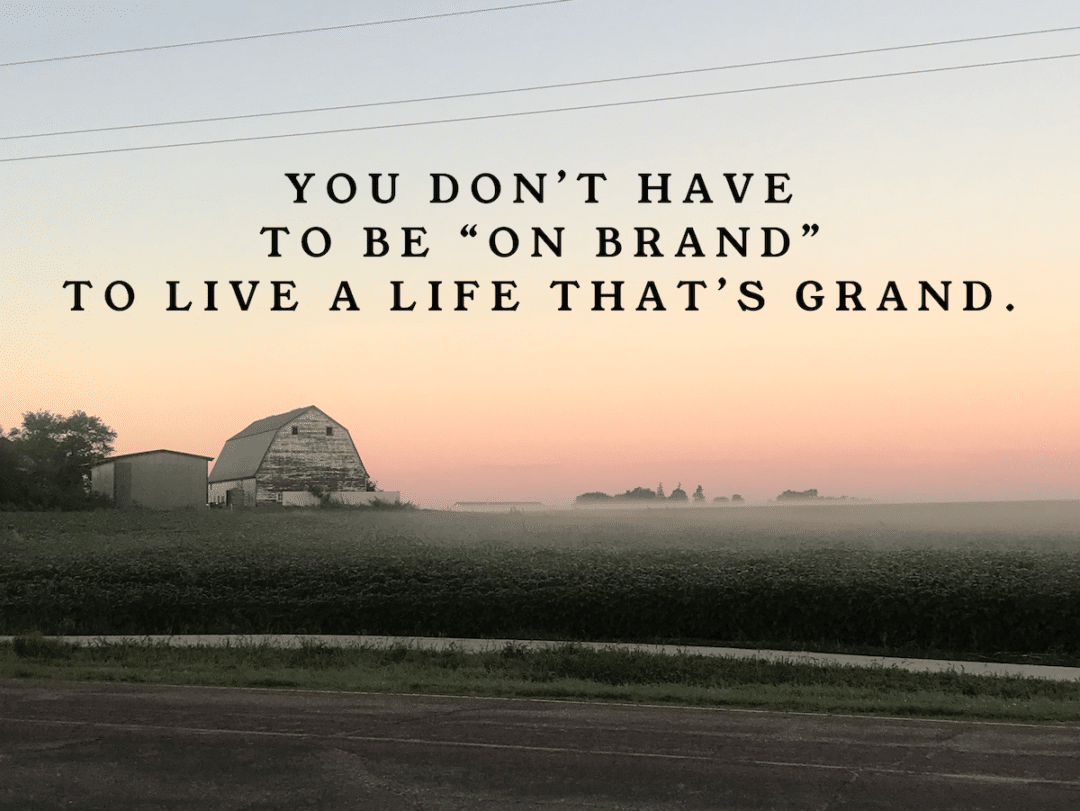 Full Life vs. Filtered Life
I went on Instagram this afternoon, which isn't anything unusual for me, let's be honest. Instagram is probably my social-media platform of choice, and I enjoy indulging in a guilt-free scroll there now and again.
But once in a while, I catch myself feeling those old feelings of "not enough" because Instagram is the one place where you can feel like you don't measure up, simply by sliding your forefinger up a screen.
In the squares scrolling by, I see:
a woman who is killin' it with her hand-lettered art.
a mom who managed to create the most gorgeous outdoor, princess-themed birthday party for her little girl.
a couple toasting champagne on a yacht, while celebrating their anniversary
a business owner announcing that she just hit 100,000 followers on Instagram
a home that looks like it could have been ripped right out of a Joanna Gaines book.
It would be burdensome enough if we thought we had to be like one of those women. But what happens is this: we think we need to be ALL of those women.
We gather up all those squares in our minds, stack them on top of one another, and suddenly we believe this: I need to be all of that. I need to be a businesswoman with a gazillion followers, an artist, a romantic, a home decorator, Mom of the Year, a size six, with a cute wrist tattoo, ankle boots, a blowout, fair-trade earrings, a woman who managed to whip up a gluten-free frittata for breakfast before heading to teach 1,000 women at a mega-church.
And meanwhile, the reality is this: your kid had a bowl of cereal for breakfast, the dishes are still in the sink at 3 p.m., your home décor is very 2005, and you haven't washed your hair for three days.
There's more: life has been really, really hard lately. You are feeling the weight of the world on your shoulders, the unforeseen circumstances, the conflicts, and more.
You can't put a filter on any of that.
Plus, you have toilet paper stuck to your shoe.
Anyone? Am I the only one?
Am I the only woman out there who sometimes mistakenly thinks that a full life is the filtered life? Am I the only woman who sometimes falls for the idea that I've got to be all the things to all the people? Am I the only woman who struggles when life falls apart, wondering how to trust God with the hard moments that will never look good on Instagram?
I don't think I am.
When I put down the phone and take a deep breath, I remember what I already know: You don't have to be "on brand" to live a life that's grand.
You don't need a perfect life, for it to be a beautiful life.
In truth, we know it. We know that we don't need perfection to find true happiness and fulfillment. But sometimes we need a friend to tell us the truth about things. That's what I hope I can do for you today.
And let me be honest. That's what my friend Niki Hardy did for me just this week.
Niki Hardy is the author of Breathe Again, a fabulous new book that I highly recommend. Today, I re-read chapter 2 of the book. This book is about how we can thrive, not just survive, no matter what life throws at us. Niki wrote the book after she lost both her mother and sister to cancer. And then she was diagnosed, too.
She wrote it from a place that doesn't look so pretty on the 'Gram. And that's what I love about it.
Her words found a soft place in my heart, and I wanted to share them with you, because maybe you need them too:
"We are bombarded with glossy perfection a thousand times a day … with beautifully curated homes and pristine children who, adorned in neutral tones, skip playfully through the forest or read quietly in dappled sunlit tree houses. No one posts pictures with captions like 'This is me fighting with my teenager who I found sneaking out last night' or 'This is my cute new bag (where I stash my secret little orange bottle of pills).' And I've never seen a selfie with the hashtags #lonely, #depressed, #abused, #unworthy, #ashamed, or #unlovable.

We hope if we present life as perfect, it will be perfect. So we fake it, paralyzed by the thought of anyone knowing the truth. The world's image of what abundant life looks and feels like is a myth; it's smoke and mirrors perpetuated by social media, TV, and movies, and it's fueled by our own insecurities."

'An abundant life is a perfect life' is a myth. … Jesus never said, "I have come that you might have life, and have it more fabulously."

~ Niki Hardy, Breathe Again
Jesus came to give us a full life, for sure. But we don't need a filter to find a full life. We don't need a pain-free life either. We need a faith, and the unconditional love of a Father who embraces us in all of our unfiltered glory.
Even when the toilet paper is stuck to your shoe.
---
I hope this post encouraged you today. For more encouragement, click here to find Niki's book on Amazon.
I was privileged to write an endorsement for Breathe Again:
My friend Niki knows firsthand what it's like to feel like everything is falling apart, and somehow, in the midst of it all, draw closer to God. Niki leads us on a journey that will take each of us straight to the feet of Jesus. And she does it with stunning vulnerability, Biblical truth, and even humor. (Reading along, I couldn't help but laugh as I imagined her, with her British accent, talking about her "bum," "the loo," and "rubbish.") I would recommend this beautiful book to anyone who doesn't want to simply survive but to rise up and thrive.

~ Jennifer Dukes Lee, author of It's All Under Control
Download the first couple of chapters of Breathe Again FREE.