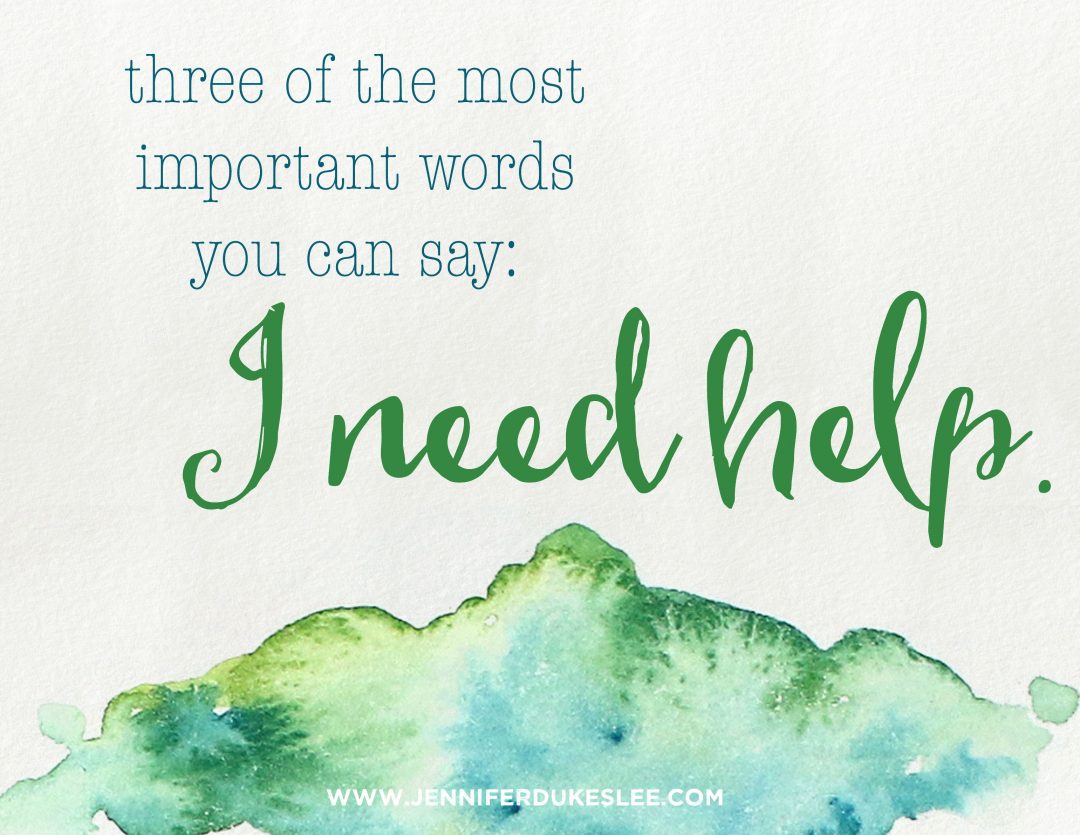 Three of the Most Important Words You Could Say – #TellHisStory
The memory is fuzzy, because I was so low on sleep and my mind wasn't level. Hinges were loose, and I couldn't make sense of my world. So I can only see the blur of the memory now, on the playback.
I didn't know it yet, but I was depressed. I needed help. Yet I didn't want to ask for it.
I was a boot-strap puller, a self-reliant do-it-yourselfer. I was always someone's helper, never the help-ee.
I would have called it independence then. I call it pride now.
But there came a day when my urgent need for mental fitness outweighed my great desire for self-sufficiency.
It was a few weeks after our second daughter was born, and postpartum depression was sucking the life out of me. I felt dark on my insides, shadowy and empty, a frail ghost-person. And no amount of try-hard, boot-strapiness could pull me out of it.
My husband, feeling unsteady about my unsteadiness, said I needed to call someone. He said there was no shame in asking.
But whenever I picked up the phone to call, it felt heavy in my hand. But then, one day, I called my sister Juliann.
When she answered, I broke down in tears and uttered these three words: "I need help."
She dropped everything and drove six hours north. I bawled when she walked through the door, and I called her my angel for days.
While she was hear, I went to the doctor and told him the same thing I told my sister: "I need help." The doctor gave me a prescription, to help get me level again.
But I still had one more place to go. One afternoon, still unsettled in my spirit, I went to my closet, dropped down on my knees by the laundry hamper and wept before God.
"God, if you're there, I need help."
My sister tells me that when I walked out of the bedroom that afternoon, I looked like a new woman. That was a milestone moment for me, that moment when I found the Rock at my rock bottom. And it all started because I dared to utter three scary, beautiful words:
"I need help."
Those are three of the most important words anyone could ever utter.
Those three words saved me.
I don't know where you're at today. Do you need help? Maybe you're scared to ask. Maybe you're worried the words will make you look weak. Maybe you don't want to be somebody's burden.
Dare to say the words.
These are the words that have saved marriages, sent addicts to treatment, ushered teens through the counselor's doorway, and have been the catalyst for a trillion prayers, of all sizes. Those three words save lives, and bring people to Jesus every day.
Friend in Need, you are not a burden. You are a person.
When you say "I need help," you're not uttering feeble words. They may be the strongest, bravest words you ever say.
#TellHisStory
Hey Tell His Story crew! It's always a joy to gather here every week. The linkup goes live each Tuesday at 4 p.m. (CT). If you would use the badge on your blog, found here, that would be great. And if you would visit at least one other blogger in the link-up and encourage them with a comment, that would be beautiful! Be sure to check the sidebar later. I'll be featuring one of you over there! Our featured writer this week is Becky Keife, writing about how her summer didn't go exactly as planned — but how it was so, so good. Find Becky here. To be considered as our featured writer, be sure to use our badge or a link to my blog from your post. 🙂
xo Jennifer