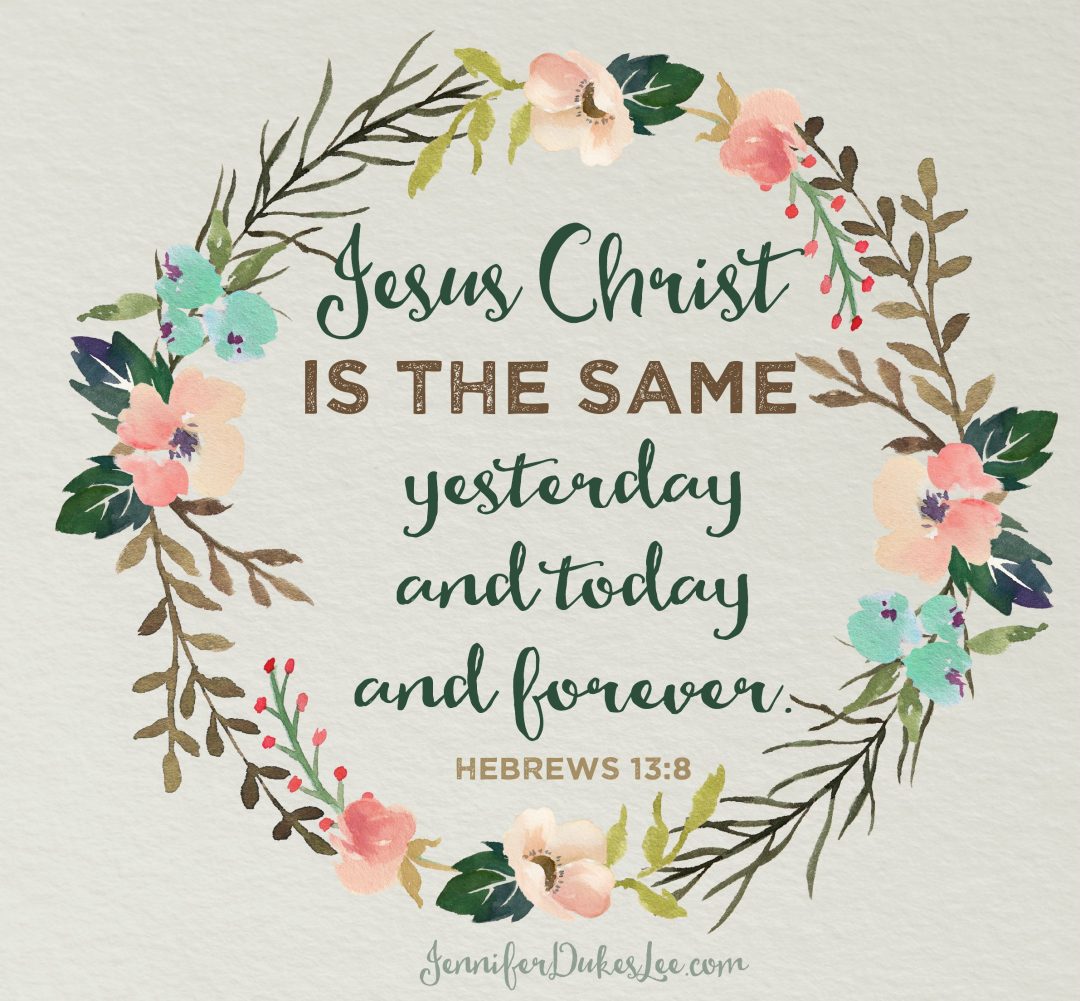 Hope for You, If You're Going Through a Season of Loss and Change
Something wonderful happened last night.
I re-remembered something I had re-forgot, and it happened during a Sunday night worship service with my family.
This wasn't our church, but we'd come to hear the last of a two-part message being delivered by our new friend, Adam.
Before the service began, the worship band played a song that I knew, but it was like I'd heard it for the first time:
The lyrics go like this:
You stay the same through the ages
Your love never changes  
There may be pain in the night
But joy comes in the morning 
I felt a familiar sting of tears, as I stood in the dimly lit room with the girls and Scott. That one line, about God "staying the same through the ages" gave me a settledness that I haven't felt for weeks.
He has always been. He is now. He always will be. No matter what. 
I've been in a hard, restless season of feeling like nothing has stayed the same. It would be wrong to give you all the details here, because while they are partially my stories, they are entwined with the stories of others. Know this: there has been loss.
I have been walking around my heart, skirting the edges of the gaping holes that remain. Some of the holes are new, and some are very old — but it's as if I never tended to them before. It's as if I had ignored hurts and losses of the past. And because of this season of loss, I'm reliving a hundred other losses, and it's been almost too much to bear.
My husband has been incredibly generous with his ears, listening to me psychoanalyze myself, letting me drag him to the edges of the holes — some of them twenty years old. The other day, he brought home a bag of dark chocolate because he knows my love language.
He has resisted his overwhelmingly strong urge to fix things for me, and for that I am grateful because I need to look down into the holes. I'm grieving things I've never grieved. This is part of being a healthy human — saying goodbye to the way things were.
Here's something I may have never told you: I have spent a lot of my life, wide-eyed and fearful that if I let people get close enough to me, they'll eventually leave when they figure out what I mess I really am. So I have this annoy habit of trying to hold on to you for dear life. I'm like the Mafia — I won't let you go!
Because sometimes, I can't bear the thought of losing you.
The other day, overwhelmed by death and loss and change, I snapped a photo with my family, outside a sushi joint.
I uploaded the photo to Facebook with this caption: "No matter what else happens … these ones remain."
But that's not actually true.
In truth, something could happen. Sooner than I imagine, those girls will actually move away to pursue what God is calling them to do outside of our little family unit — at least that's how it's supposed to work. But because of the curse of brokenness in this world, tragedy could befall any one of us. There are no guarantees. And I know that's morbid to say, but acknowledging this truth? It keeps me in a state of deep gratefulness for each moment, each tuck-in, each date night, each band concert, each Minecraft village that they want me to see, each shared meal, and each glittery craft project that leaves my office in sparkly disarray.
I want to hold tightly to these three. But last night, God reminded me gently through song: "Hold loosely to all that you love." I did not take that as a threat, or some foreboding warning, only a reminder that I don't get to choose, and that no matter what, it is God who remains.
"You stay the same through the ages."
And then, as the song played on, God walked with me around all of those holes. He had me look in them again, reminding me that the holes have become a part of who I am.
I am more than all that I've kept; I'm also all that I've lost. 
In seasons of loss, even as I still grieve, the holes made space for the presence of God to do a new thing in my heart.
All of us have holes left by death, by betrayal, by the feeling that you've been left behind, by the natural tendency of friendships to change, by the children moving off to college. We have loss of opportunity and loss of possibility. Someone moves away; another dies.
But loss is more than a hole. Loss will always teach us the worth of all things.
In good times, I shall look to my Father and celebrate what He's given. And in hard times, I shall look to Him, … and grow. It's in the darkest, deepest holes, that God has planted new seeds.
I am not a desert. I am a garden. These holes are neither barren nor lifeless — but are places for God to plant something new.
Last night, I felt a sacred permission to grieve what has been lost, to celebrate what remains, and to look forward to what might be ahead, without fear.
My wise friend Kristen said it like this: "The old thing may be familiar, but the new thing may be fantastic."
And all the while, God remains. He stays the same through the ages — yesterday, today and forever.
post contains an affiliate link