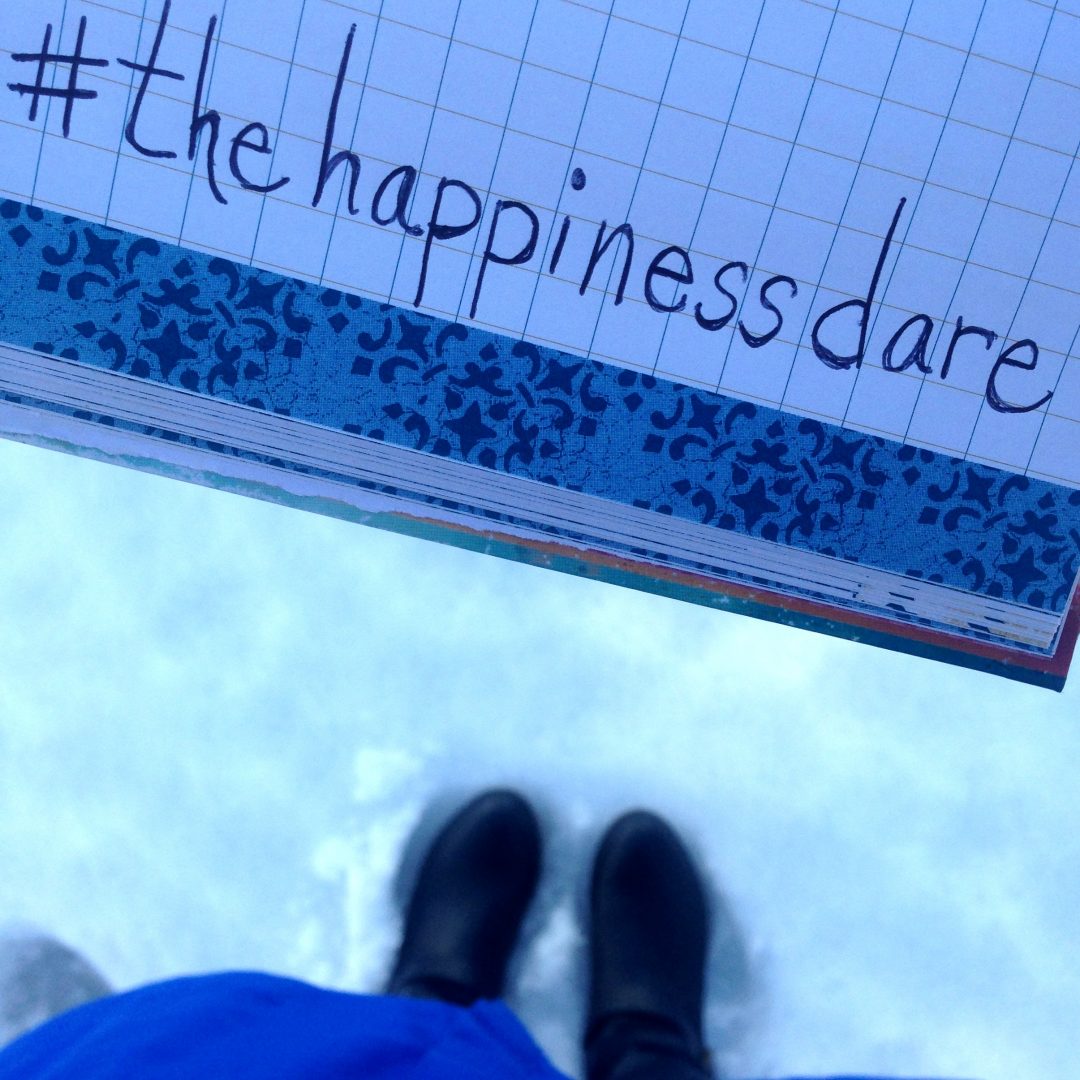 A Dare that Might Just Change Us — #The Happiness Dare #TellHisStory
Today is my birthday. My family says it's actually my birth-month. I won't lie: I know how to drag a party out.
I think that one of the reasons I love my birthday so much, is because it gives me a reason to celebrate during a time of year that can feel heavy.
By now, a lot of us have blown our resolutions. The news is downright depressing. The weather has been dreary. We're fighting colds and trying to manage overwhelmed schedules. Some of us just got the Christmas decorations put away, and we are still vacuuming up pine needles. We feel the pull toward hustle, toward proving ourselves. And it's all just a little bit exhausting.
But my birthday reminds me that happiness is possible, even on the hard days. My birthday reminds me that I don't need a beach to find happiness. I can find it right here, in my messy, regular life. I'm 44 years old today, and I know this for sure:
I want to build the kind of life that I don't need a vacation from.
I want to embrace a life where I wake up to the present-tense moments, unafraid of what might happen tomorrow and untethered to the junk that happened yesterday. I want to discover happiness in the life I'm living, not in some elusive idea of what life is supposed to be.
This year, I'm daring my heart to be happy.
It's actually a dare I first took more than a year ago, as an act of self-care. The dare was born out of the bland malaise I'd been living under. Life felt gray, despite the fact that I'd been blessed with good health, a loving family, a roof over my head, and a faith that promises this: God's Got It.
Yet I felt a dullness. I didn't like that.
I began to actively seek happiness, and to spread it. This dare has changed me.
Today, I invite you to take the dare with me. Will you join me?
#TheHappinessDare
Let's do this. Let's take the dare. Let's find happiness today, right where we are.
Let's watch more sunsets, eat more often by candlelight, wear feather boas, and look around at our world in wonder.
Let's say yes, even if we're scared. And let's say no, because sometimes we need to.
Let's be contagious with our happiness. One of the surest ways to increase our own happiness is to go out of our way to make someone else happy. The fastest way out of the dark is to share the light from your own candle with someone else. Let's share our light. Fill someone else's parking meter. Invite a new person to the table. Give to a cause. Make someone laugh.
Let's also be generous with our thanks. We could look for God's hand on a hard day, be grateful for the little things, and count a blessing we didn't even ask for. We could make a list of three things, every day, that make us smile. It costs us nothing at all to be grateful for what we already have.
I am in the middle of my own Happiness Dare, and it reminds me how the simple act of chronicling the little things makes me appreciate the life I've been given. I would love if you would come along with me. I started a hashtag this weekend over here on Instagram, as a way to chronicle my own Happiness Dare. This is me, paying attention.

I have made my choice. I refuse to join the chorus of negativity. I resist the pull toward bitterness. I will not sleepwalk through my own life. I was made for more.
I'm in.
You too? Join me, wherever you are, on Instagram, Facebook, and Twitter. Tag your posts with #TheHappinessDare. Every day, let's look for happiness, even when it's hard to find. Because sometimes, the looking is what will save us. There will be days when this will take effort, so we might need to make happiness a spiritual discipline.
When we choose happiness, we are not denying the pain of this world; we are refusing to give in to it. Happiness is a feeling; it's also a decision. It's a choice we get to make every single day.
We could do this, together. We could go on a holy hunt for happiness, and track it together — celebrating the holy, ordinary beauty right under our own two feet.
To Jesus Christ my Savior, we say, thank you. Of all the people in the world, your followers should be the happiest of all. Let our lives reveal that truth. Until we meet you in heaven, make us more like you here on earth: happy and holy. We will honor You, from this day forward, in our holy pursuit of happiness.
#TheHappinessDare
This year,  we are daring our hearts to be happy. We are taking The Happiness Dare. I do hope you'll join us! Mark your moments with #TheHappinessDare. I can't wait to see what emerges this week in #TheHappinessDare stream! Let's do this.
Click here to print out the list of 30 ways to make the dare a reality in your everyday life.
#TellHisStory
Hey Tell His Story crew! It is a joy to gather here every week with you. The linkup goes live each Tuesday at 4 p.m. (CT). If you would use the badge on your blog, found here, that would be great! And if you would visit at least one other blogger in the link-up and encourage them with a comment, that would be beautiful! Be sure to check the sidebar later. I'll be featuring one of you over there! Our featured writer this week is Jen Avellaneda. She had me from the title of her post, "Love is Not A Mathematical Equation"! Find Jen here. To be considered as our featured writer, be sure to use our badge or a link to my blog from your post. 🙂 xo Jennifer