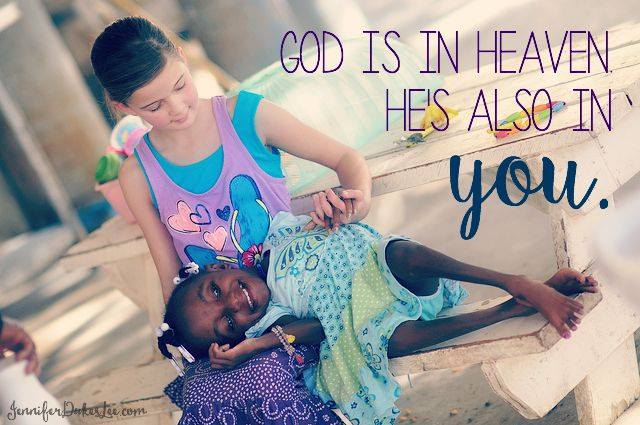 the truth about the power you hold within you
So there are days when you just feel so weak. The tasks and obstacles loom before you like Mt. Kilimanjaro. There seems no end in sight and you don't know how you can take another step.
Those are the days I remember little Anne Melissa, the child in this picture. This sweet girl has had every last odd stacked against her. Her father died in the earthquake in Haiti. Until recently, her mother was unable to care for her. She is so very breakable — she has brittle-bone disease — and I don't know how many times those tiny bones have broken.
But God did not abandon Anne Melissa. A little orphanage along the coast took her in, loved her and cared for her. For several years, that orphanage made sure she was well fed and given the very best care by some amazing people. (She doesn't live at the orphanage anymore because the orphanage directors helped reunite Anne Melissa with her birth mother.)
We are in Haiti this week, and are so excited to get to see Anne Melissa again — this time in her own home. Every time I see her, I remember what she told the orphanage directors when she first moved in. They asked her what she wanted most, and she answered: "I want to learn."
So at age 7, she started school. Within weeks she was reading her first words. She learned basic arithmetic. A whole new world opened up to her and her eyes would widen when she cracked open the spine of a workbook.
We only get to see her once a year, but the thing I admire most about Anne Melissa is her tenacity. She faces more obstacles in a day than I face all month, maybe all year. She loves God with a fierce love.
She understands that no problem before her is bigger than the Holy Spirit inside of her.

I wish you could meet her. I wish you could witness her friends at 7 p.m. on any given weeknight. They gather together under the awning of the orphanage, and they lift their hands to the sky. Children leading children, they face south, then west, then north, then east — and they chant prayers together. Every single night. In Creole, they are saying words that mean: "We pray the blood of Jesus over every corner of this place."
Because they don't believe in a faraway God. They believe in a right-here God.
They believe that the same power that raised Jesus from the grave lives inside of them today! 
That's true in Scripture. That's true in those children. 
And that's true in us. 
Maybe you're facing your own Mt. Kilimanjaro this week. Maybe you've faced a personal crisis that feels like an inner earthquake. 
God is in Heaven. BUT HE'S ALSO IN YOU. Resurrection power — IN YOU. Amazing, isn't it? 
"The Spirit of God, who raised Jesus from the dead, lives in you." Romans 8:11
#TellHisStory
Hey Tell His Story crew! It is a joy to gather here every week with you. The linkup goes live each Tuesday at 4 p.m. (CT). If you would use the badge on your blog, found here, that would be great! And if you would visit at least one other blogger in the link-up and encourage them with a comment, that would be beautiful! Be sure to check the sidebar later. I'll be featuring one of you over there! Our featured writer this week is Bev Duncan Rihtarchik. If you've found yourself thinking "If only…." lately, her words are just for you. The story of finding her father's old sermon notes is a sweet gift as well. Find Bev here. To be considered as our featured writer, be sure to use our badge or a link to my blog from your post. 🙂 xo Jennifer