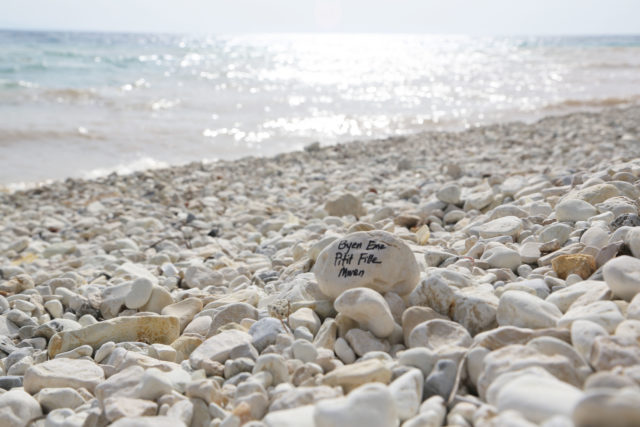 What We All Have In Common – #TellHisStory
About 30 minutes before this photo was taken on Sunday, I was sitting in the second pew, head down and tears streaming. I was begging God to help me find the words to deliver to a crowd of 200 Haitian women who had gathered inside this village church. 
I had no manuscript. I have never given a talk without a manuscript. I am a planner. I prepare. I want to give my very best when I'm speaking to a group of women. It's both a privilege and a great responsibility of a speaker to bring a clear message. Never had I felt the weight of that responsibility before stepping before these women in Haiti. 
But, this time, I had no manuscript. I had no humorous opening story to engage and entertain. I had no three-point message, no specific call-to-action, no anecdotes that would amuse. I had to "go weak," and rely on God as my entire strength. I had only the Gospel. Which, in the end, was everything.
I am home now, with Haiti still under my fingernails. And I have to say — I have learned so much about myself, about God, and about other women during the last week. While I was there, I was reminded of the importance of what we're doing on a daily basis on our social media accounts, on our blogs, in our workplaces, in our churches, in our regular walking-around lives. We are building a real Kingdom TOGETHER, worldwide.
While in Haiti, I spoke with several groups of women, including at the revival in the picture. (The revival was hosted by the Haitian artisans of ViBella Jewelry.) As I was speaking, I watched how the message was actually connecting. I could see it on their faces, as the Gospel met real hearts.
I don't know why this surprised me, because the truth is, the Gospel has a power all its own. In that moment, it occurred to me that after basic needs are met (food, water, shelter, basic health care), we have so much in common as women, wherever we live.
We have common struggles — wayward kids, aging parents, sickness, miscarriages, broken relationships, regrets, and more.
We have a common enemy: Satan.
But because of Christ, we have a common identity. God is unifying His church, and we get to be a part of it.
I hope this post encourages you today. Maybe God is calling you to do something outside of your comfort zone. Maybe you feel like you have nothing to offer. Maybe you are scared to the point of tears. Maybe you have no choice but to "go weak." In the end, may you find that the Gospel is all that you really need.
And may you lift your hands to the heavens, and thank the One who is your All in All.
A few photos from our trip. More news from this trip coming soon! We are creating something special to share with YOU!
Passing On Savings To You
Looking for a summer read? My first book, Love Idol, is only $2.99 for your Kindle! I wanted to be sure to pass along this great deal to you. Find it here. FEEL FREE TO SHARE THIS with your friends. This is a terrific deal, but I don't know how long it will last.
post contains affiliate link
#TellHisStory
Hey Tell His Story crew! It is a joy to gather here every week with you. The linkup goes live each Tuesday at 4 p.m. (CT). If you would use the badge on your blog, found here, that would be great! And if you would visit at least one other blogger in the link-up and encourage them with a comment, that would be beautiful! Be sure to check the sidebar later. I'll be featuring one of you over there! Our featured writer this week is Crystal Twaddell. I particularly loved this sentence from her post: "Faith conquers fear in every form and from every direction." Find Crystal here. To be considered as our featured writer, be sure to use our badge or a link to my blog from your post. 🙂 xo Jennifer