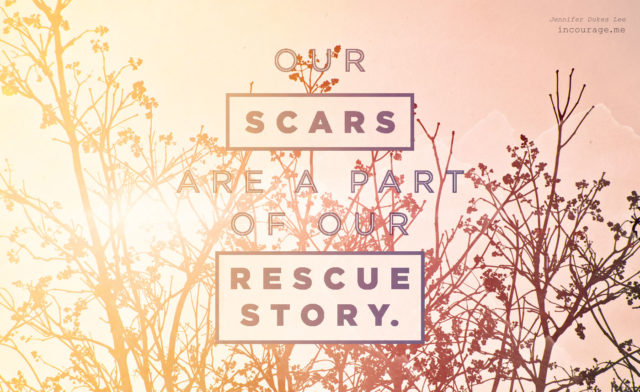 you don't have to hide your scars – #tellhisstory
I have a scar on my left leg, an accidental souvenir from a head-on car collision in 2009. After the accident, the insurance company offered to pay for plastic surgery, but I declined. I wanted to keep my scar. Here's why:
I needed to remember what I'd been saved from. The scar was a part of my rescue story. When the doctors sewed up my leg, the stitched wound was in the shape of a Y. To me, the single letter stood for Yahweh. I felt as if I'd been marked by God's first initial.
Every once in a while, I run my fingers along that scar, now fading.
The scar always reminds me to thank God for the rescue.
I have other scars, too. These are interior scars you can't see, but if we sat down face-to-face, I'd tell you more. My voice might tremble when I told you about the stories behind the scars. I have been wounded by others. I have wounded myself. It all leaves a mark.
Do you have scars like that too?
Maybe your voice is trembling a little when you whisper: "Yes, I do."
#TellHisStory
Hey Tell His Story crew! It is a joy to gather here every week with you. The linkup goes live each Tuesday at 4 p.m. (CT). If you would use the badge on your blog, found here, that would be great! And if you would visit at least one other blogger in the link-up and encourage them with a comment, that would be beautiful! Be sure to check the sidebar later. I'll be featuring one of you over there! Our featured writer this week is Carly Benson. I appreciated her words about letting go of our striving, trusting Christ, and resting in Him as He leads the way. Find Carly here. To be considered as our featured writer, be sure to use our badge or a link to my blog from your post. 🙂 xo Jennifer