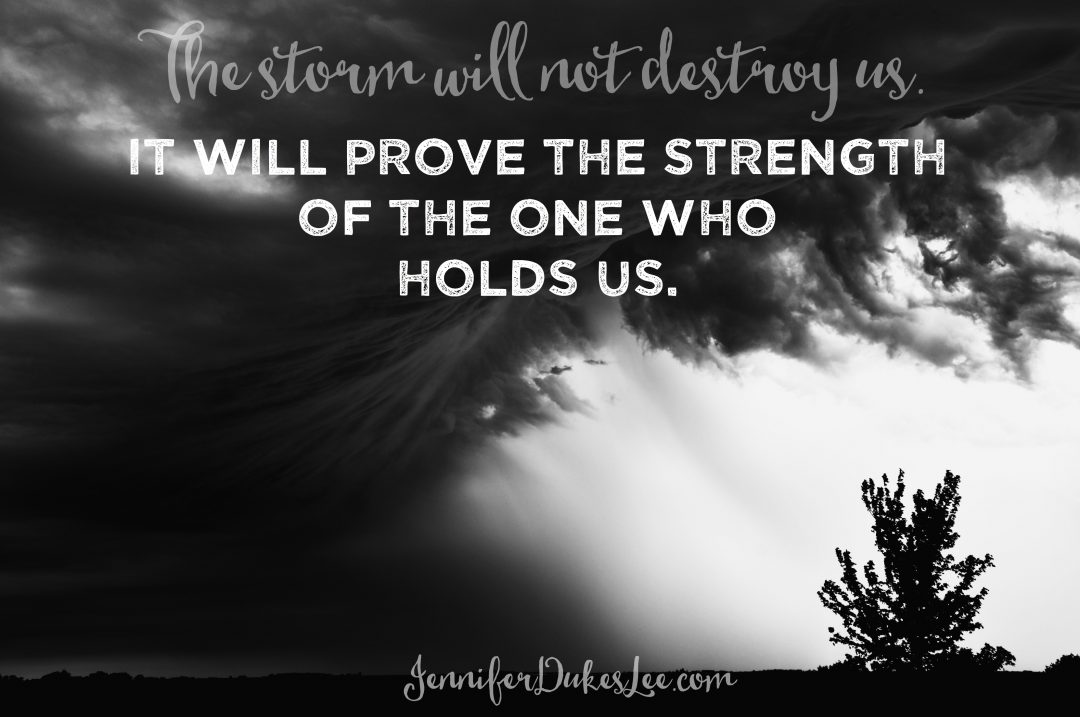 When You're Going Through a Storm
It was the year 2000. A Friday morning. My newspaper editor had called.
"Jennifer. How quickly can you get to northeast Iowa? More than a dozen twisters went through."
I fumbled for my glasses. Slipped on blue jeans and tennis shoes. I kissed my husband goodbye, and grabbed a stack of notebooks.
In less than two hours, I was in Dunkerton, Iowa. The town had been turned inside out by a tornado. The morning sun cast an eerie, happy glow over the sad and twisted innards of people's lives.
I remember with startling clarity how a John Deere tractor, caked with mud, sat atop a barn, rather than inside it. I stood on a woman's concrete front steps that led to nowhere but sky. I saw a little girl's Sunday dress draped in a tree.
I helped some guy pick up photographs and manila folders strewn in his yard. He didn't know what else to do. Neither did I.
I gathered all the facts for my story: deaths, injuries, houses destroyed, buildings demolished.
And then I went looking for the helpers. Their stories would be the stories that would give someone hope.
"Look for the helpers." Mr. Rogers said it first. "When I saw a boy and I would see scary things in the news, my mother would say to me, 'Look for the helpers. You will always find people who are helping."
So that day, I looked for the helpers. Someone suggested I drive up the road to a 120-year-old country church that had been torn to shreds. I found the church between a couple of cornfields. Most of it was destroyed, but the glass doors were, remarkably, still intact. The doors weren't shattered. Just scratched. 
Inside, I found the pastor. His black pants and minister's collar were covered in dirt.
He introduced himself as Pastor Dean. I asked a few questions, wrote down his answers. Two men stood up by the altar, one of them wiping tears with the back of his hand. Women, who had overseen potlucks and bridal showers, carried out kitchen utensils and coffee cups. A few guys walked by us, carrying the pulpit.
These were the helpers.
The pastor told me he didn't know what he was going to preach on Sunday; 200 people would look to him for spiritual guidance. He figured he'd be bold enough to make this promise: "We'll be back up and running again."
That was 15 years ago. I always wondered if his words about rebuilding that church were the product of wishful thinking or stubborn faith.
A while back, I called around Dunkerton to find out. The new pastor, Bill, told me that the church made good on the old pastor's promise. That church had rebuilt after all.
My heart quickened. It was like an affirmation that a storm can't destroy everything. Like it can't destroy hope.
Pastor Bill told me it hadn't been easy. The pastor said he once heard a therapist speak about the difficulty of divorce, and that there was only one effective way to deal with it —
"The only way out is through." 
That advice, he said, also works for anyone in the middle of a storm.
The pastor said that "through" hadn't been easy. In 2008, a second tornado hit that church, causing $65,000 damage.
But they made it.
And get this. Remember the doors I told you about? They still have those same glass doors. They stand at the entrance to the nave.
Those glass doors, scratched and marred as they are, are a poignant reminder to everyone who goes in, or who goes out. They remind everyone that the good pastor is right: the only way out is through. And Christ is the way. 
There's a reason I'm telling you that story today.
I'm writing to you about a storm, because some of you are in one right now. It's swirling about you, and you can hardly see the hand in front of your face. For some of you, the storm has passed, and you're picking up the pieces.
It is so tempting to tie a neat theological bow around our storms. I will resist the urge to do that today, because that would be like putting a fresh coat of red paint on a leveled barn.
So let's just sit in the rubble a while, together, right down in the mess.

We shall weep together, and we shall go "through" together. We shall walk through the door, and the door is Christ, and that's a door that always stands.
I don't know what your storm is today. But I have to assume that a lot of you are in one right now. The news is a constant swirl of turmoil. And some of your storms are happening behind closed doors, where no one else can see.
Maybe we could promise each other that God can rebuild what has been broken. Maybe we can remind each other that the door still stands. Maybe we can look for the helpers. Maybe we can BE the helpers. Maybe we can remember that God is greater than our roughest storms.
And together we can know this: The storm will not destroy us. It will prove the strength of the One who holds us.
#TellHisStory
Hey Tell His Story crew! It's always a joy to gather here every week. The linkup goes lives each Tuesday at 4 p.m. (CT). If you would use the badge on your blog, found here, that would be great. And if you would visit at least one other blogger in the link-up and encourage them with a comment, that would be beautiful! Be sure to check the sidebar later. I'll be featuring one of you over there! Our featured writer this week is Dolly at SoulStops. She writes how even our small acts of kindness can make a huge difference. Find Dolly here! To be considered as our featured writer, be sure to use our badge or a link to my blog from your post. )
xo Jennifer