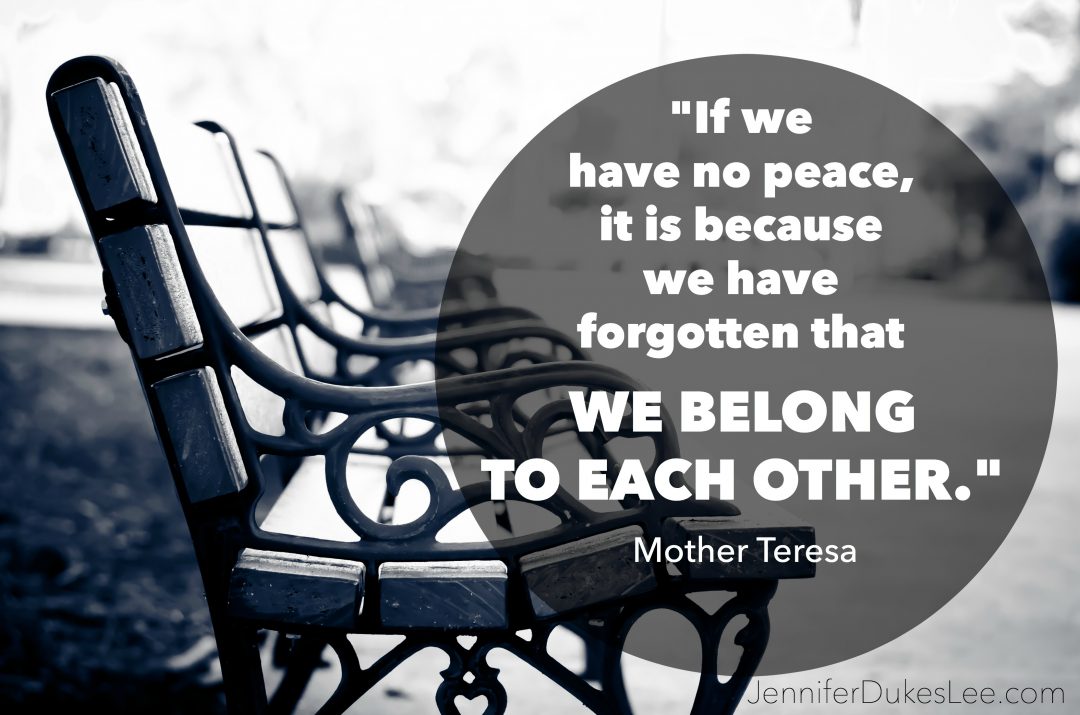 #TellHisStory: Let There Be Peace on Facebook
Anna and I sat on a long bench on the end of a dock, while the sun slid down the back side of the day. If I could have taken a sip of the sky, it would have tasted like an orange smoothie.
Anna swung her legs, and they brushed back and forth against mine. She smelled like sunscreen and grape soda. An older vacationing couple came down the dock, so Anna and I scooted to the left to make room. Another couple came, so we all scooted down some more.
That way, we could watch that blaze of color together.
We all ooo-ed and aah-ed at the sunset, a bunch of strangers on a shared dock.
The clouds pressed down on the horizon, smooshing the light, the way a mother tries to tame her child's hair with the palm of her hand on a Sunday morning. And I wanted that mother to stop pressing; I didn't want that glorious slash of color reduced to a thin line between earth and sky.
Anna laced her fingers with mine, and she pulled our hands together onto her lap.
I didn't want this perfect day to end; I wanted to put a comma where the period was being forced to go.
All day long, I had seen the kindness in people: opening doors for one another, friendly greetings in the grocery line, … and now, the simple sharing of a bench at the end of a dock on a little lake in Iowa. Together, we beheld beauty in the sky.
Someone might say it's because we're all on vacation. That's why everyone is so happy and kind here. I don't want to believe that. I want to believe that the kind folks I saw everywhere today were their truest selves. They were simply slowed down enough to remember that we belong to each other, after all.
I worry, sometimes, that we forgot that we really are in this together. Too often, we're more interested in being right than being kind. We want to have the last word, the final say, and the smug comeback. I see it too often: how we choose vitriole over virtue. 

I don't know. Maybe it's because I'm getting older. But I'm less interested in being right all the time. I want to live the right answer to this question: "Is it more important to make a point … or to point to my Maker?" 
I've made my choice.
If there's really going to be peace on earth, the song says, Let it begin with me.
If there will be peace on Facebook,
or in another blogger's comment box,
or in a sanctuary,
or in a war-torn village,
or in a family squabble,
or in the midst of protest rally,
or on the yard of another burned black church,
or on an Iowa lake,
or in the aftermath of a Supreme Court decision,
or in some legislative chamber under a golden dome,
or in a world groaning under its own weight …
if there be peace here, or if there be peace anywhere on earth, then let it begin with me.
Out on an Iowa lake, strangers sat side by side on a shared bench, as the last bit of orange drained from the sky. We belonged to each other, right then. Nobody said it, but I think we all knew it.
We said goodbye, and all of us walked on.
And I think we all had a bit more hope than we had before.
#TellHisStory
Hey Tell His Story crew! It's always a joy to gather here every week. The linkup goes live each Tuesday at 4 p.m. (CT). If you would use the badge on your blog, found here, that would be great. And if you would visit at least one other blogger in the link-up and encourage them with a comment, that would be beautiful! Be sure to check the sidebar later. I'll be featuring one of you over there! Our featured writer this week is Lisa Appelo. She is sharing lessons she prays her daughter will take with her as she moves on. Find Lisa here. To be considered as our featured writer, be sure to use our badge or a link to my blog from your post. 🙂 )
xo Jennifer