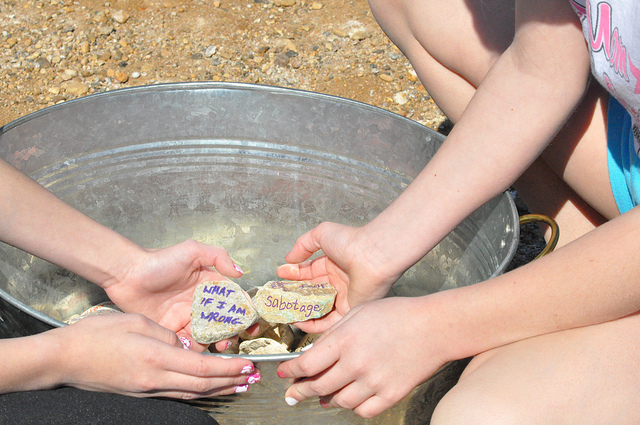 #TellHisStory: When You're Carrying a Heavy Burden
Dear daughters,
No one was ever designed to carry her burdens alone.
That's what I thought when I watched the two of you to carry that pail of rocks to the shore.  You volunteered to help carry the weight of someone else's world for a few hundred steps.
I hope you never forget how heavy those burdens were.
Burdens like fear and unworthiness weigh people down, girls. So do comparison, unbelief, worry, loneliness, addiction, approval-seeking, and pride.
That bucket was filled with one-hundred rocks, bearing the words of the weary and the broken. I had invited women to write their burdens down on rocks, on a Saturday night in Nebraska. Then I carried them all home in the trunk, with a promise to pray. You girls said you'd help.
You said the words written on the rocks were like demons. That seemed about right to me. We listened to that Phillip Phillips song all the way to the little lake north of our house, while 100 rocks bounced around in a bucket in the back of the Acadia:
Don't pay no mind to the demons
They fill you with fear
The trouble it might drag you down
If you get lost, you can always be found
Girls, you can grow up, and move away from the school playground, but still carry the same old burdens and insecurities into your careers, your marriages, … your relationship with Jesus. You can, but you don't have to.
I pray you don't.
Sticks and stones can break your bones, but names really can hurt you. Here's the truth: Some of the the worst names are the ones we call ourselves.
A lot of those names start like this: "I'm Not Enough." How many rocks did we see with those three words scratched onto the surface? A LOT.
My chin quivered when I listened to you pray over the women who wrote on those rocks. Tears rolled, for a thousand ways that women see only what they aren't. And for all the ways I have felt the same way.
Girls, you have felt it at times, too. And that's why you didn't have to ask me what "not enough" meant.
I pray that your Dad and I never made you feel that way. I'm sorry for the times we might have. We want you to know this one truth, more than your arithmetic or spelling lists —
We want you to know that you really are enough, that you have nothing to prove to anyone.
Did you know that some people can go to their graves carrying the weight of regret?
None of us has to.
Throw the rocks of regret away now, daughters, and keep letting them go if you have to. Toss them far, far away. Keep your hands free. Because you can love better with empty hands.
Believe the truth that you are beloved.
Then, you are most equipped to walk alongside the broken-hearted. To stop for the ones who are hurting. To let them know they are beloved, too. Don't run on ahead, now. Help carry a friend's burden to the place where she can let it go for good. Cheer her on when she walks away lighter.
Stay close to the cross, girls. That's where you can always lay a rock down.
I heard the prayers that you said before you threw those rocks into the water. You picked each one up, one by one.
"It's OK to make mistakes," you prayed. "You don't have to be perfect. Only Jesus is perfect."
I heard you quoting from Matthew and Jeremiah and 2 Timothy.
I heard your hearty "High-YA!" I saw how you cupped your hands around your mouth, like a megaphone, to shout out across the waters: "Stay at the bottom of the lake!"
I'd like to tell you that you won't feel the hurts in that bucket someday. But the truth is, you may need to throw a few rocks of your own into a lake from time to time. I'll go with you, if you want.
And when you do get free of the rocks? That's when you begin to really live, and to really love … to walk free.
Love,
Your mom
A video of the girls praying and getting rid of burdens, tossing pain and regret deep into the water. (Email subscribers can click here to see the video.)
An Exclusive Offer for Readers at JenniferDukesLee.com
This year, the Women of Faith are helping thousands of women let go of burdens, just like the ones written on those rocks. I'm crazy-excited about this year's theme: "You are seen. You are known. You are free."
I'm partnering with Women of Faith to spread that message to women like that. That's why the good folks at Women of Faith are giving my readers $20 off the price of any Standard or Premium ticket in any city with the code: JDLEE20.
What a fun opportunity to hit the road with friends and make a memory. Take a look at the tour schedule here and click "more info" to see which speakers will be part of each particular event. Then register for a ticket (Don't forget the discount code – JDLEE20.)
Details:
Regular Price of Standard Ticket – $99
Regular Price of a Premium Ticket – $109
Price includes all event sessions (lunch not included)
Website offers info on local hotels
#TellHisStory
Hey Tell His Story crew! It's always a joy to gather here every week. The linkup goes lives each Tuesday at 4 p.m. (CT). If you would use the badge on your blog, found here, that would be great. And if you would visit at least one other blogger in the link-up and encourage them with a comment, that would be beautiful! Be sure to check the sidebar later. I'll be featuring one of you over there! Sarah is our latest featured writer. She is sharing about the "two words every woman needs to hear." Can you guess what those two words are? Click here to see. (To be considered as our featured writer, be sure to use our badge or a link to my blog from your post. 🙂 )
xo Jennifer