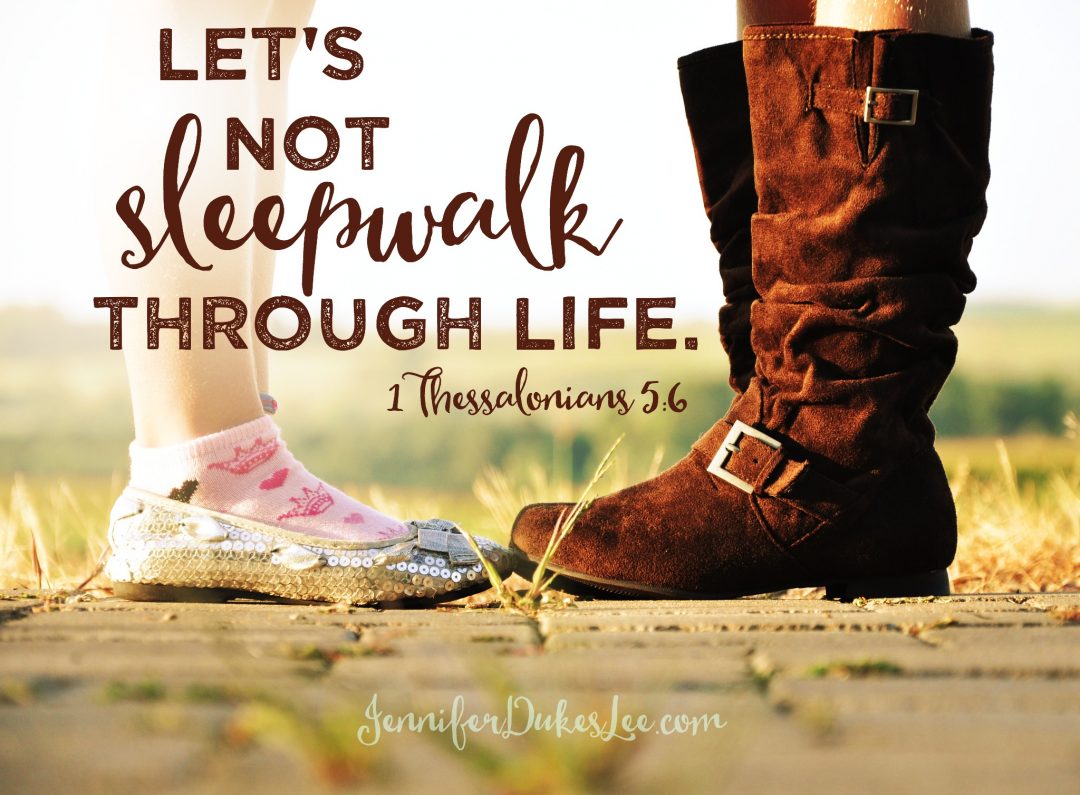 No More Sleepwalking Through Life
The other day, I wrote something on my Facebook page that made a woman cry. A simple truth struck a tender place in her heart. This is what I wrote:
"You are a person."
I know. Simple. Nothing earth-shattering. Except that it is. It is earth-shattering. 
I wrote some others things, but those are the four words that mattered most to her — and to me.
Like me, the woman had forgotten elemental truths about herself — she had flesh and bone, not gears and pulleys. She had been living like a machine, not a person.
To me, living like a machine is frighteningly tempting. I was telling a friend the other day how I could easily become a workaholic. Productivity invigorates me. Work makes me heart beat fast, the way you might feel on a rollercoaster, both hands in the air. I love operating on all cylinders.
There are seasons when that's entirely appropriate. We've all got important work to do, and what a gift when we actually enjoy it, right?
But sometimes, I look back on my days, and I'm appalled. Sure, I've crossed a lot of boxes off of my lists, but there is carnage. There were missed opportunities with friends on the phone, unplayed games with the girls, cranky words "shushed" to my family. ("Can't you see I'm trying to work here?") Jesus offers an easy yoke, but I often choose the hard one. On purpose.
I forget to show up for the rest of my life. Some days, I'm missing it, and I'm missing God. 
I know that this is a byproduct of my old, hard-to-break habits: seeking status and significance outside of Christ. Even as a follower, that wrong thinking hangs on like a parasite. I'm not proud to admit it. This is, of course, a case of mistaken identity. I don't mean to be this way, but I confess that I sometimes forget where my truest identity lies. I somehow convince myself that my worth lies in efficiency and competency.
It's crazy, how a person can have checked all the boxes and have climbed a hundred ladders, and at the end of the day, feel like she was sleepwalking through her own life.
But I am a person. And you?
You are a person, too.
You are not a machine, or a spreadsheet, or an agenda, or a resume.
You are a person.
You have a heartbeat, skin, scars, and soul.
You are a person.
Your worth isn't calculated in efficiencies, results, boxes checked, or ladders climbed. You aren't the sum of your accomplishments — or the sum of your mistakes. You aren't your ambition, your energy level, your approval rating, or your mass appeal. You aren't a stage or a platform or a gold star. You are not an A+, a C-, or an F. You are not a mess or a miscalculation.
You are not a mistake. You are a miracle. Because you are a person.
Be a person today. Be all you. Resist the urge to believe that you've got to fight for your piece; God says there's more than enough to go around.
Take a leap into the pool of His grace; it's bottomless.
Consider saying "no" to the big invitation. Dare to "miss out," and find out what you *really* would have missed, had you said "yes."
Don't pull God into your agenda. Follow Him into His.
Live free. Love well. Stand tall on the inside, even if you're feeling weak on the outside.
You are a person, a citizen of the Kingdom of God. Live there, Kingdom Child — live where there is always enough, where there is abundant love, where there is unending grace for you.
Let's each be a person today.
No more sleepwalking through life.