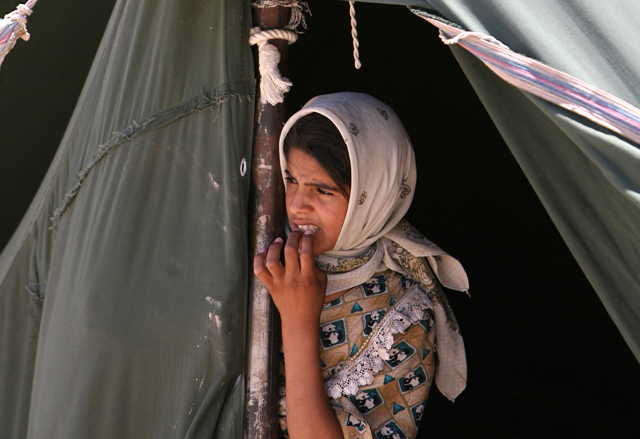 #TellHisStory: A Story That We Don't Want to Read — But We Have To
It was nearly midnight.
In the dark, all I could think about was a nine-year-old girl. I could see her in my mind — dark-brown hair, eyes the shape of saucers, dirty bare feet. She stood motionless as the shadow of evil hollowed out her hope.
Behind her, stood a figure, who was painted the colors of a storm. His hands were curled into the shape of destruction.
And I knew for sure who the child was. She was an Iraqi girl. Girls who are the ages of our daughters are living our worst nightmare while most of the world sleeps on.
I read about girls like her yesterday. I read Ann's story, a true story about the innocents who are snatched away from their mothers at age nine, stripped bare and sold at slave bazaars.
The girls are stolen and sold by ISIS.
ISIS: The word that sounds like the hiss of a snake.
This isn't some hoax. This isn't something you have to double-check on Snopes to see if it's really happening. It is happening. 
My friend Ann — farmer's wife, mother of six, advocate for human dignity, and follower of Christ — went to Iraq. She met with the mothers of young girls like the saucer-eyed girl in my midnight mind. Ann took her red pen and her notebook, and she ventured into Iraq. She came back with a story that we don't want to read. But we have to.
Ann went looking for the nine-year-old girls. Here's what she found: 
Who can sleep after reading something like that?
We have two girls — ages 13 and 10. Last night, when I wept at midnight, our girls were sleeping. They had been tucked in, prayed for. There were clean clothes in laundry baskets, and the breakfast orders for the next morning had already been made. Both wanted waffles.
This morning, we found an old Kleenex box for Anna's science project. I put together plates of blueberry muffins for a bake sale. Lydia headed off to school early, for marching band practice. The only measurable threat that hung in our air? Whether someone would get picked on at recess.
This morning, some nine-year-old girl halfway around the world was taken away from her mother. I hugged my girls tighter than I have in a long time.
Anna and I sat at the computer, a few minutes before the bus came, and together we composed emails — fast as we could — to our U.S. senators and our representative. We clicked "donate" on a nonprofit organization that is helping families terrorized by ISIS.
And we prayed.
These are the things we know to do.  
We are NOT POWERLESS. None of us is powerless. 
Today, there are real people with real souls, who are hurting and crying out, "Is there anybody? Somebody?" The answer is us. THIS body. The CHRIST body. We can be the ones. We must be the ones. If anybody can answer the cry for help, it ought to be those of us who are indwelt with the same power that resurrected Jesus from the dead.
We, the Body, spend an unusual amount of time fighting against one another. But our real opposition isn't the guy in the church across town, or the woman who believes a little differently than we do. The real opposition came to steal, kill and destroy. He is prowling around, looking for someone to devour. His prey includes nine-year-old girls in Iraq. 
How to Respond
Christians are deeply moved and saddened by stories like the ones that Ann tells. We naturally ask: "But what can we do?"
We are called to action. We are not powerless. Here are tangible ways you can help.
1 – Harness social media.
If you have a Facebook account, you have more power than you know to effect change. Share Ann's post on Twitter and Facebook. Feel free to share this post and our ideas on how to respond. Or, write your own response on your blog or Facebook. Carry these atrocities out into the light. Don't underestimate your ability.
This nonprofit is on the ground, in the trenches, with the very people being tormented by ISIS. Donate by clicking here. $25 can provide emergency relief. $100 can put 10 displaced kids back to school. $1,000 can empower a woman to start her new business.
The organization is helping victims of ISIS by providing clothing and shelter, implementing water programs, and ministering to persecuted Christians. Donate by clicking here.
4 – Tell your church.
Ask your church mission board if they'd be willing to donate. Ask your denomination what they are doing to support relief efforts of those being persecuted by ISIS.
5 – Call or write your Senators and Representatives.
Let them know this issue is important to you. And let them know you're praying for them as they make decisions that affect real souls.
6 – Pray.
We feel so powerless, and sometimes we say, "I don't know else what I can do but pray." Don't underestimate the power of your prayers. You are unleashing the power of God.
7 – Pay attention.
Keep informed. When we are informed, we are better equipped to act. When we turn away from the hard stories, we die of ignorance.