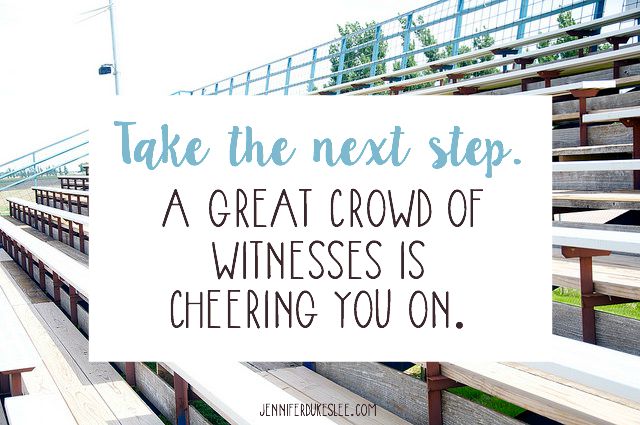 Stuck? Do the next thing — #TellHisStory
"Let's run a marathon," she said.
She propped her elbows on the table, and rested her chin in her hands. The restaurant's candlelight danced in her eyes. Behind her, the moon cut a perfect circle through dead-of-winter's velvet sky.
My sister-in-law waited for my answer.
I didn't exactly say no-oooo, but maybe it was the way I twisted my whole forehead into a Gordian knot. I'm subtle like that.
She leaned back, crossing her arms over her chest. "OK. Fine. A half-marathon then."
"Yes. Yes. Absolutely yes. I'm in." I surprised myself when the words tumbled out. I felt it under my ribs. I wanted this.
We paid the bill, hugged good-bye, and both went home.
The next day, I was all like — Uh … oh.
I didn't exactly own a pair of running shoes. And I didn't exactly know how to, you know, run 13.1 miles. Which is what one does when one runs a half-marathon.
But I had committed to this, and I wanted this. But how? How do you chase after the impossible dream?
You take the single first step. That's how.
It's the starting that's always the hardest.
But you've just got to take the step …
or you stop.
You've got to move forward …
or you flounder on dead-center.
And if you don't keep doing the next thing, you won't give wings to your dreams.
And I wanted that crazy dream to fly. So like Forrest Gump, I started running.
That first day, I ran to the end of the driveway, slapped the mailbox with my palm, and then came stumbling back to the house. The next day, I went a little farther.
If I ever started thinking too hard about things, like the fact that I had miles upon miles to go before I could run 13.1 without puking, I would have stopped entirely.
But I couldn't think about the ten-gazillion steps I'd need to take to cross the finish line. I could think only of the next one. 
"Do the next thing." ~ Elisabeth Elliot
A lot of life is like this–
You get the sense that God wants you to take the leap, but the cliff looks too high.
You feel the nudge to write a book, but you can't even tackle the opening sentence.
You read the "Help Wanted" ad about your dream job, but lose confidence after filling out the first line of the online application.
You dream of leading the Bible study, reconciling a relationship, starting a speaking ministry, expanding your business, adopting a child, knocking on the neighbor's door, pitching the idea … but the first step looks daunting. And the last step looks positively impossible. 
So you shake your head, with a "yeah, whatever" … and you don't even lace up your shoes. But what if you went all Forrest Gump on your life, and you simply took the next step, and the one after that, and the one right after that? And pretty soon, you found yourself "running all the way across Greenbow County."
And what if you actually made it, simply because you kept doing the next thing?  Crazy things like that happen every day.
What if you saw a book, not as a 55,000 words, but as a series of sentences accumulated over time?
Honestly? A half-marathon is one trip after another to the mailbox … after another after another.
I can't lie about how hard it was some days. Or how I wanted to use the early drafts of my first book as campfire kindling.
Your dream? It requires persistence — one prayer, one phone call, one action, one step every day. One. Step. Every. Day.
Even when it hurts. The world needs you.
Today? Run to the mailbox.
That's all. Just run to the mailbox. Take the next step. A great crowd of witnesses is cheering you on. 
post contains affiliate link
#TellHisStory
Hey Tell His Story crew! It is always a joy to gather here every week with you. The linkup goes live each Tuesday at 4 p.m. (CT). If you would use the badge on your blog, found here, that would be great! And if you would visit at least one other blogger in the link-up and encourage them with a comment, that would be beautiful! Be sure to check the sidebar later. I'll be featuring one of you over there! Our featured writer this week is Lori Schumaker. She beautifully encourages us to leave a legacy of love, even when it looks like simply continuing to show up and believe in one another. Find Lori here. To be considered as our featured writer, be sure to use our badge or a link to my blog from your post. 🙂 xo Jennifer