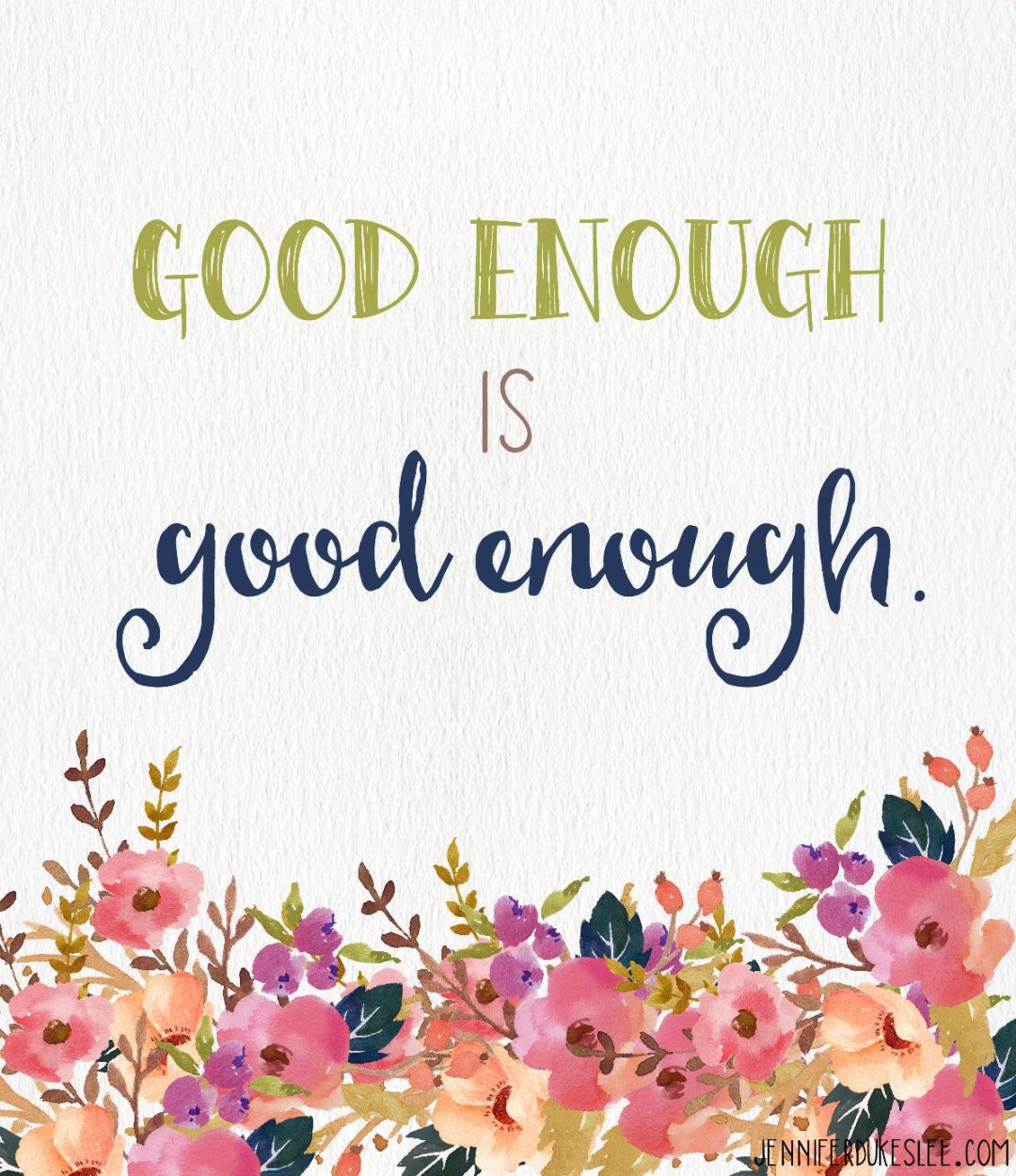 Good Enough is Good Enough
A few weeks ago I saw a photograph of someone's office on their blog. It was GORGEOUS. No clutter. Natural light. No crap stacks. Fresh flowers on the desk. There were computer cords visible anywhere. Did everything run on batteries and solar power???
A few days later, I went to work on my desk. It was in need of major reconstructive surgery. Important documents were buried. Scraps of scribbled notes were lost. Gremlins had tied all of my cords into knots. There was a snow-drift-ish layer of dust behind the computer. I rubbed my hands together and, with visions of that other woman's desk, I went to work.
Hours later, I had rearranged all my papers, thrown away two garbage bags full of files from my cabinets, sorted all my books by color on the bookshelves, and washi-taped several hand-lettered prints to the wall. Voila! 
I stood back to admire my work, and immediately saw the flaws: "This isn't good enough. It doesn't look like that picture at all. IT WILL NEVER LOOK LIKE THAT PICTURE!" (maniacal, shifting eyes emoji)
I fussed some more, rearranged a few more things, and then my self said to my self: "Girl, seriously. Stop. You are certifiably insane. Cut yourself some slack. Be you. Let go of your hyper-fussiness and live your actual life. Live by the Principle of Good Enough, instead of rat-racing your way toward the A-plus."
Once again, I re-remembered what I re-forgot. And I'm so glad I did. Because I stopped fussing, and got moving on the work that God actually called me to do in this office. I'm a writer, not a Better Homes & Gardens decorator. 
I have to say: I still admire and appreciate the beauty of the other woman's office. But that's HER office space, and this is mine. Mine will never be Instagrammable. But I can celebrate her beauty, without letting it prescribe something about who I am. 
When we're tempted to chase perfection, we'll never finish the tasks before us. When we're tempted to compare, we'll always find ourselves in want of more. Sometimes, the only way to enjoy your OWN beautiful life is to remember this: 
Good enough is good enough.
Correction on Webcast Date
I apologize.
In yesterday's post, I included the wrong date for our Free Webcast. That webcast is Thursday, Sept. 10 at 8 p.m. CT.
The webcast is for anyone searching for peace, identity and purpose in life. Register for this FREE webinar with Emily Wierenga, Liz Curtis Higgs, Holly Gerth, Jo Ann Fore, and me. We will share stories about our personal journeys. There will be open Q&A with us, and lots of giveaways! You can sign up to join here!