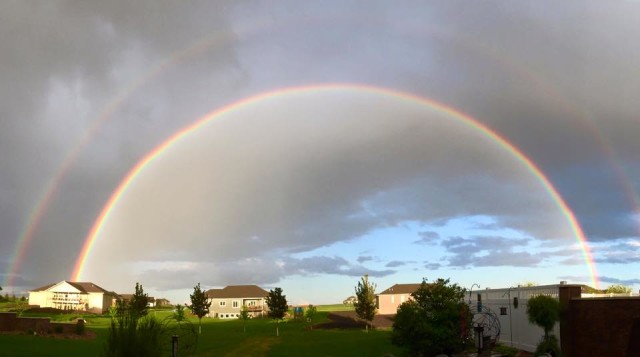 when you're in desperate need for God to come through — #tellhisstory
I can't share all the details, out of respect for some dear folks, but an awful thing happened in our community recently. It happened on a sad and dreary day, the kind where the rain feels like bullets dropping from a gun-metal gray sky.
In the midst of the tragedy, a friend of mine kept praying for a rainbow. She's not the kind of person to call down signs from God, but she really needed a rainbow because the day was really, really hard.
And so that's what I prayed for — a rainbow, a sign of God's promise.
But to tell you the truth? I was not hopeful. I knew that the conditions must be just right for a rainbow to happen. The sun must be in one part of the sky, and the rain falling in another. But there was no sun, only gray skies and driving rain for miles, with no signs of relenting.
And really, what would the rainbow do? It wouldn't reverse the tragedy. 
But I prayed anyway, with my tiny mustard seed of faith. I prayed because my friend needed a rainbow, and if it was important to her, it was important to me.
That night, at about 8 p.m., it happened:
The answer to our prayer.
The unlikely rainbow.
A holy visitation.
The skies had unexpectedly broken open, producing the most stunning rainbow I've seen. I immediately texted my friend, fingers shaking. Look, I wrote, your rainbow has come!
Here's what that rainbow is teaching me.
1 – There is no prayer too small for God. If it matters to you, it matters to Him.
2 – When I can't see God's hand, I can still trust his heart. He has not left us alone down here. His fingerprints are evident all around us, even in the midst of tragedy. His presence is proof that He deeply cares. His presence might not change our circumstances, but it can change us.
3 – God gives us immeasurably more than we asked for. If you look closely, you'll see that God didn't send a single rainbow. He sent a double.
4 – Even in the darkest storms, God is always present and always good. God might not always show up with a rainbow, but we can trust that His promises will have the last word.
Maybe you needed to know that today, too.
Your storm doesn't have the last word.
Cancer doesn't have the last word.
The betrayal doesn't have the last word.
Your mistakes don't have the last word.
The grave doesn't have the last word.
Jesus alone has the last word: "It is finished." And his last words, are the beginning of something new for all of us.
When we are in the midst of a storm, it can feel like God has given up on us. But while we are waiting, God is still working.
So often lately, I have found myself uttering these four words: "I don't understand this."
I uttered those words during the recent tragedy in our community. I've uttered those words while entering yet another hospital room with my Dad, or while talking with doctors about our youngest daughter's chronic health issues. Sometimes, I've spoken those words to Jesus when praying for friends who are going through tough financial times, job loss, marital conflict, and more.
So many of those trials remain unresolved, and I want to cry out, "I don't understand this!"
In times when I simply don't understand, I remember these words from Jesus. "You don't understand what I'm doing now, but someday you will" (John 13:7).
Jesus spoke those words at the Last Supper, on the night he was betrayed.
His words are a comfort to me in times when I cry out, "I don't understand this!"
Jesus' words remind me that even when I can't see His hand, I can still trust His heart.
Someday it will all make sense. Maybe we will have to wait all the way until Heaven to truly understand. But we WILL understand. That's the promise of our Savior. And His promises are always, always good.
Rainbow photo by Jen Sandbulte. Used with permission.
#TellHisStory
Hey Tell His Story crew! It is a joy to gather here every week with you. The linkup goes live each Tuesday at 4 p.m. (CT). If you would use the badge on your blog, found here, that would be great! And if you would visit at least one other blogger in the link-up and encourage them with a comment, that would be beautiful! Be sure to check the sidebar later. I'll be featuring one of you over there! Our featured writer this week is Kaitlyn Bouchillon. Writing can be hard work, and so I appreciated Kaitlyn's perspective on sitting in the silence and writing only the words He gives. Find Kaitlyn here.
About Kaitlyn: Kaitlyn is a terrific writer, and the author of the book Even if Not. She is also my virtual assistant, and she helps me create a lot of the beautiful graphics you see here. Kaitlyn also helps me manage other affairs in this growing ministry. I am so grateful for her!
To be considered as our featured writer, be sure to use our badge or a link to my blog from your post. 🙂 xo Jennifer