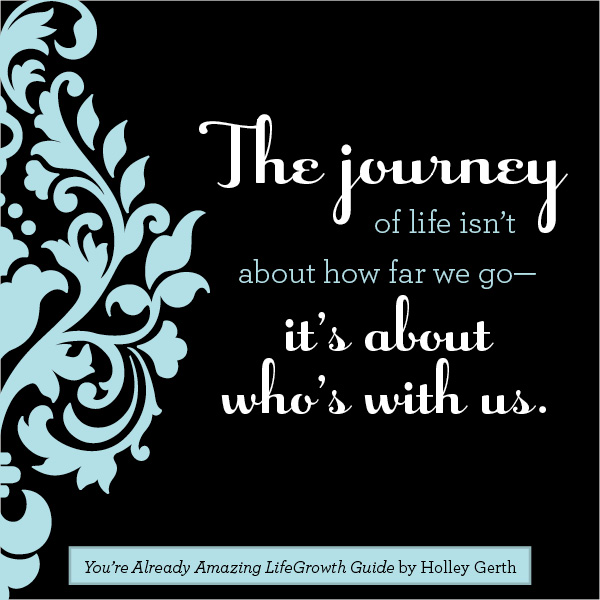 if you're feeling something other than amazing
I don't know exactly when I first felt like I was something other than amazing. But one of my first memories came when I was a first-grader. It was a warm spring day, warm enough that all of the kids had stripped off their heavy coats at recess and left them in a big pile. As I walked past the pile, I heard voices. The voices belonged to two girls in my class.
From underneath the pile, they were calling me horrible names.
I burst into tears and spent the rest of recess hiding behind the evergreen trees on the edge of the playground, wiping my tears away with my sleeve.
At age seven, I hadn't developed the inner strength to fight off the lies that came from that pile of coats. So the lies eventually became "truth," magnified whenever I found myself on the outside — which happened quite often.
This is the lie that began to feel like truth: "You are un-amazing the way you are. Be someone else."
So, I did a lot of things to try to be amazing and compensate for my flaws. I tried to wear the right clothes, surround myself with the right people, join the right clubs. But most of the time I just felt … weird.
It took me a lot of years to find that my own brand of weird was actually quite wonderful. It took me quite a long time to realize I was preapproved.
That journey toward loving myself — as I was, not who I was trying to be — began in college. The thing I loved most about college was finding people who were like me — who had the same kinds of dreams, and interests, and desires. I was able to surround myself with people who helped me be the best version of myself.
That was a huge step toward embracing who I was, and becoming all God created me to be.
Like my friend Holley Gerth writes, "The journey of life isn't about how far we go — it's about who's with us."
What's true at age 7, is also true at age 19, 28, 42, 55, 78, 92.
Who we surround ourselves with makes a big difference in who we will become.
Here are four principles to apply, so that you can live freely as the most amazing version of yourself:
1 – Be with those who help you be you.
You are wired the way you are for a reason — to make this world a better place, and bring God glory, with your unique set of gifts. Surround yourself with people who want to nurture that person.
2 – Be with those who believe in your dreams.
We need cheerleaders on our journey. We need people who will see the best in us. We need friends who will help us stand up when we fall — because they believe in our dreams as much as we do.
3 – Be with those who make you better, not bitter.
There's enough negativity in the world; try not to insulate yourself with people who see the worst in everything. Negativity is contagious, but so is positivity. Find the positive people, and be one of those people.
4 – Be with those who aren't afraid to hold you accountable.
Often, the people who believe in you the most — the ones "who help you be you" — are the same people who aren't afraid to speak truth when it needs to be spoken. Keep those friends especially close.
My sweet friend Holley has one last bit of advice for all of us.
"No matter how 'spiritual' we are, we will need other people in our lives. While God doesn't want us to avoid relationships, he does want us to be wise about who has access to our hearts. 'Above all else, guard your heart, for everything you do flows from it' (Prov. 4:23). How do you know if someone in your life is safe? The short answer: if they love you the way God does.
Let these words, from Holley, be our anthem:
Print "A Commitment of Words" by clicking here. 
It's a joy to share with you about Holley's new LifeGrowth Guide, "You're Already Amazing." Find out more on her blog, or on Amazon.
From the back cover:
With her bestselling book You're Already Amazing, Holley Gerth dared and empowered women to discover who God made them to be and pursue his purpose for their lives. Now Holley helps you build on that foundation and experience even greater life transformation.
In this interactive LifeGrowth study, Holley will guide you through an engaging process that helps you apply heart-freeing truths to every aspect of your life, from relationships to work to how you pursue your dreams. God's plans for your life are better than you can imagine, and you'll see them unfold in new ways as Holley guides you to embrace this life-changing truth–that you truly are already amazing.
SIX SESSIONS
1. Who God Created Us to Be
2. What's True No Matter How We Feel
3. Our Amazing Journey with Jesus
4. God's Plan for Our Relationships
5. God's Purpose for Our Lives
6. How We Can Thrive for a Lifetime
#TellHisStory
Hey Tell His Story crew! It is a joy to gather here every week with you. The linkup goes live each Tuesday at 4 p.m. (CT). If you would use the badge on your blog, found here, that would be great! And if you would visit at least one other blogger in the link-up and encourage them with a comment, that would be beautiful! Be sure to check the sidebar later. I'll be featuring one of you over there! Our featured writer this week is Amanda Jones. Her story about struggling with where she places her identity and worth remind me of Love Idol. But aren't these words beautiful? "If God is a good good Father and I have accepted Him… my identity is simply that: daughter of God, loved by God." Find Amanda here. To be considered as our featured writer, be sure to use our badge or a link to my blog from your post. 🙂 xo Jennifer
Post contains affiliate link