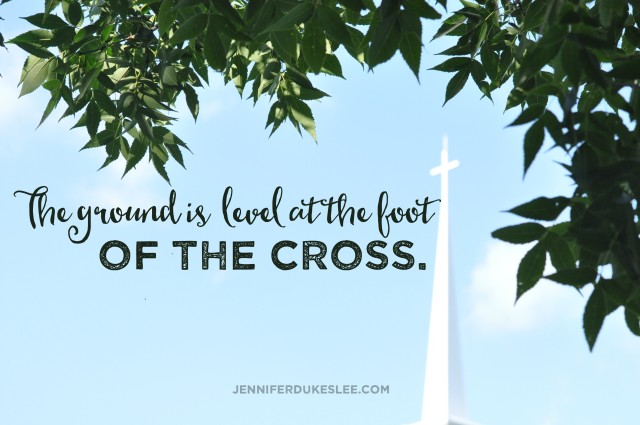 On Ash Wednesday, The Words We All Long To Hear
It is Ash Wednesday, the night when mortals remember how temporary we are.
Under the steeple of our country church, Pastor Rich will smear an ashen cross on every forehead in the room, while delivering a thundering reminder to each soul: "To dust you shall return."
Tonight my husband and I serve as church greeters, shaking hands with old friends. If we stood too long in the frigid Midwestern winter night, we could end up with frostbitten fingertips.
The church's doors swing open for wrinkled farmers and schoolteachers and mothers with preschoolers zippered against the cold. Old men stamp snowy shoes onto the church's entryway rug. We greet one another, rosy-faced and shivering, by the coat racks with clinking hangers tossed by the wind every time the doors open. My mother-in-law, Joyce, plays her prelude, "Just as I Am," on the church piano.
Old Helmer's blue plastic comb is sticking out of his front shirt pocket. The twice-widowed farmer shakes my hand and then shuffles past our family, finding a seat next to his sister, Hazel, who never married. She's 90.
Milo tips his hat our way — "Evenin'," he says — then sets his cap on the shelf above all of our coats. He slicks down his silvery-white hair with an open palm. He and his wife, Wanda, find their place in a pew on the north side of the aisle, where they've sat for decades.
Three of my Sunday school students, wearing grape-juice mustaches, scurry past me. I discover that they have taped a "Kick Me" sign to the back side of my sweater. When they peek around the corner by the guest book, I narrow my eyes, point an accusing finger and shoot them a wry smirk of revenge. They retreat, giggling.
These are my people, spanning almost a whole century of ages. Young or old, one common trait unites us: We're all terminal. On the big screen of eternity's theater, our lives are microscopic blips.
Tonight, our church family gathers in long, polished-wood rows to remember our fleeting lives. We will be summoned forward to the altar to receive ashes, an ancient tradition to remind us of our mortality. Depressing, perhaps, to ponder death so severely, especially with the exuberant joy of Easter waiting for us on the other side of these 40 days of Lent. Depressing, yes. But wholly necessary. Death has a way of distinguishing between the things that are important and the things that aren't. Thus, this night — the somber beginning of a Lenten journey toward a cross and resurrection.
Beneath the wooden cross nailed to the front wall, we will also remember that — mortal and sinful as we are — we belong to a savior who already loves us. It's a love that, paradoxically, is the gravest and fairest known to man.
We nailed love to a tree — all of us. This radical cross-bought love is the one message strategically designed by holy God to change the whole world, and it is ours to share.
God commissioned us. We are the message carriers — the broken and bruised ones, the wrinkled and joyful ones, the healed and forgiven ones. We gather in church sanctuaries around the globe on Wednesday nights and Sunday mornings, and then we are shooed out the door into our mission field, which is most accurately defined as the place right under our feet. The privilege of sharing God's love belongs to the old men with blue combs, the mothers with bundled-up toddlers, and the middle-aged greeters at the glass doors. The privilege belongs to any of us who believe the glorious reality of a love finished fully on Good Friday.
I finally believe the stunning truth about God's love for us — heart-deep. I believe! And I want my itty-bitty blip on heaven's screen to reflect it.
I take a mental snapshot, freeze-framing this Ash Wednesday night in a dimly lit sanctuary. A child lights the altar candles. Along the church walls are brassy plates and wooden plaques etched with the names of our church's dearly departed. When we gather in this holy house, we are a small limb of an enormous family tree, planted on Calvary. Each generation's holy lineage stretches like branches across time and around the planet.
Statistically speaking, more than two billion Christians are alive today. That's about one-third of the global population. This sprawling family has the capacity to change the world with love. We could recalibrate every barometer and approval-o-meter known to man. We have the means, through Christ's spirit, to let people know that they are wildly adored and deeply cherished by the king.
We, the changed ones, are now the change agents. And out in the great big world, we can find millions upon millions of people who feel kicked down — the unloved, the unapproved, the rejected, the laid off, the abused, the left out and the mocked. They just want to know they matter in this life to someone bigger than themselves. And these hungry friends are everywhere.
I have vowed that my life will be different now that I have begun to embrace real love. God knows that I've botched up some things in the past, thanks to my disordered priorities. God knows I still do.
But who knows how much time I have left? I don't want to waste a millisecond. Life is vapor short. The pastor's ash-tipped forefinger will alert us to such brevity on this night at the altar, in a church tucked among the bare, frozen farm fields of Iowa.
We can start small, really.
And together we can be big. Worldwide big. Because we can start wherever we are, all two billion of us in one gigantic love revolution.
You and I could start in our own backyards and post offices and gymnasium bleachers. The hurting and broken people live next door. You don't have to go to Haiti or Ghana, but you might. You could start today in your own church. You could reach down the pew to squeeze the hand of a friend. I really believe it's that simple. Some of our very own sisters are pretending, quite convincingly, that things are "fine, just fine." But they need your hands, squeezing their hands, to let them know that they don't have to pretend anymore.
Sure, this life-rattling message of gospel love is intended for the unbelieving two-thirds of the world. But professing Christians need to relearn the love-saturated gospel too. We Christians sing of God's love beneath wooden crosses on Sundays, but we go looking for love and approval in all the wrong places the other six days of the week. I'm the poster child for that problem. That's why I have to come back to the finished work of the cross every day, while the Lord is still doing a finishing work in me.
Who in my tiny church might need to be reminded of the good news, the very best news? Who might be a little bit afraid to show the depth of her own bruised heart?
A popular catchphrase has made the rounds through Christian circles: "Be real and authentic." That's what we say — but do we really mean it? I've overheard, on occasion, women whispering about their Christian sisters' unkempt children, unclean kitchens, too-long grass, spotty church attendance, moodiness. All of that stings. We tell each other that it's safe to be authentic, but are we making nonthreatening places for people to be less than perfect?
I've seen how women have felt rejected because they didn't "fix" quickly enough. Their marriages got rockier instead of better. Their children ended up with DUIs instead of 401(k)s. They fell from the grace of people, from the approval of their peers.
But they never fell from the heart of God.
Oh, God, let us love people like you do. Show us how. Show your daughters how to better love those who are out of sync, out of fashion, and out of our own cliques.
Standing at the back of the sanctuary, I scan the room to see the heads bowed. How precious are these souls in the pews — mothers popping oat circles into pink little mouths, opened like the beaks of baby birds. Factory workers and insurance men and adolescent dreamers staring into the middle-distance. The jobless and worried and widows, still grieving. From my vantage point at the back of the church, I see the "nobodies," the unnoticed wallflowers, hunched in pews right behind the "somebodies," who are living at the top of their game. And all of them are loved wildly, no more or no less than the guy two feet away.
The ground is, as they say, level at the foot of the cross. God loves us all the same. Empowered, we could be part of a worldwide ministry of radical love, if we dared. Let's not miss the opportunity.
It is 6:59 p.m. on Ash Wednesday.
Art Stensland rises from his pew to ring the bell. Our savior's church bell rings over the fields. Pastor Rich instructs us to stand for our opening hymn.
Our call to worship begins its ascent into the night sky, like a clarion call for Christ. It echoes out across the cemetery, where the rising moon glints off the granite flecks of gravestones, and out over the hibernating fields. For most of us in this hushed sanctuary, the cemetery across the road will be our final resting place.
At every funeral, Art stands in the back of the sanctuary to sound the bell for the dead. It's a ringing benediction. For a few hours, farmers trade denim for pressed polyester so they can reverently heft caskets across county blacktop. The rest of us, with Kleenexes in our fists, follow the procession.
And within hours, the fresh flowers on our friends' graves wither. In the scope of eternity, so do the memories. Sure, for a season we remember. At church potlucks, we regale one another with stories of her prize-winning apple pie, his hearty laughs, her legendary soprano voice, their contributions to the church and to the community — and perhaps even to the world at large. And believe me, they were amazing.
The Ash Wednesday sermon ends, and Pastor Rich calls us forward from the pews. We are one long line of paupers approaching the altar of startling grace.
A hush falls over the room. No music. No whispering. Just the repetition of words as the pastor rubs black crosses onto foreheads: "Remember you are dust, and to dust you shall return."
I shuffle to the front with my family. The pastor stands in front of me now. He presses a cross onto my skin, the same patch of skin that Rev. Vickery sprinkled with water nearly four decades ago. I close my eyes.
And right here, right where I'm standing, someday they'll set my casket. And perhaps someone will set sprays of daisies and carnations around me, with little notes in plastic holders shoved between the blooms, saying I was a devoted mom and wife, a great friend and a tireless volunteer. They might even use the word beloved. Sure, that would be fine.
The bell will toll. And they'll carry my body across the road.
I pray that my savior will take me by the hand and whisper in my ear what my love-hungry heart has always longed to hear, above all other words of affirmation: "Well done, good and faithful servant."
This is an excerpt from Love Idol. Used by permission of Tyndale House Publishers Inc. All rights reserved.
If you liked this post, you'll love Love Idol. It's a book to free you from your inner critic, to help you lay down the scorecards, to let you know that you really are "enough" … through Christ. You don't have to keep up with the Joneses anymore. Just keep in step with Jesus. Find Love Idol on Amazon, Barnes & Noble, Dayspring, and many other booksellers.
Find out more, by clicking here.