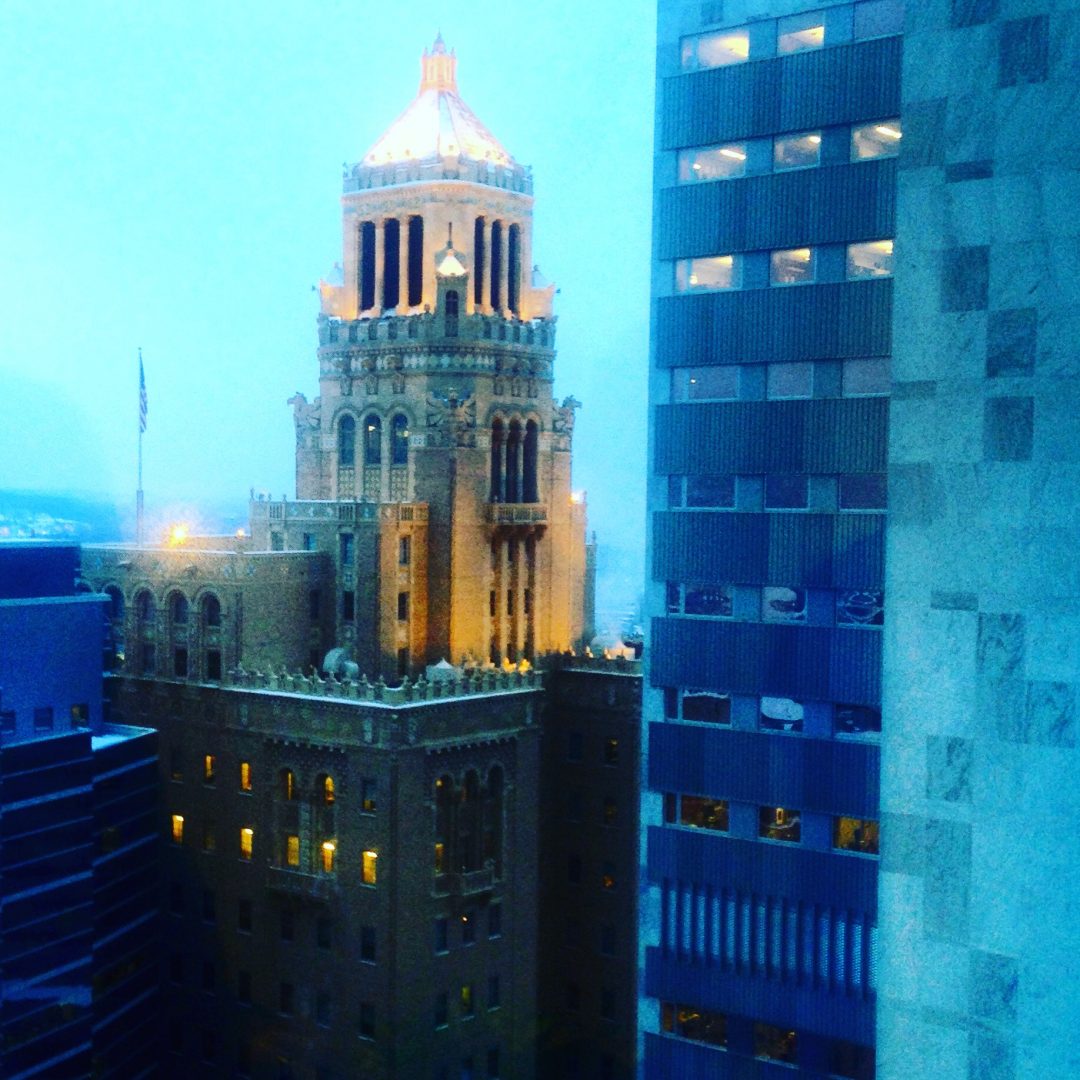 notes from the 14th floor of Mayo Clinic
Yesterday, we were back at Mayo again.
Dad continues to work through some major health problems. These are tough times right now.
But remarkably, these days are also filled with unspeakable joy. Have you ever experienced joy like that, when it sneaks up on you at an unexpected time?
One of the things I have learned from my Dad is how to find the happy in the hard. That's what I was thinking, as I looked outside the window, from the 14th floor of the Mayo Building.
Dad is facing some big obstacles, and sometimes, it seems like the worst possible news … is the very news he gets. It would be easy for him to give up. But Dad has demonstrated his trademark optimism throughout the whole ordeal.
He shows us what it means to hunt hard for happiness. He shows us what it looks like to fight back against all the negativity. He finds the humor inside a hospital. He cracks jokes with the doctors. He hugs us and tells us how much he loves us.
But you know what else? He isn't afraid to cry. He isn't scared of the sadness. He isn't frightened of his own wide-swinging emotions, or ours. That's part of what makes Dad's happiness real and durable — his willingness to embrace the breadth of emotions that swirl within each of us.
This week, we launched #TheHappinessDare and so many of you have joined us to chronicle your daily moments. For some of you, it has been hard, because how do you find silver-lined clouds on your worst days? How can you smile, when all you want to do is cry? Yet, you went looking anyway. You went searching for what made you happy, and you found it!
Together we are learning that the looking is what will save us.
Thanks, Dad, for showing me how it's done — even in the midst of your valley. You live #TheHappinessDare.
A few photos from #TheHappinessDare stream this week on Instagram:
@deidrariggs | @juleswalter | @passagethroughgrace

@kristenstrong | @brucebarone | @justcallmegrammy
Jennmpeterson | @michellederusha | @shellymiller
#TheHappinessDare
This year,  we are daring our hearts to be happy. We are taking The Happiness Dare. I do hope you'll join us! Mark your moments with #TheHappinessDare on Instagram (Facebook and Twitter, too). I can't wait to see what emerges next week in #TheHappinessDare stream! Let's do this.
Click here to print out the list of 30 ways to make the dare a reality in your everyday life. Or pick your own creative ways to find happiness in your everyday lives.