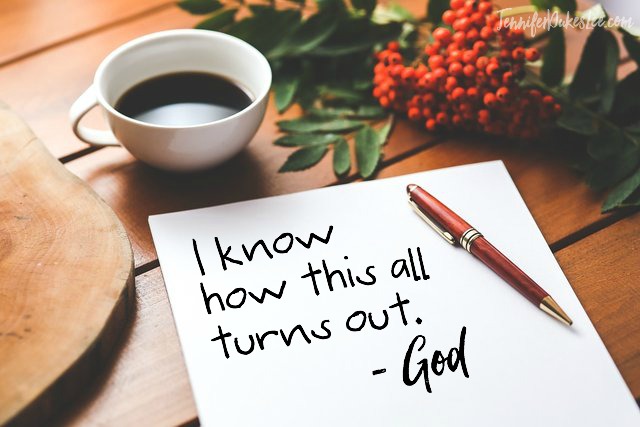 "I know how this all turns out." ~ God
It was clear we were going to be late for an important meeting. There was nothing we could do. The traffic was bad. The stoplights weren't going our way. The road we were about to turn onto was a tangle of snow plows and bottlenecks.
In times like those, I am tempted to panic. But when I am paying attention to the more peaceful part of my heart — where the Holy Spirit resides — I remember a simple truth.
This here is the truth: God knows how it all turns out.
There are times when trusting feels like really hard work. But it's what will get us through — not only when we're running late. For some of us, God is asking us to trust Him while we're standing at the hospital bedside, inside the hospice house, outside the office of the H.R. manager who has bad news to deliver.
Active trust. That's how we survive.
We actively trust that God redeems all things. Maybe we'll have to wait all the way until heaven to know just how true that is.
But until then, we have a choice.
I choose to trust God anyway. I choose active trust.
I trust Him with all that I am, because I believe He is all who He says He is.
He hasn't done all that I wanted, but He has done all that is right. And that is enough for me.
God is whispering to us, "I know how this all turns out."
Dear Lord, help me actively trust that it's true.
This post first appeared yesterday on my Facebook page. Are you on Facebook? I'd love to connect with you over there. I post longer devotional-style writings here on the blog, and those posts will continue. But if you're also looking for quick doses of encouragement in your newsfeed, join me on Facebook by clicking here. 
Have a great weekend, friends.
Love, Jennifer