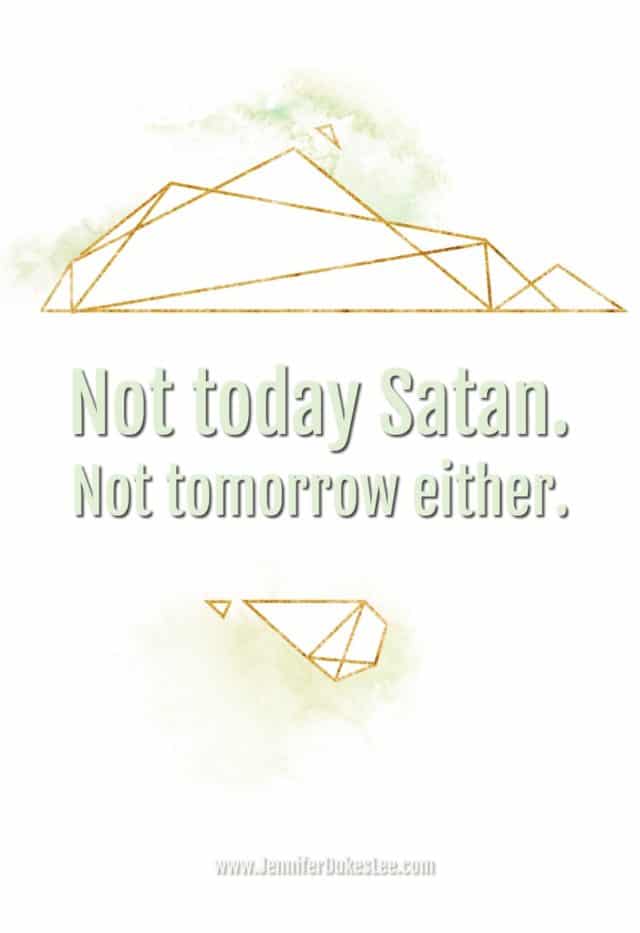 Not Today Satan. Not Tomorrow Either.
I'm not one to give enemy more credit than he deserves. Yes, he's a prowling lion, but he's a lion on a leash.
Yet, last week, I couldn't get over the fact that the leashed lion was trying to make a mess of things in my life, and in the lives of people I love. So today, I share with you a few words that have become my battle cry over these last several days. Maybe you'll need to adopt this as your battle cry, too.
Print this out, if you wish. Tape it to your refrigerator. Say it out loud every morning.
Whatever you do, don't let Satan gain a foothold. He thinks he's winning the battle, but he's already lost the war. How do I know? Because I've read the whole Bible. Spoiler alert: Jesus wins.
Our Battle Cry
Hi Satan. It's us. A bunch of Jesus girls. You messed with the WROOOOOONGGGG group of women.
We aren't taking your crap today. We aren't taking it tomorrow either.
Oh, you aren't intimidated by our sass and our wagging fingers? You think we're not strong, just because we're wearing yoga pants, cute earrings, and messy buns? Oh Satan. Here's the deal: We are women who are strong enough to lift a minivan off a kid. But that's not the kind of strength we're talking about anyway.
Allow us to introduce you to our Bodyguards. Have you met them? Here's God the Father, God the Son, God the Holy Ghost. You can call them "The Trinity" for short. If you were in a WWF wrestling ring right now with them, they'd take turns lifting you above their heads and tossing you over the ropes, into a row of folding chairs.
Let me tell you more about the Trinity:
God breathed, and stars formed.
Jesus died, then broke out of his own grave.
The Holy Spirit moves, and the whole earth trembles.
That's who you're messing with. Because when you pick a fight with us, YOU JUST PICKED A FIGHT WITH THE TRINITY. Don't even get us started. We are a force, and we are standing together, like a fortress, to keep you away from our homes, our kids, our marriages, our churches, and our communities.
We are holding up every weapon that God has issued to us. We're wearing the full armor. We are covered, head to toe, "so that when it's all over but the shouting (we'll) still be on (our) feet" (Ephesians 6:13, MSG).
That's who we are — women who are so full of Jesus that just LOOKING at us in a dark alley better make you run.
So, to you we say: Not today, Satan. Not tomorrow either.
A Book Recommendation for You
Because we're talking about the enemy and the fear he tries to stir up, I wanted to let you know about a brand new book, releasing today! It's called Breaking the Fear Cycle, by Maria Furlough. Maria is someone who shows up to whisper "fear not" in your ear, so you can be the woman God created you to be. In this book, Maria offers welcome wisdom – earned in the trenches – that will help you break the fear cycle and find the peace your heart longs for.
A Song Recommendation for You
I spent the weekend at a spiritual retreat, and was introduced to this song, Fear is a Liar by Zach Williams. It's the perfect companion to our "Not Today Satan" battle cry.
#TellHisStory
Each week, I host an encouraging community of bloggers who are telling their stories around the web and across the world. The linkup goes live each Tuesday at 4 p.m. (CT) on my blog. If you are a blogger who loves to encourage others with stories of faith and hope, you are welcome to link up with us.
Each week, I feature one of the writers in our #TellHisStory community. Our featured writer this week is Michelle Bengtson. If you've recently thought to yourself, "I just don't know how I'm going to make it through!" then I encourage you to visit Michelle and read her post today. It's full of truths you can hang onto. Find Michelle here.
To be considered as our featured writer, be sure to use our badge or a link to my blog from your post. That badge can be found here. xo Jennifer