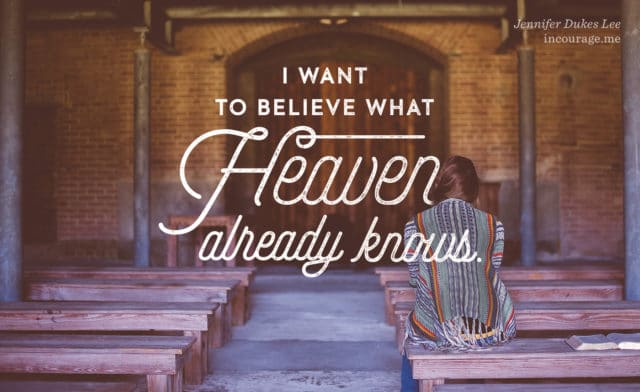 Is Jesus Really "Enough" for Me?
Can I confess something to you?
It's not going to be pretty. I am embarrassed to admit this, but here I go:
I don't always live like I truly believe that "Jesus is enough." I say that I believe it. But I don't always live those words. That sobering reality brought me to my knees recently when I was singing along to a song that blared through my car speakers.
I'll bet you've heard the song, and maybe you've even sung it. Here's the chorus:
"All of You is more than enough for
All of me for every thirst and every need
You satisfy me with Your love
And all I have in You
Is more than enough"
As I drove along, I sang the words loudly, and I knew every word by heart.
The song played on, but I stopped singing.
Because did I really believe that? Did I really believe that God is "more than enough?" 
Could I sing that song if something awful happened to the kids? If my marriage fell apart? If we filed for bankruptcy? If I lost all my friends? If I couldn't afford the stuff I love so much? If I lost my ability to reason, or think, or speak?
Would God really be enough then?
Read the rest of this post over at incourage — (click here) — and then let us know if you've struggled in the same way. Some great comments coming in already! Join the conversation. 
Happy This Year is Back!
Do you want to boost your happiness, by trying a few fun and enlightening exercises this spring? "Happy This Year" is back. In January, more than 2,500 people signed up to take my free challenge, and I heard so many positive responses. I didn't want you to miss you, so I am re-opening the sign-up for a limited time. (The sign up closes in five days!)
Happy This Year is a FREE challenge, to boost your happiness is just five days. With this challenge, you'll get lots of helpful tips, encouraging stories, & more sent to your email … direct from me!
You'll also get FIVE adorable printables like these:
And you'll get two-page worksheets like these. These worksheets offer short, accessible (but meaningful!) Bible lessons around the theme of happiness:
In all, you'll get a dozen+ resources. And it's all FREE, my gift to you.
(This free offer ends Saturday, March 17, at midnight.)
A Gift Book for a Friend?
My friend Ruth Chou Simons has a gorgeous new gift book, releasing April 3. Garden of Truth is available for pre-order online.  Pre-order now thru 4/2, you receive a FREE DIGITAL download of an exclusive 8×10 print from the book, when you register your order here, at GraceLaced.com/gardenoftruth.
#TellHisStory
Each week, I host an encouraging community of bloggers who are telling their stories around the web and across the world. The linkup goes live each Tuesday at 4 p.m. (CT) on my blog. If you are a blogger who loves to encourage others with stories of faith and hope, you are welcome to link up with us.
Each week, I feature one of the writers in our #TellHisStory community. Our featured writer this week is Tammy Kennington. I'm encouraged by her vulnerability in sharing this story… if you are weighed down by shame, don't miss this post. Find Tammy here.
To be considered as our featured writer, be sure to use our badge or a link to my blog from your post. That badge can be found here. xo Jennifer
SaveSave