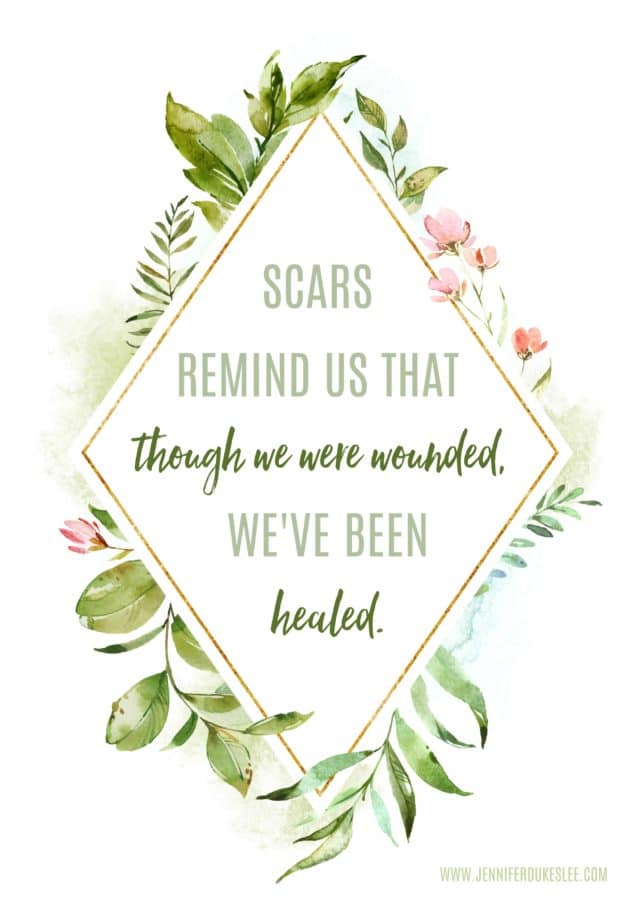 You Don't Have to Hide Your Scars
"I tell you: get up, take your mat, and go home." Mark 2:11
I have a scar on my left leg, an accidental souvenir from a head-on car collision in 2009. After the accident, the insurance company offered to pay for plastic surgery, but I declined. I wanted to keep my scar because I needed to remember what I'd been saved from. The scar was a part of my rescue story. When the doctors sewed up my leg, the stitched wound was in the shape of a Y. To me, the single letter stood for Yahweh. I felt as if I'd been marked by God's first initial.
My scar reminds me to thank God for rescuing me. I have other scars, too . . . ones you can't see, but if we sat down face-to-face, I'd tell you more. My voice might tremble when I told you about the stories behind the scars. But I'd tell you anyway, because our scars remind us that, though we were wounded, we've been healed.
I know it's not healthy to live in the past, but that doesn't mean we ought to completely forget what has happened to us. Every once in a while, Jesus wants us to remember.
We see this in the Gospel of Mark. Do you remember what happened when some friends bring a buddy to the feet of Jesus?
After healing him, Jesus tells him to pick up his mat and go home. Jesus forgave that man of his sins, and then He healed him. Imagine the condition of that ratty, dirty mat. Yet Jesus tells the man to take the mat with him, like a wretched souvenir. That man's mat is like a scar. It's a reminder of who he had been, and what he was rescued from.
Jesus doesn't tell the man, "Toss that old thing in the dumpster on the way out the door." He doesn't tell the man to burn the mat or leave it at the curb. He tells him to take that awful mat with him.
I think that Jesus is asking the same of us, "Stand up, pick up your mat, and go home."
Friend, keep your mat. I get it: Maybe you'd rather forget your past. But your past — your scars — they're part of your story.
Someday, you will cross paths with someone who will have the same kind of wound you once had. They'll need to know your story. Your voice might shake a little when you pull out your mat, or show them your scar, but don't be afraid.
It doesn't mean you failed. It means you were healed.
By Jennifer Dukes Lee. Reprinted with permission. From the devotional book, A Moment to Breathe. 
A Moment to Breathe
I wrote seven devotionals, including the one shared here today, in a devotional book called A Moment to Breathe: 365 Devotions That Meet You in Your Everyday Mess.  With 365 readings, each day begins with a passage of Scripture tells a story of everyday faith, and encourages you to take a moment to breathe with a simple but fun way to complete your day. Find it here.
A Two-Book Giveaway
I have two extra copies of this beautiful book. I'd love to give them both away. If you would like to be entered to win one of my extra copies, simply drop a note in the comments of this blog post, letting me know you'd like to win. I will draw the two winners on Wednesday Feb. 28 at noon CT, and will notify the winners in the comments, or by email.
#TellHisStory
Each week, I host an encouraging community of bloggers who are telling their stories around the web and across the world. The linkup goes live each Tuesday at 4 p.m. (CT) on my blog. If you are a blogger who loves to encourage others with stories of faith and hope, you are welcome to link up with us.
Each week, I feature one of the writers in our #TellHisStory community. Our featured writer this week is Barbara. I'm grateful today for her reminder of truth, grace, and the abundance that Christ offers each of us. Find Barbara here.
To be considered as our featured writer, be sure to use our badge or a link to my blog from your post. That badge can be found here. xo Jennifer
SaveSave