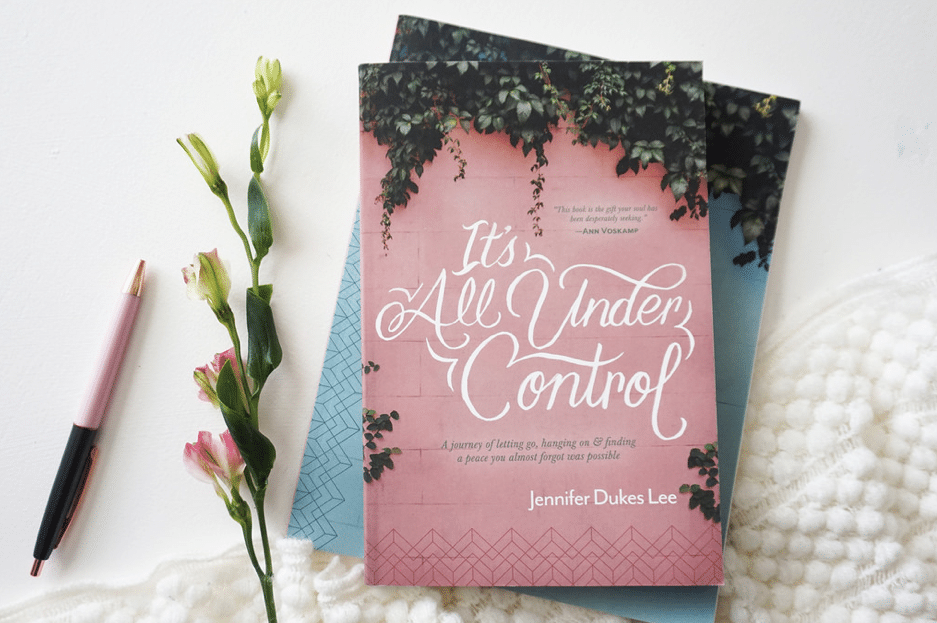 Let's Launch a Book, Have Fun, And Win Cool Prizes!
I need your help. Those words have always been hard for me to say – like I've just asked someone for a kidney or something. Good grief, I can be so dramatic!
But there's no getting around it. I need your help.
And maybe I have something that could help you, too.
So, could we help each other … and have a ton of fun while we are at it?
I am about to launch my new book, and I'm inviting my readers to join me in creating a special It's All Under Control Launch Team. This team is a group of women who are willing to help me carry this message out into the world.
You don't have to be a marketing whiz to say yes to this. You don't even have to have a blog. You just have to be a person who loves books, Jesus, and prizes. Yes, I said prizes. I have an insane amount of cool giveaway prizes to offer inside of our launch team, and the party is about to get started. So here's the scoop.
How To Apply for The Launch Team
It's easy. The first thing you need to do is preorder the book from your favorite retailer (here's a list of several of them). If you already preordered the book, no problem. You can simply let us know on the application form.
Launch Team Benefits
This is what every launch team member receives:
+ A FREE digital copy of the book that you can read before everyone else
+ A FREE signed copy of the actual paperback book, that will show up on your doorstep before it's officially released. (This benefit only for team members in the Continental US). It's like a Buy One Get One Free. You order one + I'll send you one for free. You can give away one of your copies to a friend, family member, blog reader, or social media pal.
+ A FREE digital copy of the six-week Bible study workbook, available to you immediately after being accepted onto the team
+ An invitation to join an exclusive Facebook group of warm-hearted women. I'll be there every day, joining in on the fun. In the group, we will chat about the book, share fun stories, photos, and videos.
+ A chance to win hundreds of dollars worth of fun prizes, including several $100 shopping sprees, jewelry, and much more! I've had so much fun shopping for YOU!
+ My undying love and admiration
(But you won't get my kidneys. Unless you really need one, and then we can talk.)
Launch Team Requirements
If you're on the launch team, you agree to:
+ Preorder the book (online retailers such as Amazon won't charge you until release day, and you'll get the lowest price when the price goes down, and it will go down!)
+ Spread the word about the book on your social media channels, and in person with family and friends.
+ Submit a review during the launch period on Amazon and other retail sites. (Don't worry if you're never done this. We'll help you figure it all out!)
Here's the Next Step
Space on the team is limited, so sign up soon! You'll want to preorder your copy, and then click here to fill out the form. We'll let you know on the morning of Monday August 20 if you're on the launch team.
How I Can Help You
Remember how I said I could offer you help too?
My help to you comes in the form of this book. I wrote this message with beautiful souls like you in mind.
I wrote this book, because I needed this book. I discovered what happens when you try to wrap your arms around everything, thinking it's all on you: You get burned out on hustle. You toss and turn more at night, and you laugh less during the day. You're so busy—caring, serving, working, and trying so hard—that you can't even hear God's voice anymore. It's All Under Control is a book for every woman who is hanging on tight and trying to get each day right—yet finding that life often feels out of control and chaotic.
I hope this book will make you think and make you laugh. I pray that, in its pages, you discover a new way of living that will free you to be you, and finally experience the peace of knowing a God who truly has it all under control.
Find out more about the book by clicking here. 
Click here to join the It's All Under Control Launch Team!
Thank you for joining me on the journey. I truly couldn't do this without you.
Love, Jennifer