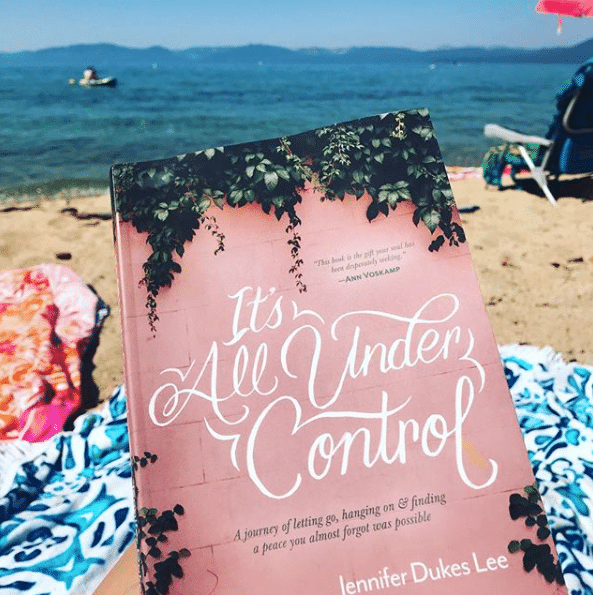 A $200 Airbnb giveaway to celebrate my new book!
Last night, I was looking through a box of memorabilia and came across an autobiography that I wrote in sixth grade. We had been assigned to write about our past, and then predict our future.
This probably won't surprise you, but even at age 12, I had my whole life planned out. I wrote that I would marry a handsome man, have twins, and hold two jobs at once, as a highly acclaimed psychiatrist and a book author. I wouldn't die until age 105.
Well, I did get the handsome guy.
But that book dream?
By the time I was in my 30s, I gave up on the idea of writing a book. It felt like an impossible dream, especially after years of reading on the Internet that, unless I was an NFL football player or the next Beth Moore, I wouldn't stand a chance at getting published.
Good thing I don't believe everything I read on the Internet.
Because on September 18, my third book and my first Bible study are being released! It's All Under Control is a book for every woman who is hanging on tight and trying to get each day right―yet finding that life often feels out of control and chaotic.
Preorder Now
Would you please consider preordering the book and/or Bible study? It would mean the world to me.
This book is perfect for your book club or Bible study, so gather up a group and go through them both together. If you order now, you can start reading the book and the Bible study today, because I'll send the first few chapters right to your inbox!
So preorder now, and then, go claim your gifts by clicking here.
Free Videos
Did you know that I created free videos for all six sessions? Yep. You can find them by clicking here. We filmed the videos at our home, my church, and on our farm! Our cat Ethel even makes a cameo appearance.
Finding Our Chill
Back to that box of junior high papers I was telling you about. Paper-clipped to my autobiography was a note, written by my teacher. I had to shake my head last night when I read her words to sixth-grade me:
"You really are a busy girl, Jennifer. And your future — well — you certainly have it all spec'd out!"
I guess I've been busy planning, strategizing, and trying to keep it "all under control" since, well, forever.
Confession: I still like to gather all the parts of my life into a neat pile, figure out exactly how it should turn out, and then ask God to bless my plans.
That is such an exhausting way to live. Over the years, God has pried my hands loose from all my plans and preferences. He has also helped me see the value of rest and margin. That's why, last weekend, I didn't stay home and work, even though I have a gazillion things to do before this book launches. Instead, I shut the door on the office, and I found my chill at the lake.
Here's a pic of me and my best girl during our weekend away with our families.
Announcing: The Getaway Giveaway!
That picture represents the spirit behind a huge giveaway that I am sharing with you today. One of you will receive a very special gift from me and my amazing publisher (Tyndale House Publishers). We are giving away a $200 Airbnb gift certificate for you to use on a short getaway, because we want you to find your chill, too!
This Getaway Giveaway is a way of saying thank you for all of your support, and for celebrating the release of a book that we think you will love.
There will be one grand prize winner for the Airbnb gift certificate. We will also be giving away five copies of the book to five other winners. So that's six winners in all!
You can enter this giveaway by choosing any of the options you see below. (Email subscribers may need to click here to enter.) This giveaway will close September 17. We will contact the winners following the drawing.
Let's celebrate with a Getaway Giveaway!
Photo by cordof6 on Instagram. Check out the #ItsAllUnderControl hashtag!