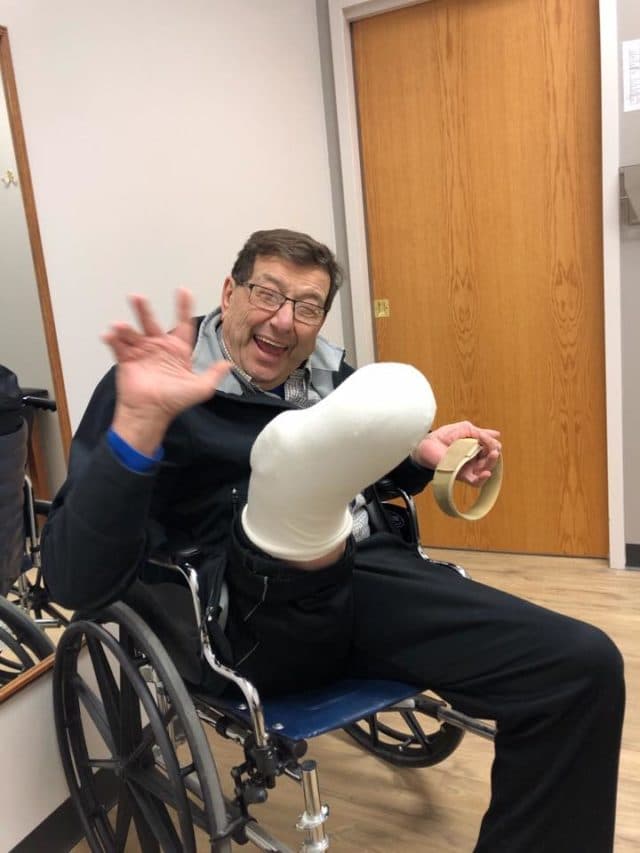 Let me tell you the story behind this photo.
By now, you probably know that my family has been trudging through a season of hard lately. Dad underwent a leg amputation, and because of complications, he is still in a wheelchair. Meanwhile, Mom was hospitalized on Christmas Eve with a life-threatening infection. She's much better, but still in the hospital. Over the last eight weeks, there have been meltdowns and pleading prayers. We've been plagued by worst-case scenarios and – we confess – sometimes we've worried about things more than we've prayed about them. That's the bummer part of this story.
But wait; there's more.
While Mom recuperates at a small rural hospital near my home, Dad has been living with us. I consider it a privilege to care for Dad during these difficult days.
Mondays are laundry day at our house, and on Dad's first Monday here, I happily washed his clothes. But I couldn't get over the fact that after I pulled all of Dad's clothes from the dryer, there wasn't a single sock match! I mean, this is sort of a chronic problem for all of us, right? One always has to wonder where all those sock matches go. But a whole load? Without a single match? I was stumped.
I told Dad about it, shaking my head, just absolutely flabbergasted and apologetic over the Mystery of the Lost Socks.
To which he raised his amputated leg in the air, laughed, and said, "Jennifer. Jennifer. You didn't lose the socks. I only have one foot. And therefore, I only wear one sock at a time."
Amidst the tears and the laughter, God has been teaching us some amazing lessons about life. Join me over at (in)courage to read more about what we're learning. This one's for all the people who've lost, socks, sanity, or faith. Click here to read more.
#TellHisStory
Each week, I host an encouraging community of bloggers who are telling their stories around the web and across the world. The linkup goes live each Tuesday at 4 p.m. (CT) on my blog. If you are a blogger who loves to encourage others with stories of faith and hope, you are welcome to link up with us.
Each week, I feature one of the writers in our #TellHisStory community. Our featured writer this week is Tammy Kennington. If you love for peace but you're currently battling anxiety, I hope you'll take the time to read her blog post. The six action steps at the bottom are especially helpful. Find Tammy here.
To be considered as our featured writer, be sure to use our badge or a link to my blog from your post. That badge can be found here. xo Jennifer