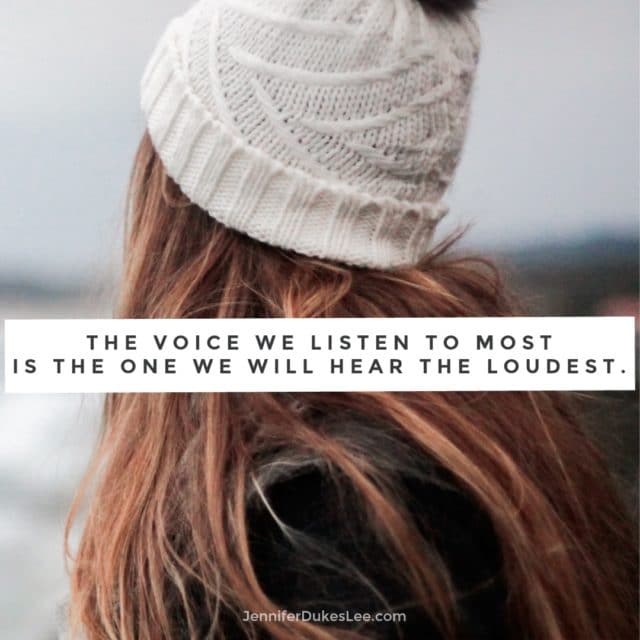 Today's post will likely elicit one of three reactions. You will either:
1 – Get that freaked-out feeling you get while watching a horror movie.
2 – Assume that I've lost my mind.
3 – Nod your head with a knowing yes, because you've been there too.
No matter what, I hope you'll stick with me through the end because – spoiler alert – there's good news after the creepy thing I'm about to tell you.
The First Voice
This story starts on Christmas morning, when many of you were sitting in the glow of your twinkling tree. That's where I would have been, if it were any other year. I would have been in my snuggliest jammies, while holding a cup of steaming cocoa in my hands. The air would have felt warm and soft – the perfect mix of firelight and fresh cinnamon rolls, just pulled from the oven.
But the air was not warm and soft on my Christmas morning. There was a palpable chill because of what happened while I stood in front of my bathroom mirror. I was getting dressed, so I could get back to the hospital to be with Mom, who is battling a life-threatening infection. That's when I thought I heard a voice in my head. Perhaps it was my imagination. Perhaps it was a lack of sleep. Surely, the stress was a factor. But this is what I heard in my head, like a growling voice from an awful being:
"I'm just getting started."
I gripped the edge of the countertop, frightened by the words – feeling bewildered, attacked, violated, angry, frightened, and two shades away from certifiably insane. I mean, the first sign of madness has got to be hearing voices – or maybe sending your toddlers to bed with a bundle of Sharpie markers, and a few sticks of bubblegum.
But there I was, under the oppression of a threat that I could feel running down my spine.
Perhaps you think I'm nuts. Or perhaps you're assuming I was under a spiritual attack. Let me tell you: It absolutely felt like the enemy was taunting me. It felt like he was promising to bring more fresh hell upon my family. Mom was in terrible shape at the hospital. My amputee father was (and still is) living with us, and he was so sad it broke our hearts. Christmas wasn't at all what we had planned. And there were other things, unspoken things, hard things that I won't get into today.
And now I was hearing voices, for the love! Fear gripped me. Who was next? My girls? My husband? My health?
Believe me, as I stood in the bathroom, I went all charismatic like a Pentecostal preacher in my bathroom. My eyes got big as saucers, and I waved my arms around, praying the blood of Jesus over everyone I knew, over my house, over the toilets and the doorways and the iPads and the refrigerator and our farm cats.
And then I pretended to be calm. I got dressed and went to the hospital, and didn't say a word to anyone, because I didn't want you to think I'd lost my marbles.
The Second Voice
It was days later when I heard another voice in my heart. The voice said the same words as the first voice, but this voice was clearer, brighter, landing gently on my insides. The voice was the still, small voice of God:
"No…. I'm just getting started."
That voice came like a flood of relief. Here's what this voice didn't mean:
It didn't mean God was "just getting started" by bringing some form of hell upon us.
It didn't mean God was trying to make us suffer.
It didn't mean He was coming up with ways to torment us.
It meant that God was with us in our suffering, making something beautiful out of something awful. It meant that He wouldn't waste this pain. It meant that we weren't alone. It meant that what Satan meant for evil, God would turn for the good.
God is taking us on a journey that stretches out into forever, and He's just getting started. 
God's voice came a few days after the dust had settled, after the doctors had finally declared Mom officially "out of the woods." Her white-blood count was coming down. By then, we'd seen God moving in mysterious ways all around us. We'd found laughter in hospital corridors. We'd found arms opened wide enough for us to fall into. We'd found care from the local church. We found God outside the tiny boxes we commonly draw. We found permission to cry whenever and wherever we wanted to. We found people standing in the middle of our crooked, pot-holed paths, and they were like stubborn barricades, preventing us from walking the wrong way. And we found healing, hope, peace – not always, but in waves.
Somehow, we are growing through it all. Somehow God is redeeming the worst things around us, to unearth the best things within us. It's too early to say for sure, but I think we are becoming better humans somehow – learning more about ourselves and more about our God.
"I'm just getting started."
God was telling me that I can stop being afraid of that jerkazoid Satan.
It seems to me that Satan is shouting lies over us all the time. God is doing just the opposite: whispering truth upon truth upon truth.
The voice we listen to most is the one we will hear the loudest.
Where are you at today, my friend? What lies are being thrust upon you today? What hell does it feel like Satan is unleashing upon your precious life?
Hear this truth today: The enemy you fear has already been defeated. Yes, the enemy prowls like a lion, but like Ann Voskamp once wrote, "he's a lion on a leash."
Word to the world: Satan is a defeated foe.
Today, I am grabbing hold of that truth. I am learning that God "is just getting started with me."
No matter what happens in our lives, God is working behind the scenes. Sometimes we'll get a glimpse of what He's up to, but sometimes we'll have to wait for the grand finale to know how this all turns out. Meantime, I know it for sure: the enemy is going to try to keep you afraid, pointing to your struggle. But when the enemy points to your struggle, you can point to God's promises.
God is in this with you, and He is with me too.
Don't fear the journey. He's just getting started.
A few photos from our journey these last seven weeks
These get-well cards came in the first two weeks. Dozens more have come since then. God was "just getting started."
One day, Mom asked us to play the song "Orange Colored Sky" to motivate her during a particularly tough therapy session. The next morning, God painted the sky a beautiful shade of orange. He's done it several days since then. He was "just getting started."
We have seriously been the LOUDEST people at the hospital. We are beyond grateful for all the fun visits. We're looking forward to more good times ahead because …. God is "just getting started."
Every night in the hospital room, Dad rises up from his wheelchair, stands on his one leg, and gives his wife of 58 years a goodnight kiss. This is love. For better or worse. In sickness and in health. Even now, as I watch their love grow, I see how God is "just getting started."
#TellHisStory
Each week, I host an encouraging community of bloggers who are telling their stories around the web and across the world. The linkup goes live each Tuesday at 4 p.m. (CT) on my blog. If you are a blogger who loves to encourage others with stories of faith and hope, you are welcome to link up with us.
Each week, I feature one of the writers in our #TellHisStory community. Our featured writer this week is Stacey Pardoe. Her blog post title is When the Storms Keep Rolling in and You're Looking for Hope. That says it all, doesn't it? If you need hope today, be sure to read her words. Find Stacey here.
To be considered as our featured writer, be sure to use our badge or a link to my blog from your post. That badge can be found here. xo Jennifer