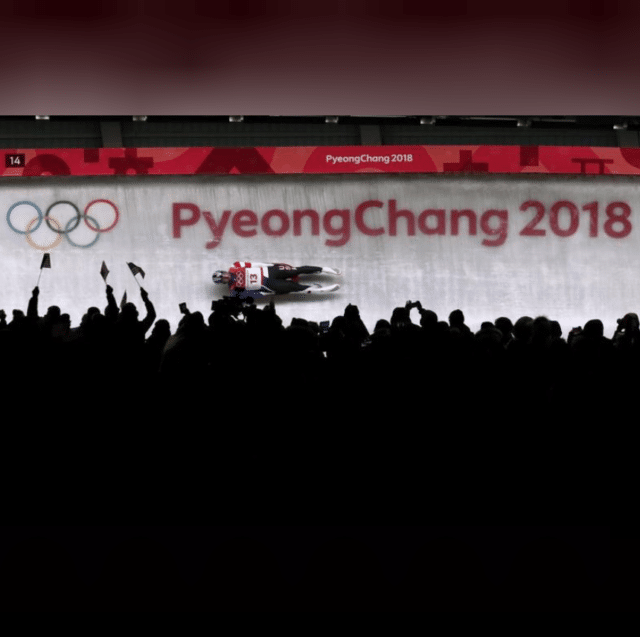 What I Learned From a Rival, a Borrowed Sled, and the Power of Being Kind
I love the competition of the Olympics, and many nights you'll find me curled up on the couch for hours taking it all in. But what I love even more than the games themselves are the stories behind the athletes, because they point to our shared humanity. They speak into the palpable ache we all have for what is true and right and good.
This is one such story. It's a story about two men who, on paper, were supposed to hate each other. It's the story of kindness prevailing in a world where competition is king.
Maybe it's a story for us, in times like these.
A month ago, American luger Chris Mazdzer was in a slump. He wasn't finishing well in any of his races, and his competitors from around the world were baffled. A luger from Russia thought that a different piece of equipment might make the difference. So last month, after a race in Latvia, a Russian rival did something highly unexpected: He offered up his own sled to the American.
"This goes against every Russian-USA stereotype ever, but one of the Russian athletes actually wanted me to use his sled because he didn't think he would come to the Olympics and he wanted to know what it could do," Mazdzer told reporters this week.
Mazdzer tried out the sled. In the end, the Russian's sled was too small. Mazdzer went to the Winter Games with his own sled.
But the point of the story isn't the sled. The point of the story is the kindness offered.
"It shows we care about each other and there is this human connection which crosses countries and cultures and sport is an amazing way to accomplish it," Mazdzer told reporters.
Mazdzer went on to win the silver on Sunday, becoming the first American man to win a luge medal at the Winter Games.
The sled didn't work for Mazdzer, but maybe the kind gesture did. Maybe it's what Mazdzer needed — someone unexpected to stand in his corner and say, "I believe in you." I can't say for sure.
But maybe it's what I need right now. Maybe it's what you need, too. It's easy to look around the world these days and see all the cracks and fissures. It doesn't take much effort to hear the bickering and arguing online. You can't miss all the heartbreak and angst in our world. Sometimes, you've got to look a little harder to find the places where the light is still shining through.
It's still there. The light is still there.
That's why I curl up on the couch every night to watch the Winter Games. I am looking for the light. I am looking for it when skaters glide and twirl on the ice, and I feel my heart thump a little harder inside my chest. I am looking for the light in the stories of people who endured great injury, only to fight back and come back stronger than before. I am looking for that light whenever two athletes get lost in an embrace, with a million sets of eyes trained on them, but for a moment, it's just the two of them, alone together.
So let's go looking for the light, but let's do more than that. Maybe we could go out of our way, like the rival luger, and share our light. Maybe today, we could all do something a little unexpected for someone else.
Maybe your little light … will help someone else shine. 
The Kindness Olympics
Spread some happiness today with one of these Random Acts of Kindness. Let's call it the Kindness Olympics! Let me know in the comments which one you'll try!
Learn More In The Happiness Dare
To learn more about the happiness-inducing act of giving, check out pages 145-148 in my latest book, The Happiness Dare.
#TellHisStory
Each week, I host an encouraging community of bloggers who are telling their stories around the web and across the world. The linkup goes live each Tuesday at 4 p.m. (CT) on my blog. If you are a blogger who loves to encourage others with stories of faith and hope, you are welcome to link up with us.
Each week, I feature one of the writers in our #TellHisStory community. Our featured writer this week is Laura Rath. Friends, do you need encouragement that God is at work while we wait patiently for spring? I know I do! Laura's words are full of truth and hope for us today. Find Laura here.
To be considered as our featured writer, be sure to use our badge or a link to my blog from your post. That badge can be found here. xo Jennifer