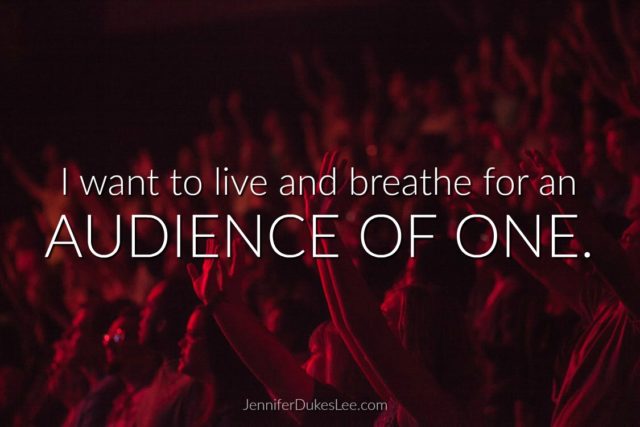 On Learning to Live For An Audience of One
I feel an old anxiety rising up in me, as I tap at these computer keys.
Maybe this is how a recovering alcoholic would feel if she walked into a dimly lit tavern, where ice cubes clink against glass and the bartender counts out the glug-glug-glugs from a tipped bottle.
Someone else will have to tell me if I'm right—if this is how a recovering alcoholic would feel in a bar. (And maybe it all depends on the day.)
I can't say for sure, because booze isn't my vice.
Your approval is.
Let me tell what I'm feeling as I step inside, leaning my back against a wood-paneled wall illuminated by a collage of neon signs. I can already taste it, how badly I want it: Your approval and acceptance. I know how it feels on the way down—like a familiar, comfortable burn to appease my inner addict, my inner pain.
I have a two-faced heart: I both want what I want, and yet I don't want it at all.
All the world's a tavern, it seems, and maybe we're all thirsty for something that we know won't do us any good.
Let's say this blog is a bar today. I don't belly up to this bar for a whiskey. I don't pay much attention to whether they're serving IPAs or Pabst. I'm paying attention to the faces. Your faces. Who's in this room today? And does what I have to say make me worth listening to?
I'm not proud to admit how often I have wanted to make a good impression, especially around smart folks like you.
I've been coming clean from that, and God knows it hasn't been easy. Dying daily never is. Maybe it's the way someone comes clean from alcohol dependency, one day at a time. It's both painful and exhilarating—like you're breathing air into your lungs for the first time in your life.
It's how a daily death makes you more alive.
***
My friend, Seth Haines, and I have talked about that quite a bit over the years—about how recovery is universal. He wrote a book called Coming Clean. It is a raw account of his first 90 days of sobriety. "I suppose we're all drunk on something," he writes. Because recovery isn't just for the drinkers and the users.
It's for all of us.

Let me tell you what I've been recovering from for the last few years:
Let's say my heart was a beer stein or a wine glass. I've spent a lot of my life holding the heart-cup out to people like you, hoping you'd fill it by telling me that I'm kind, that I'm smart, that I've got something important to say. That I matter.
I want you to say good things about me when the saloon doors swing closed behind me after I leave. (But I assume the worst.)
I have figured your good words would save me from my inner addict—the one who has feared rejection, of being "found out," and of assuming that I don't really belong in whatever room I've been invited into. I've struggled with "imposter syndrome."
After years of imposter living, a person can barely tell where the mask stops and the skin starts. And it can take a good long while to find the "real you" again.
I'm in the middle of finding me.
I wrote a book about all that, but I'm still in recovery. I'm still in the middle of my do-over.
***
This morning, I thought about Easter. It's only 33 days away. But in so many ways, Easter is already here.
Because every morning is Easter morning where I live. Easter is how I live in the tavern of this world, and still function without asking for another glass of whatever I think will numb the ache.
I don't need to numb the ache. I need to understand the ache. I need to feel the ache, and then ask God to help me deal with it. Every day, I ask myself hard questions, like the ones the Apostle Paul asked: "Am I now trying to win the approval of man, or of God? Or am I still trying to please man?"
I used to think that I'd wake up some day and then it would be gone. Poof! I wouldn't want your approval anymore.
But my recovery? It's ongoing. I have learned that I am in the constant process of coming clean. I am caught between who I once was, and who I will be. And every day, I get closer to truly living for an audience of One.
I'm learning not to resent the process, because my recovery makes me needy for Jesus, needy for Easter.
In my childhood church, we sang this song throughout the Lenten season: "Every morning is Easter morning from now. Every day's Resurrection Day the past is over and gone."
I want to live every morning like it's Easter morning, like a fresh coming-alive. I also want to live like it's Good Friday, because I have to die to live.
The world has never known another god like this—a God who loves sinners, who says, "I'm giving you a do-over."
The same God will say the very same thing tomorrow. Isn't that something?
In my recovery, I need a God like that.
And thanks be to Jesus, I have one.
YOUR TURN: What are you recovering from? 
RELATED: My first book, Love Idol.
Done with striving.
Done with people-pleasing.
Done with impressing.
Done with performing.
Done with approval-seeking. 

Done with trying to manage others' impressions of me.
Done with masks and facades and the wearying work of trying to prove myself.
I wrote Love Idol in 2014, but I will still need to live its message every day of 2017 because I have had enough of the "not enoughs." Let's live preapproved … and live free.
 Love Idol chronicles my own story of recovery. The book helps people dismantle what's separating them from true connection with God and experience the freedom of a life lived in authentic love.
#TellHisStory
Hey Tell His Story crew! It is a joy to gather here every week with you. The linkup goes live each Tuesday at 4 p.m. (CT). If you would use the badge on your blog, found here, that would be great! And if you would visit at least one other blogger in the link-up and encourage them with a comment, that would be beautiful! Be sure to check the sidebar later. I'll be featuring one of you over there!
Our featured writer this week is Gretchen Fleming. Have you ever thought to yourself (or maybe wondered out loud), "What is my purpose? Why am I here?" If so, I think you'll learn from Gretchen's insight, encouragement, and story. (P.S. You might not look at your favorite necklace the same again!) Find Gretchen here.
To be considered as our featured writer, be sure to use our badge or a link to my blog from your post. xo Jennifer
post contains affiliate links
Photo credit: Love Idol and journal photo by @bookstrustandpixiedust on Instagram.