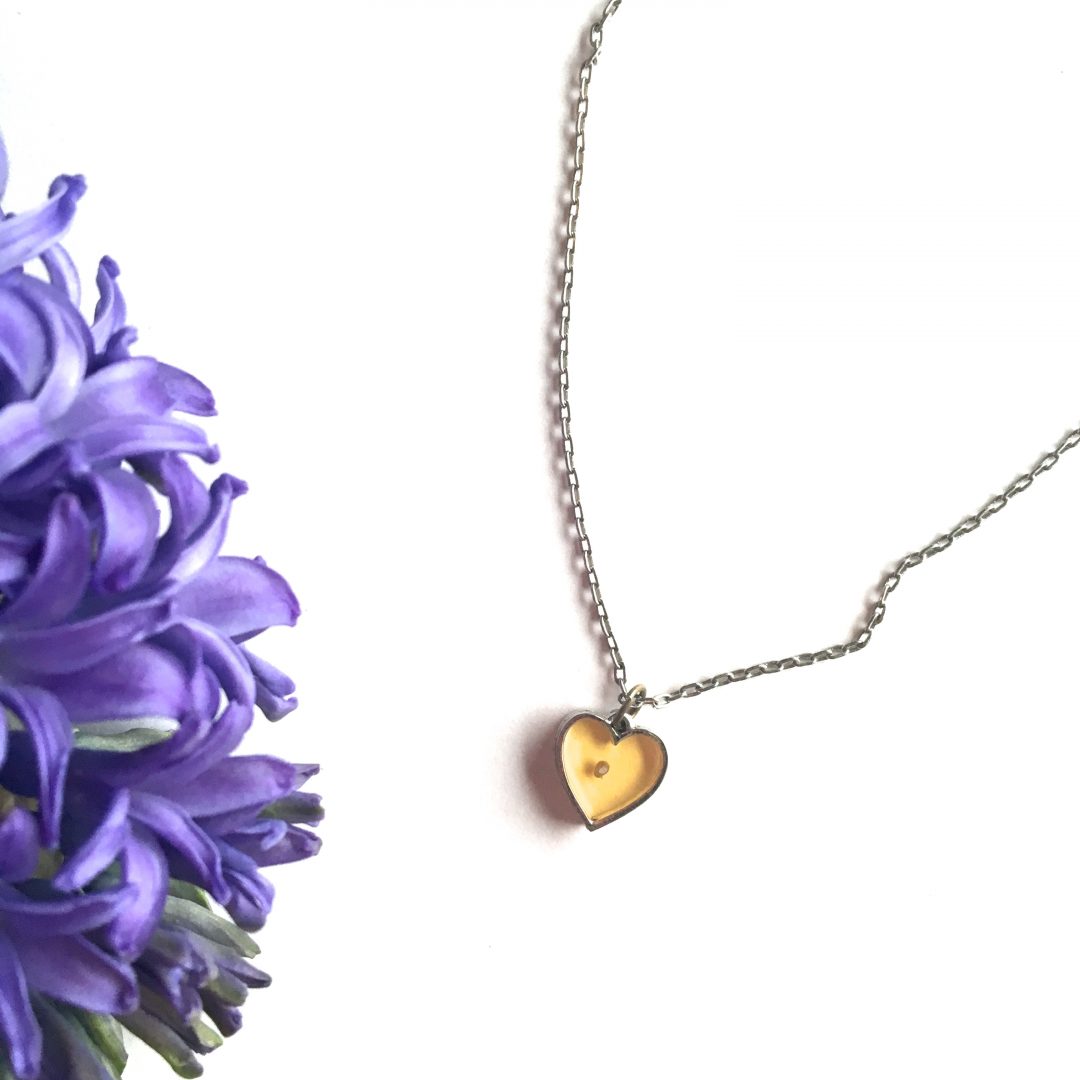 this is the amount of faith you need to handle your problems
Many years ago, a friend gave me a heart-shaped necklace with a mustard seed tucked inside. The mustard-seed was so small, you had to look really close to see it.
At the time, that's how my faith felt. If you've been around here a while, you know that I went through a very long period of doubt that stretched from my early teen years into adulthood.
It wasn't just that I doubted God's goodness. It wasn't just that I doubted God's love.
I doubted His actual existence.
You needed a microscope to find my faith.
My journey to faith is long and circuitous, as most faith stories are. My walk has taken me on a crooked path, until I found the narrow way. On this faith walk, I've always felt like the girl who had toilet paper stuck to her shoe.
So for me, the mustard seed has always felt sacred. The fact that God could do something special with so little? Astounding!
After Jesus met me on that crooked path, I thought my mustard seed would eventually grow into the size of a sunflower seed, and then the size of a tulip bulb. I believed this, because I'd met men and women with gigantic faith. My little mustard seed and I have stood in the shadow of some towering trees of faith, grown from their own humble seeds. Wouldn't that happen to me, too?
What I'm learning is that, quite often, I'm still carrying around a tiny mustard seed in my heart. Yet, I'm learning to be ok with it.
I'm learning that it's not the size of my faith that matters, it's the size of my God. 
These days, I no longer doubt God's existence. But my doubt shows up in other ways.
I doubt that God will come through when I need Him to.
I doubt that He hears me.
I doubt that His timing is good.
I doubt that He'll be faithful.
Just this week, my daughter had oral surgery, and my little mustard seed felt so small in the shadow of her fear — when they put the IV in, when they carted her away, and when she fell asleep, while I prayed in the waiting room. Is my mustard seed big enough? I wondered while I prayed. Again, I remembered: It's not the size of my faith that matters, it's the size of my God. 
Again, last week, my little mustard seed felt small in the shadow of my towering insecurity. I had been asked to carry out a ministry task that seemed too big. I wanted to pray this: "Dear God – Have them call Beth Moore or Christine Caine or Lysa TerKeurst! Help me out of this! I'm not enough!" But when my mustard seed and I stood before the Lord, I heard it again: It's not the size of my faith that matters, it's the size of my God.
I could tell you a dozen stories from the past few weeks where my mustard seed has felt too small.
I'm guessing you have your own small-seed stories too. I'm guessing you have had those moments where you practically need a microscope to find that mustard seed in your own heart.
This one's for you — who thinks you're too small and too weak.
When you get to thinking that way, think again. Look to the mustard seed.
The seed is dwarfed by a pencil eraser. It's the kind of seed that would get stuck in your teeth. Think: Dots-on-the-dice small.
But if you stick this seed in the ground, cover it with dirt, and add water, it will push against the earth with Herculian strength.
The odds are stacked against that tiny seed, but it doesn't matter. The seed defies all odds to muscle forth in bloom.
That's the power of the mustard seed. Scratch that… That's the power of God in the seed. 
And that's the power of God in you. 
Your faith might feel small today. But God says it's worth something. He says it can move mountains.
Why?
Because it's not about the size of our faith. It's about the size of our God.
God says, "Hey, kid. Give me that seed, would you? I can do something with it! I promise!"
Stand back and watch what He does.
And listen … Listen up. Do you hear it?
That's the sound of a moving mountain.
"If you have faith as small as a mustard seed, you can say to this mountain, 'Move … and it will move" (Matthew 17:20).
YOUR TURN: Where do you need to know that a mustard seed is enough today?
#TellHisStory
Hey Tell His Story crew! It is a joy to gather here every week with you. The linkup goes live each Tuesday at 4 p.m. (CT). If you would use the badge on your blog, found here, that would be great! And if you would visit at least one other blogger in the link-up and encourage them with a comment, that would be beautiful! Be sure to check the sidebar later. I'll be featuring one of you over there!
Our featured writer this week is Liz Giertz. Have you felt like God asked you to lay down your dream? I love the words Liz shares about this topic (and the story in Scripture that she points us to). Find Liz here.
To be considered as our featured writer, be sure to use our badge or a link to my blog from your post. xo Jennifer