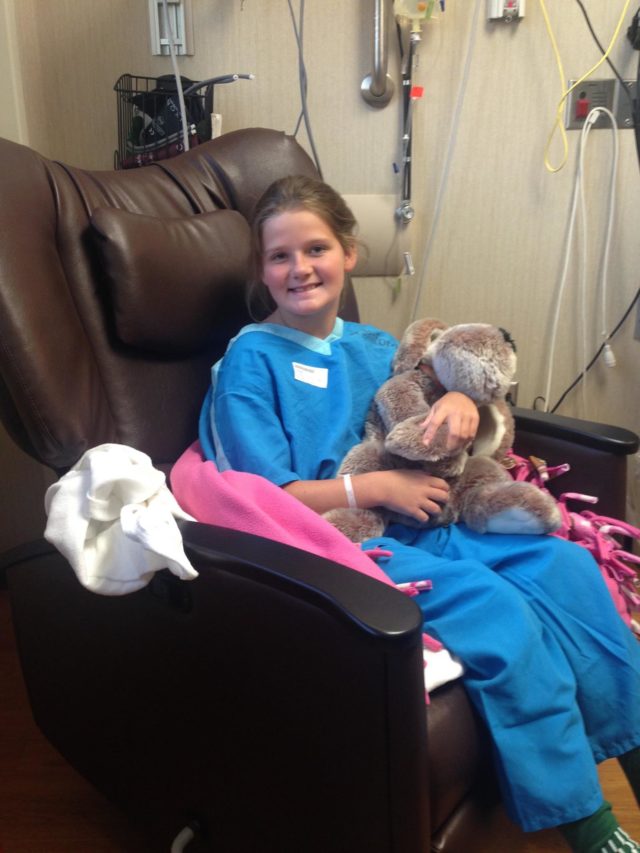 the unexpected grace of a praying doctor when you are at the end of your rope
Last year was a blur of surgical gowns, IV tubing, and those grippy hospital socks.
Anna was sick. She had severe digestive issues that brought us all to our knees, day after day. Many nights were spent in the bathroom, with Anna leaning over the toilet, while I held her hair and rubbed her back.
She went through a series of tests — endoscopies, blood tests, biopsies and more — before we finally landed at Mayo Clinic.
A year later, she's better — like a new girl, really. Doctors at Mayo discovered the sources of her digestive problems, and we are so grateful to have a long-term plan in place for her care.
One of the things about going through a medical trial like that is learning the art of surrender. I am wired to be a "fixer," especially when people I love are hurting. I'd do anything to keep my loved ones from pain. But I learned a hard lesson in Mayo, when I came to the painful realization that I had no control over outcomes.
I felt powerless, and even in prayer, I had to fall back on wordless groans.
Surrender often looks like this: releasing our child into the arms of strangers — nurses, anesthesiologists, surgeons. If you've ever had a child go through a medical procedure, you know how hard it is to put on a brave face for your kid while a woman in scrubs wheels your child away from you, through the operating-room doors.
"You are so brave, Anna," I would whisper into her ear, before the nurses took her away. I would squeeze her hand and push strands of her hair underneath the surgical cap. "I will be here waiting for you, and I won't stop praying, and God goes with you into the operating room, honey. You aren't alone."
Her eyes were wide, and she'd just nod, while a single tear crept down her cheek.
Meanwhile, there was almost always a nurse or an attendant, waiting and listening by the door, giving us the time we needed to let our girl know she was going to be ok. Sometimes, I'd see out of the corner of my eye how they bowed their heads when my husband or I prayed.
Those "strangers in scrubs" have a lot to teach us about what it means to be the face of hope to people who are going through hard times. I know that you don't have to be a Christian to be a good doctor or a nurse. But there was a palpable peace in the room during those moments when our daughter's caregivers revealed their personal belief in Jesus — and in the power of prayer. I am so grateful for the people who treated us with dignity when they allowed us a few extra minutes to pray over our daughter.
And I'll never forget the pediatric surgeon who revealed how he starts his mornings. "Every morning, I look at my hands. And then, I thank God that He gave me these hands because He uses them to heal."
Today, I thank God for doctors like that pediatric surgeon who have the humility to pray.
I thank God for surgeons who know that their gifts don't come merely from medical textbooks — they come from the Lord.
I thank God for nurses who give patients a few extra minutes to pray our choked-up prayers.
I thank God for anesthesiologists who bow their heads when we bow ours.
I thank God for medical personnel who aren't afraid to call out miracles when they see them.
I also thank God for the doctors whose personal beliefs don't match ours — but who recognize that our beliefs are important to us. (If a medical professional ignores spirituality, they dismiss a central part of who we are as patients.)
I thank God for physicians who might be a little afraid to address the spiritual needs of their patients, but do it anyway, because they recognize that most patients truly want those needs addressed. (One study revealed that 77 percent of patients want physicians to consider their spiritual needs. Nearly half wanted their physicians to pray with them!)
This week, some of you are facing a medical crisis of your own. Some of you might even be reading these words from inside a hospital. If that's you, don't be afraid to express your need for prayer. Keep your eyes open for the miracles. That miracle might be the scrub-wearing attendant who steps into the room.
Maybe you're not in the hospital today. But chances are, someday you will be. And when your loved one is wheeled through the operating-room doors, may you feel the palpable peace of knowing that God goes with the one you love — present in places you can't go.
YOUR TURN: Do you have a story about the faith of a doctor, a miracle in the operating room, a nurse who prayed? Share in the comments. 
RELATED VIDEO: Dr Jane Bates, a palliative care physician in Malawi, gives insights into how she thinks Christian doctors can tackle the call to pray.
#TellHisStory
Hey Tell His Story crew! It is a joy to gather here every week with you. The linkup goes live each Tuesday at 4 p.m. (CT). If you would use the badge on your blog, found here, that would be great! And if you would visit at least one other blogger in the link-up and encourage them with a comment, that would be beautiful! Be sure to check the sidebar later. I'll be featuring one of you over there!
Our featured writer this week is Dawn Boyer. She writes about grace, the power of our testimonies, and Anna from Luke 2. This story is special to me because, as you know, one of my daughters is named Anna. Find Dawn here.
To be considered as our featured writer, be sure to use our badge or a link to my blog from your post. xo Jennifer