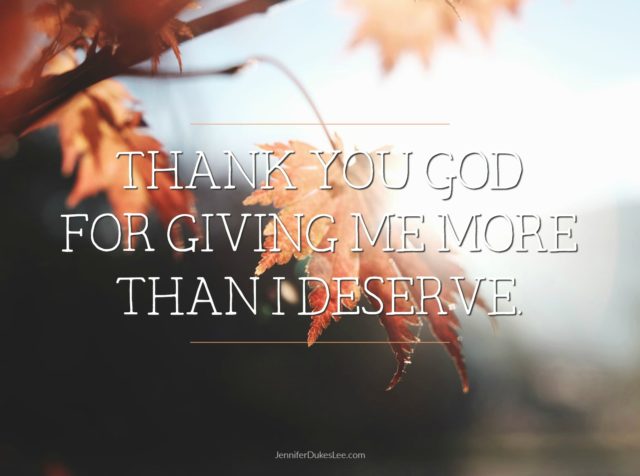 Is Jesus Really "Enough?"
The road that carries me between our house and Mayo Clinic has become a familiar one over the last two years. I took that road once again last week, because sadly, Dad needed more of his right leg amputated. (It's a long story, and we'd love your prayers.)
The morning of surgery, I left home before dawn and headed east. The sun rose up over an earth-hugging bank of clouds that looked like mountains. On the radio, the deejay played an old-ish worship song called "Enough," and because I knew all the lyrics, I sang them loudly.
I'll bet you've heard the song, and maybe you've even sung it in your church, or on your radio. Here's the chorus:
"All of You is more than enough for
All of me for every thirst and every need
You satisfy me with Your love
And all I have in You
Is more than enough"
But then I stopped singing.
Because did I really believe that? Did I really believe that God is "more than enough?" 
Could I sing that song if my Dad didn't make it through surgery? If something awful happened to the kids? If my marriage fell apart? If we went bankrupt? If I lost all my friends? If I couldn't afford all the stuff I love so much? If the publisher decided they didn't want to publish my books anymore? If I lost my ability to reason, or think, or speak?
Would God really be enough then?
The questions made me uncomfortable enough that I had to stop singing the words, and really ponder what it meant to say that Jesus is "enough."
Here's my heart: to make Jesus known to my kids, my community, … to readers around the world. My message has always been this: Jesus is enough. But do I really mean it, in my everyday life, in the deepest places of my heart where I want what I want? 
Dear Lord, let it be so! When we say You are enough, let it be so. When we say You alone satisfy us, let it be true. When we say that You meet every need, let us mean it!
Let me confess something to you: I love my family, my stuff, my ministry, and my freedom to drive my car across the state to see my dad. I love that we have access to great medical care for my parents, and that we even have choices about where we will get that care.  But without all of that, could I truly sing to Jesus: "All I have in You is more than enough?"
During my four-hour drive last week, I listened to several podcasts from Scott Sauls, a pastor in Nashville. His words reminded me how hard it is for an American to be truly content with "just Jesus."
"The things we cling to are slippery," Pastor Sauls said.
While Dad was in surgery, I stood in this spot in the Mayo waiting room, with my styofoam cup of hot tea, and I thought a good long while about the pastor's words.
The truth is, outside of Jesus, everything I treasure has a shelf life. Someday, either my husband or I will grieve for the loss of the other. Someday, I won't be able to write books anymore. My kids won't need me like they do now. All of the sturdy buildings in that photo above will one day be gone. As I age, I could lose my memory, even my ability to remember the names of my own children.
In the United States of America, we are rarely put in the position where we truly know that "all of You is more than enough." Compared to most of the world, our entire lives are the epitome of "more than enough," even on our worst days. Because of our access, our excess and our privilege, it's terribly easy to fall into the belief that somehow we made it happen. We can't take credit for any of it. We can't take credit for being born into this affluent nation, full of possibility, health care, and abundance. Pastor Sauls said: "You can't take credit for that … any more than a poor little girl can take the blame for being born in Calcutta and living all her life on less than two bucks a day."
The idea of the self-made man is akin to "being born on third base and taking credit for hitting a triple. It's a total myth," Pastor Sauls said.
This Thanksgiving, I want to do more than sing lyrics to nice songs. I want to mean them. I want to believe in my heart that whether I hit a triple or "struck out," Jesus is ENOUGH.
I want to know deeply that everything I have is because of Him, and all that I have is more than I deserve. And when it comes down to the day I take my last breath, God will prove it true: He was always, always more than enough.
Until then, I will sing "Enough," even when my own heart betrays me. I will keep singing, because deep down I know it's true: Jesus really is enough.
A PRAYER 
Thank You God for being "enough," but still giving us more than we deserve.
On this — the week of offering deep thanks over heaping platters and tables dressed in earthen hues — how can we properly thank You? I know that as thankful as I think I am, I'm not even close to giving proper thanks for the gifts, seen and unseen. I know how I've taken credit for what You alone give out of Your abundance.
We have our health, and full cupboards, and two cars, and billfolds with enough, and a warm house, and kids, and a church just up the road, and a place to put down roots here at the end of this driveway. But we have so much more that that.

We have You. And that truly is "enough."
Amen.
#TellHisStory
Hey Tell His Story crew! It is a joy to gather here every week with you. The linkup goes live each Tuesday at 4 p.m. (CT). If you would use the badge on your blog, found here, that would be great! And if you would visit at least one other blogger in the link-up and encourage them with a comment, that would be beautiful! Be sure to check the sidebar later. I'll be featuring one of you over there!
Our featured writer this week is Jeanne Takenaka. Her words about choosing an attitude of gratitude as we let go of expectations is the perfect read right before Thanksgiving. Find Jeanne here.
To be considered as our featured writer, be sure to use our badge or a link to my blog from your post. xo Jennifer