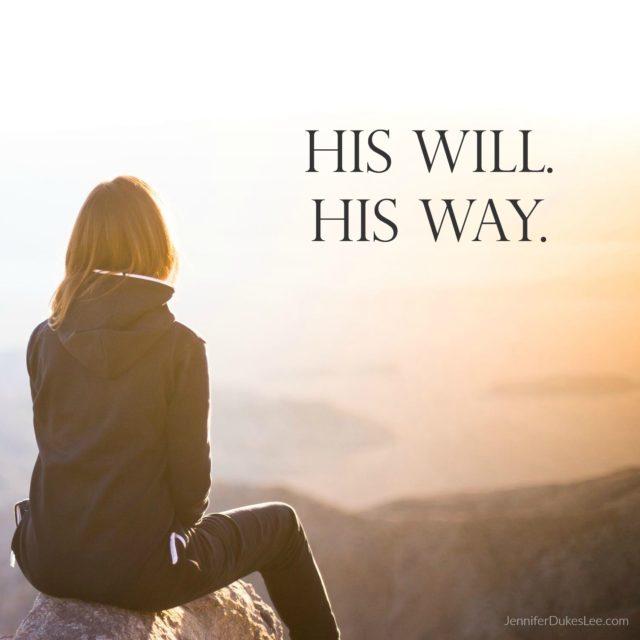 You don't get to know the time
A few months ago, I stood at a podium, looking out on an audience of Christian writers and bloggers. While speaking, I could see such eagerness in the women — wide eyes, pens poised, leaning forward. My view of the audience left me on the verge of tears. Why? Because I had been in their seats before.
What, they wondered, was the secret to getting a book published?
If I knew the secret sauce, I swear I would have given it to every one of them. I looked out on these women and imagined the books that sat inside of their hearts and journals. Books about how they'd survived divorce, repeated miscarriages, the battle with cancer. Books about great adventures, shenanigans, doors closed, doors opened, embarrassing moments, clever stories.
But all of those books were unpublished. Why? Because the writers couldn't figure out how to convince a publisher to offer them a contract. In some cases, the writers' platforms were deemed too small. (Translation: these writers didn't have enough influence or followers to attract a publisher. Publishing houses are businesses, and while they do take chances on small-platform writers, that doesn't always happen. Publishers understandably want some certainty that a writer's idea will translate into actual sales.)
Long ago, I was the girl in the audience. A couple years after I started this blog, the Holy Spirit nudged me to write a book. I had an idea for that book. I had writing experience. But for three years straight, I faced one rejection after another. Over and over I heard: "You're too small." At night, I'd Google "how to publish a book," and in the blue glow of the computer screen, the words came again: "You're too small."
But I couldn't deny the call of God.
What do you do when the call God gave you, appears to be undercut by your platform, your experience, or your abilities? What do you do when the timing seems off, and all you can do is wait in the blue glow of your computer screen? 
That day at the conference, I offered some encouragement for anyone who is asking those questions today, whether you're a writer, an artist, a teacher, a mom, an entrepreneur, or a missionary. I hope my words encourage any of you who are waiting for your time.
I don't, in fact, know the secret-sauce recipe for you to get what you want. I have something better: truth.
The Truth About Timing
The truth sits like an anchor in the first chapter of the Book of Acts. In the story, Jesus presents himself alive to followers. He offers instructions before he disappears to heaven. Put yourself in the story. Imagine yourself as one of these eager followers. Imagine how intently you would listen, hanging on every word and wanting to do exactly what the Savior asked you to do.
The one question these followers ask (Acts 1:6) is essentially this: "When?" When will Your plan come to pass, God?
Isn't this the question we're all asking? When, Lord, when?
When is it my time?
When will I get the "lucky break?"
When will I get the promotion?
When will God's promises unfold?
When will my dream come true?
Jesus' answer to his followers in Acts, is his answer to us today:
"You don't get to know the time. Timing is the Father's business. What you'll get is the Holy Spirit. And when the Holy Spirit comes on you, you will be able to be my witnesses … even to the ends of the world" (Acts 1:7-8, The Message).
Then Jesus disappeared, and all of his followers stood around, looking at an empty sky, asking, "Now what?"
I imagine you understand the "now what" feeling of uncertainty, standing under your own empty sky. Believe me, I know what it feels like to wonder if God's promises will unfold — or if I even heard him right. We all ask it: "When is it my turn?"
Jesus answers clearly: "You don't get to know the time. Timing is the Father's business."
This is what I know for sure. If God called you to this, he will walk you through this. His will. His way. His timing. 
We don't get to the know the time.
Maybe right now you're feeling too small or insignificant. Listen up:
Your size doesn't nullify your calling.
It actually doesn't matter what the experts say, so long as God called you to this. Remember that early group of followers in the Book of Acts? There were only 120 in all. The "experts" would have said that there is no way that 120 people could accomplish the tasks that Jesus asked them to do — to carry his message to the ends of the earth. Imagine them sitting in the blue glow of their computer screens, Googling the question: "Is a platform of 120 people big enough for this task?" Google would have said they were way too small.
But the fact is, a little tribe of 120 would be the beginning of the most important movement in earth's history.
God's plan is unstoppable. His plan is bigger than your problem, bigger than your platform, bigger than your hang-ups, bigger than your "bad luck." God is bigger than everything.
If God can take a group of 120 people, empower them with the Holy Spirit, and within a short time, grow them to 3,000 then thousands, and then millions … well, just imagine what he can do with you.
Don't give up, friend.
"You don't get to know the time," but you do know the Keeper of the Clock.
His will. His way.
Don't give up.
P.S. — I did end up getting published, in God's time. "His Will. His Way." I've written two books (The Happiness Dare and Love Idol). Stay tuned, because there's more news on the way. 🙂
post includes affiliate link
#TellHisStory
Hey Tell His Story crew! It is a joy to gather here every week with you. The linkup goes live each Tuesday at 4 p.m. (CT). If you would use the badge on your blog, found here, that would be great! And if you would visit at least one other blogger in the link-up and encourage them with a comment, that would be beautiful! Be sure to check the sidebar later. I'll be featuring one of you over there!
Our featured writer this week is Lisa Murray. If you're in a hard season and long to find a way to give thanks in the middle of the pain, I believe Lisa's words will be an encouragement to you. Find Lisa here.
To be considered as our featured writer, be sure to use our badge or a link to my blog from your post. xo Jennifer