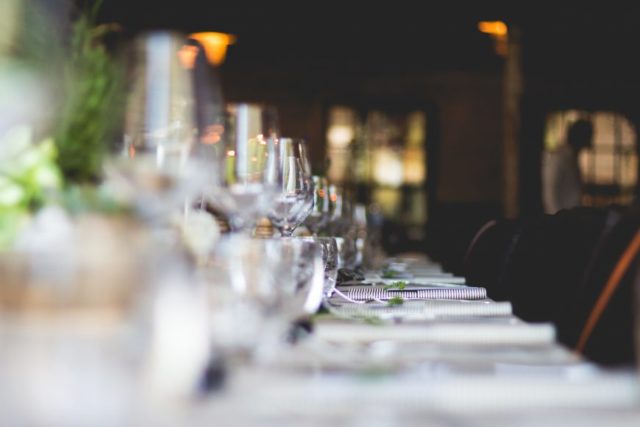 How To Be Grateful When You Don't Feel Like It
It was "Takk for Alt" at our little country church in rural Iowa.
"Takk for alt" is Norwegian for "thanks for everything," and this has long been the tradition at our 125-year-old church, where gray-haired farmers share pews with diapered babies and their mamas. Every November, around Thanksgiving, we celebrate the annual tradition with a Sunday meal.
But before the catered dinner, we always feast on Word and Sacrament.
So there we were, packed into our small sanctuary. And there I was, trembling at the pulpit to deliver a few words. Our pastor had asked if I would share something I had recently written about gratitude.
So I stood there, nervously reading from a Post-it Note, about what it might mean to be thankful in all things.
"Be thankful in all things. All Things," I read from my notes. "That's what the Bible says. All things. Not just the smiling things and the wished-for things. The Bible says be thankful in all things. Even the hard things, the grotesque things, the things never-wanted, the things of death and grief and pain and sorrow that make you wonder if you can stand to live another day. How to be thankful like that? Is it really possible for a mortal to be thankful in all things? 'In everything give thanks,' Paul wrote. He didn't say to be thankful for all things. But he absolutely said to be thankful in all things. I want to be able to do that—just as Christ did when He lifted the bread, broke it, and gave thanks, saying, 'This is my body, given for you.'"
Sure, we celebrate Takk for Alt year after year, this thankfulness for everything.
But what if Takk for Alt were only a nice catch-phrase, a reason to share a catered meal as a church family? And what if Thanksgiving Day were just an excuse to eat turkey and Mom's stuffing before taking a tryptophan-induced nap in front of the television? What if Thanksgiving were merely another day off, conveniently timed to set up the Christmas tree and find the ceramic nativity set in a cardboard box somewhere down by the furnace?
When we say we give thanks, do we really mean we give thanks only for good things? Or, like our Savior on the night He was betrayed, could we really give thanks in all things, every single day?
What happened next was a terrific lesson in how to be grateful even when you don't feel like it. 
Read more by clicking here. I'm the featured writer on the Tyndale House Publishers blog, sharing, "How to Be Grateful When You Don't Feel Like It." 
#TellHisStory
Hey Tell His Story crew! It is a joy to gather here every week with you. The linkup goes live each Tuesday at 4 p.m. (CT). If you would use the badge on your blog, found here, that would be great! And if you would visit at least one other blogger in the link-up and encourage them with a comment, that would be beautiful! Be sure to check the sidebar later. I'll be featuring one of you over there!
Our featured writer this week is Theresa Boedeker. With Thanksgiving approaching soon, I'm thinking a lot about choosing gratitude and words of thanks. Theresa's post about how our words matter is an important reminder during the holiday season! Find Theresa here.
To be considered as our featured writer, be sure to use our badge or a link to my blog from your post. xo Jennifer