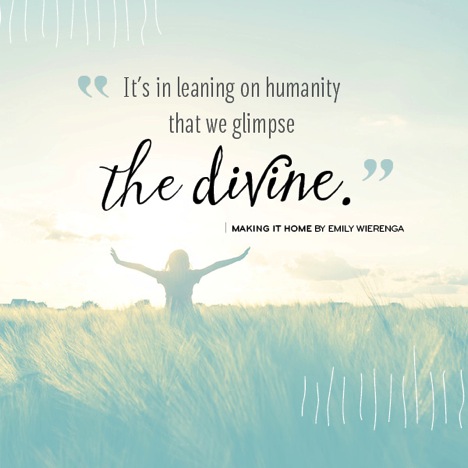 God is For You – Even When Life Isn't (FREE webcast!) – #TellHisStory
We've prayed together over Skype, laughed together over the phone, and stayed up far too late in those rare moments when we've been given the gift of in-person time together. Emily Wierenga is one beautiful friend, not only to me, but to women around the globe. She ministers with words in blogs and books — and with her non-profit, The Lulu Tree. This week, we celebrate the release of her latest memoir, Making it Home. Welcome Emily Wierenga to the blog.
God is For You – Even When Life Isn't
By Emily Wierenga
"I don't know how to tell you this, Emily, but—they said no." I'm on the phone with my agent two weeks after giving birth to my nearly nine-pound Kasher and I'm crying before she starts because I know.
"It's been so long," I whisper. It's all the breath left in me.
"I know—I'm so sorry," she says, and we're silent together, except for my hiccupping sobs. An editor has been courting the manuscript for a year, and after three hundred and sixty five days of waiting, the publishing board has said no and I have nothing.
Forgetting how doctors had said I wouldn't be able to have children, forgetting about the miracle that lies in my arms and the other one that's coloring a picture at the Ikea kids' table. Forgetting about the man who lives to make me laugh, who's making wine in the kitchen, forgetting the sound of Mum's voice on the end of the line, the voice of a woman I'd thought would die now lives, healed of her brain tumor.
Forgetting that a book deal is not what gives me a name, but it's all I hear: the sound of rejection on the other end of the line, the sound of me, being made a fool, for all my waiting and hoping. The champagne bottle unopened in the fridge.
"Everything okay?" Trent mouths the words at me. I shake my head. Kasher asleep in my arms and my agent telling me I should spend some time writing what I want to write. To put this book aside and just do something that brings me joy.
I don't know what that means. I don't know how to do anything for joy and then I remember dating Trent. I remember that kiss in the rain outside his townhouse; I remember hours on the carpet with my head on his chest, talking, listening to the radio and I remember midnight bike rides to Rundle Park, playing Frisbee golf and watching movies just to hold each other's hand.
A joy that writes what it wants to.
"Alright," I say, and my agent prays with me and we say Goodbye.
I wonder how long she will put up with me. I haven't sold anything yet and Aiden's showing me his picture. It's a scribble of green marker—his favorite color—and he's got green on his lips and he's smiling but his eyebrows are raised. He's wondering if I like it, and he's only two. His mommy's fears course through him and I kneel down and hug him, tell him, "It's magnificent, son, I can't wait to hang it on the fridge," and his small body relaxes.
He knows in this moment that I love him because I said I like his picture but I want for him what I want for me: the long-lasting sense of self in spite of what the world tells him. I want him to be so at peace that he can sleep in the boat while the storm rocks and I want him to know without a shadow of a doubt the confidence that makes a person walk on water.
And maybe if I learn it, he will too.
This excerpt is taken from Emily Wierenga's new memoir (the sequel to ATLAS GIRL), Making It Home: Finding My Way to Peace, Identity and Purpose.
Free Webinar
Are you searching for peace, identity and purpose in your life? Register for this FREE webinar with Emily Wierenga, Liz Curtis Higgs, Holly Gerth, Jo Ann Fore, and me, on Thursday at 8 p.m. CT. We will share stories about our personal journeys. There will be open Q&A with us, and lots of giveaways! You can sign up to join here!
#MakingItHome
ABOUT THE BOOK: What does it mean to be a woman and to make a home? Does it mean homeschooling children or going to the office every day? Cooking gourmet meals and making Pinterest-worthy home décor? In Making It Home: Finding My Way to Peace, Identity, and Purpose, author and blogger Emily Wierenga takes readers on an unconventional journey through marriage, miscarriage, foster parenting and the daily struggle of longing to be known, inviting them into a quest for identity in the midst of life's daily interruptions. Get your copy HERE. Proceeds benefit Emily's non-profit, The Lulu Tree.
Get FREE downloadable chapters from Making It Home HERE.
Post contains affiliate links.
#TellHisStory
Hey Tell His Story crew! It's always a joy to gather here every week. The linkup goes live each Tuesday at 4 p.m. (CT). If you would use the badge on your blog, found here, that would be great. And if you would visit at least one other blogger in the link-up and encourage them with a comment, that would be beautiful! Be sure to check the sidebar later. I'll be featuring one of you over there! Our featured writer this week is Shelly Miller. She's a dear friend from London who writes beautiful prose, week after week. Find Shelly here. To be considered as our featured writer, be sure to use our badge or a link to my blog from your post. 🙂
xo Jennifer