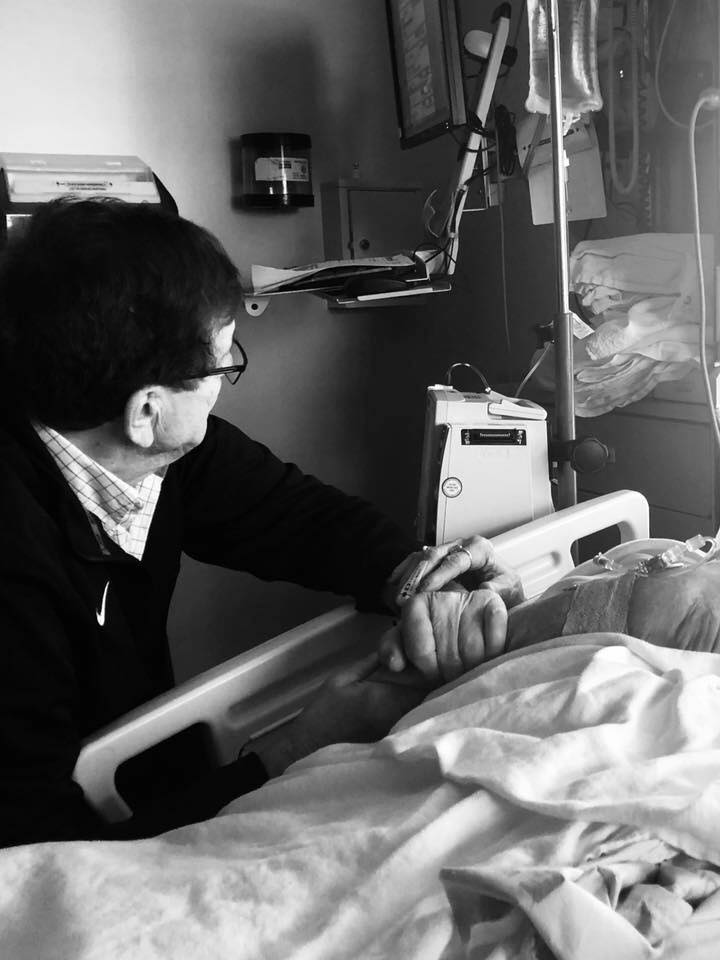 If Christmas Didn't Turn Out Like You Expected (Dispatch from a Hospital Waiting Room)
Right now, I'm sitting in the corner of a hospital waiting room, and I'm imagining you here with me. You're the kind of friend who will pray, and so that's why it was important that I stop by here for a few moments. I needed a friend like you, a prayer partner like you.
Let's be honest: This wasn't the Christmas we expected or wanted.
We expected a happy Christmas. This is the season of joy, after all — a time meant for light-hearted banter, gathering at the table, laughing at Uncle John's jokes, and lots of feasting. Two weeks ago, I was envisioning what my Christmas would be: all of us in the sanctuary, holding candles while singing "Silent Night," which is something I've done every year for as long as I can remember. We'd hear the Christmas story, and surely make a mess of the living room with Amazon Prime boxes and wrapping paper. There would be hot cocoa and red wine and my sister Juliann's Spritz cookies.
But like my sister said, sometimes your own personal Christmas doesn't look like what you had hoped for or expected. It doesn't look like the Christmas from your favorite holiday classic. Maybe you know what I'm talking about. Maybe you've experienced a Christmas that didn't match your expectations.
That's how it was for us this year.
We envisioned twinkling lights and Christmas cookies, while gathering around the tree. Instead, we found ourselves with blinking monitors and IVs, while gathering around a hospital bed. The short story is this: Mom is battling an infection in her body, and we might be here for a while.
As hard as these days have been, they bring into sharper focus the blessing of family, and the hope we have in Jesus — regardless of our circumstances. No matter what, God is still God, and He is always good.
We've been sticking through this together, cutting and hanging homemade snowflakes in a hospital room, watching old Christmas movies, eating Christmas goodies that my niece Rachel packed into Tupperware for us before the ambulance came. And we've been praying.
I had planned on sharing other news with you today. I had planned on sharing with you about something really special that I've been working on for several weeks now. I've created tons of free resources for you: Bible study worksheets, free printables, daily challenges, … and more. I designed it as a five-day challenge for New Year's Resolution drop-outs.
Ironically, all of these resources revolve around happiness — even as I am having to fight hard to find happiness inside of a hospital.
But here's the thing I know for sure: Everything I have ever written about happiness isn't just true on the good days. Those things are either true always, or they aren't true at all. Earlier today, I reviewed all of the resources I've created for you, and you know what? All of it's still true. Yes, everything I believe about happiness is true, even in a hospital. Even when our Christmas wasn't what was expected. Even when we don't know what tomorrow holds.
This is the truth:
Happiness isn't what happens around you. It's something that happens within you.
Happiness is the heart-deep knowledge that Jesus doesn't abandon us in our pain. Long ago, at that first Christmas, He stepped into our pain. He carried our pain. And upon the cross, He bore our pain.
This is our hope, and this is the source of our happiness: Jesus.
Thanks for sitting with me a while, here in the waiting room. While we are waiting, God is still working.
Love, Jennifer
P.S. – Thank you for praying for Mom. She is the strongest, bravest woman I know, but she needs the strength of Jesus to get through this!
Happy This Year
God-willing, I'll launch my new challenge, "Happy This Year," next Tuesday, right after the new year. I'll share all the details here on my blog, as well as on Facebook and Instagram.
#TellHisStory
Hey Tell His Story crew! It is a joy to gather here every week with you. The linkup goes live each Tuesday at 4 p.m. (CT). If you would use the badge on your blog, found here, that would be great! And if you would visit at least one other blogger in the link-up and encourage them with a comment, that would be beautiful! Be sure to check the sidebar later. I'll be featuring one of you over there!
Our featured writer this week is Becky Hastings. Her post is one we should all read as we prepare for the new year… 5 ways to find quiet in a noisy world. Don't we all need that? Find Becky here.
To be considered as our featured writer, be sure to use our badge or a link to my blog from your post. xo Jennifer